Q & A with Derek Beres: Yoga's Renaissance Man
As a journalist, musician, and yogi -- from Rolling Stone to National Geographic to Yoga Journal -- Derek Beres does it all. Next to Michael Franti, Derek is one of the most multidimensional, creative people we've interviewed. Derek came to yoga by studying yoga philosophy back in college, and through its practice he's healed his body in ways that his chiropractor could not. Whether you're new to yoga, a seasoned practitioner, or just someone who likes to read about interesting people, then you're in for a treat.
MBG: In addition to being a yogi, you're also a prolific writer, photojournalist, and musician -- were you always so creative? How has yoga helped you creatively?
DB: I've always had an intense desire to create. I definitely traded the ability to focus on one particular craft in exchange for dabbling in a lot of them. Studying comparative religions at Rutgers set me on that path: learn a little about a lot. When I found yoga, that was when I decided to pursue the second half of that maxim, to learn a lot about a little. I had been studying yoga philosophy since my very first month at college, and even though I didn't begin asana practice for another six years, I was plenty active in sports and other physical activities. What really attracted me to yoga was that the philosophy is to literally be embodied, or else it doesn't work.
While studying religion, I quickly realized that I had very few career options. Being that I have no belief in god, and have very little patience with how most "Western" religions are practiced, I knew that anything to do with either a theological or academic role was out for me in this country. I took up journalism as I'd been a lifelong reader and writer, and worked professionally as a journalist for a number of years after school. That creative spark I mentioned still felt confined being in an office all week, even though I generally enjoyed most of my writing and editing jobs. That's when I pursued teaching yoga as an occupation.
I had no intention of teaching full-time when I did my yoga teacher training, however. As I transitioned from full-time work to freelance in 2004, most of my money was made DJing. Like any creative person, wells are rich until they dry up, and making a living in music is tough for most everyone. So I went after teaching jobs and for a while taught 20 classes a week all around New York. It took me a solid year of hustling to get settled into Equinox with enough classes to survive financially. This is just as important as any other aspect of yoga to someone trying to build a successful career: it supports you in every way. I hear too many horror stories from fellow teachers about studio owners who spout spiritual chatter yet pay teachers next to nothing. It's like they skip right past the ethics and morals (yamas and niyamas) of yoga to honor some god they invent that suits their lifestyles only.
How would you describe your style of yoga?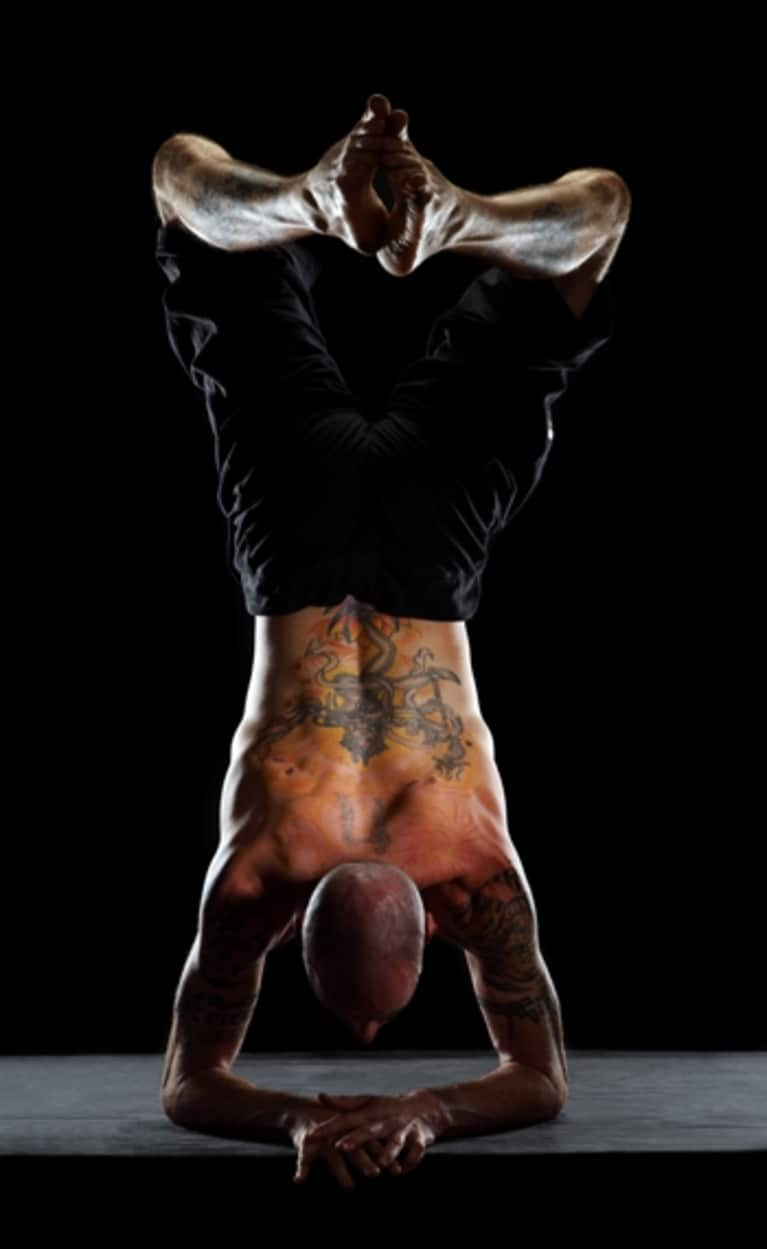 I've always been syncretistic in my approach to life. The thinkers that hit me early were Joseph Campbell, Alan Watts, Mircea Eliade and Ernest Becker. Having been raised with no religion at all, I wasn't under the illusion that any one in particular was 'right.' I fully embrace the notion of there being many ways up a mountain, as well as many more mountaintops when you get to the top of one. How you get there is not nearly as important as how many other people you help along the way.
Before I began developing a personal philosophy, that syncretistic view was already embedded in my physical activities. I played every sport I could, as much as I could. That kind of thinking naturally carried over into my yoga practice. Eleven years in and I still take as many styles as I can. Last week I was at two days of Ashtanga workshops, while this past weekend I attended an Iyengar workshop.
What that amounts to in my class is a constantly evolving Vinyasa-based practice that focuses on my favorite movements, mostly inversions, arm balances and twists. I like to develop joint dexterity, as well as always focusing on breathing. What really makes yoga unique among similar exercises forms is the attention to the breath and meditation, and regardless of what I'm working on from one week to the next, that is the real value of the practice. The rigorous flow is great and I teach it because I love it, but I get my aerobic work from other exercises, like jogging, more efficiently. Yoga is my quiet space to learn and grow inside of.
I took the name EarthRise from a Joseph Campbell quote about the famous picture of the first astronauts watching the earth rise over the surface of the moon. He took it as a mythological moment, and wrote, "Is the center the earth? Is the center the moon? The center is anywhere you like. Moreover, in that photograph from its own satellite, the rising earth shows none of those divisive territorial lines that on our maps are so conspicuous and important. The chosen center may be anywhere. The Holy Land is no special place. It is every place that has ever been recognized and mythologized by any people as home."
A lot of people are scared of yoga because of past injuries. You're living proof that this shouldn't hold people back from practicing -- what do you say to these people?
During youth I broke my femur, collarbone and ankle (2x), all on the right side of my body. I have two hernias, one internal (hiatal) and one external, above my bellybutton. I have meniscus problems and a torn labrum in my right hip. The reason I initially fell in love with asana practice is that I could heal my body in ways that my chiropractor could not; I had been going consistently for a decade and was tired of the quick fix.
In Eastern healing modalities, you would never let an injury lie dormant for as long I was forced to as a teenager. You need to move through injuries without pushing into them too hard. The body has an intelligence our brains cannot sufficiently explain. If you're paying attention to your body, you can feel that intelligence, just like you should be able to know when you're eating foods that are not serving optimal health. You should know when you're pushing too hard, but you should really know when you're not pushing at all, which is just as dangerous.
The one thing I never want to see is any student hurt themselves because they pushed too hard. At the same time, I've seen students use injuries as an excuse for not trying new things or not putting their full effort into a class. That can be just as damaging, especially mentally, as it holds the student back from growing.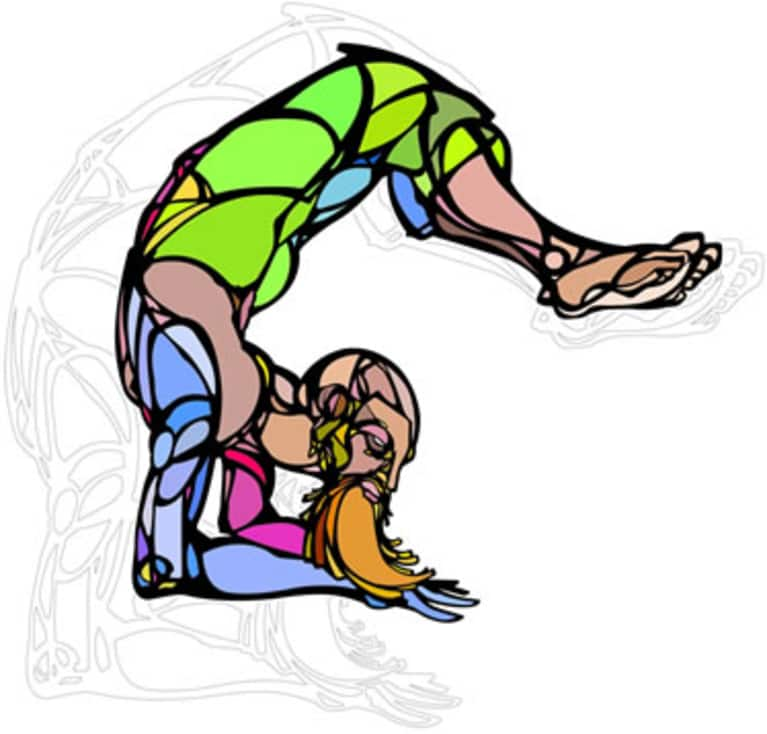 Your collaboration with the artist CAM -- how did it start? What are you guys working on -- what's next?
Craig and I were introduced from a mutual friend at one of his art shows back in 2000 and became fast friends. We started producing art parties all around New York, with him showing his art and curating, while I took care of the music and invited bands to play. We founded EarthRise Arts nearly a decade ago, and for five years did a number of parties together. He was slowly drawn to the Indian iconography and really took to it. The flow, shapes, colors and textures of his characters from the early '00's blended quite nicely with the Ganesha series he started doing, and interestingly enough, he intuitively had a natural grasp for symbology without ever knowing what certain characters represented. When I explained the philosophy behind certain mudras, for example, he would have correctly depicted the intention without consciously knowing what he was going for. Once he began to learn more about the philosophy, his paintings and graphics became even more involved and intensive - one Natraj he created for one of my book covers had something like 300 different elements in it.
We don't work as closely on specific things these days, but still collaborate regularly. Right now he's been doing a number of graphics and record covers for the label that my EarthRise SoundSystem partner, Duke Mushroom, founded, called Yoga Organix. We use his designs for our t-shirts, and have a few different series lined up for 2011 that are very exciting. Hopefully we'll get back to doing more Infusion parties very soon - we're looking at Spring for another big one.
Other than Innervisions, of course, what's on your current yoga playlist?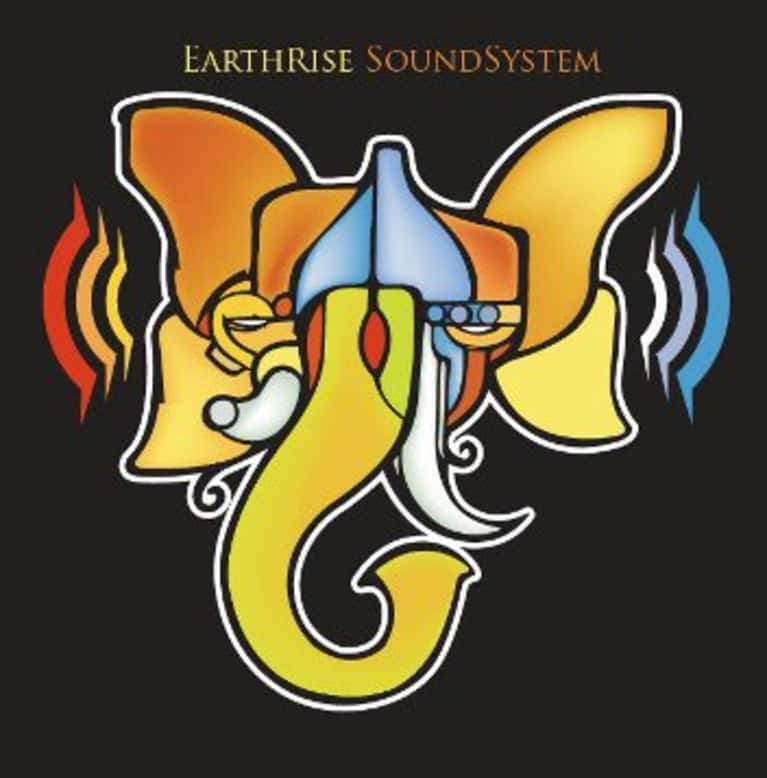 I change my playlists every week, just as I change my physical sequence each week. This week I'm stuck on a few amazing albums. I just wrote the biography for a Marseilles, France-based band called Watcha Clan that I've loved since I saw them in Paris almost three years ago. Their new one, Radio Babel, is blowing my mind. They combined Gnawa, Tuareg, Sephardic, Balkan and French music with really tasteful electronica, and everything they produce is stunning. The latest record on the Yoga Organix 'The Yoga Sessions' series is by cellist Dave Eggar. It's a quartet recording of Mozart for yoga, and it's absolutely beautiful. Then there's London-based Belleruche, who reminds me of an upbeat Portishead, and their new album, 270 Stories, is incredible. I'm a huge fan of Malian blues music, and I've recently gotten a copy of Sidi Touré's new record, Sahel Folk, and that's also rocking my world. Lastly, Vienna-based producer Dunkelbunt is perhaps one of the most inventive artists I've found in the past decade. I keep going back to his records.
What are some of your favorite places in NYC?
I live a block away from 'Snice, a great veggie cafe in Park Slope, and I also hit up the one in the West Village on the mornings I teach in Chelsea. Half of the vegetarian restaurants in NYC are usually uninspiring, using the trend of 'veggie' food as a way to throw some mock meat into a sandwich or plate instead of learning how to prepare vegetables properly. While 'Snice is a bit heavy on soy, they usually cook the products well, and have great baked goods and always maintain a friendly staff. I'm also a big fan of The Simple Kitchen on 17th St and 9th Ave. Most of what they serve is grown on their own farm; the food is always fresh and amazing. My favorite coffee is at Cafe 474 in Park Slope, while my favorite muffins (which 474 stocks) is from Blue Sky Bakery on 5th Ave, in Slope as well. Lastly, I really love Ayurveda Cafe on 94th and Amsterdam. They serve food thali-style, and you never know what's on the menu from day to day. I've never been disappointed with what they were serving, and it's some of the best cooked Indian food in the city.
You've met a lot of interesting people, has anyone been particularly inspiring? Anyone you'd like to meet?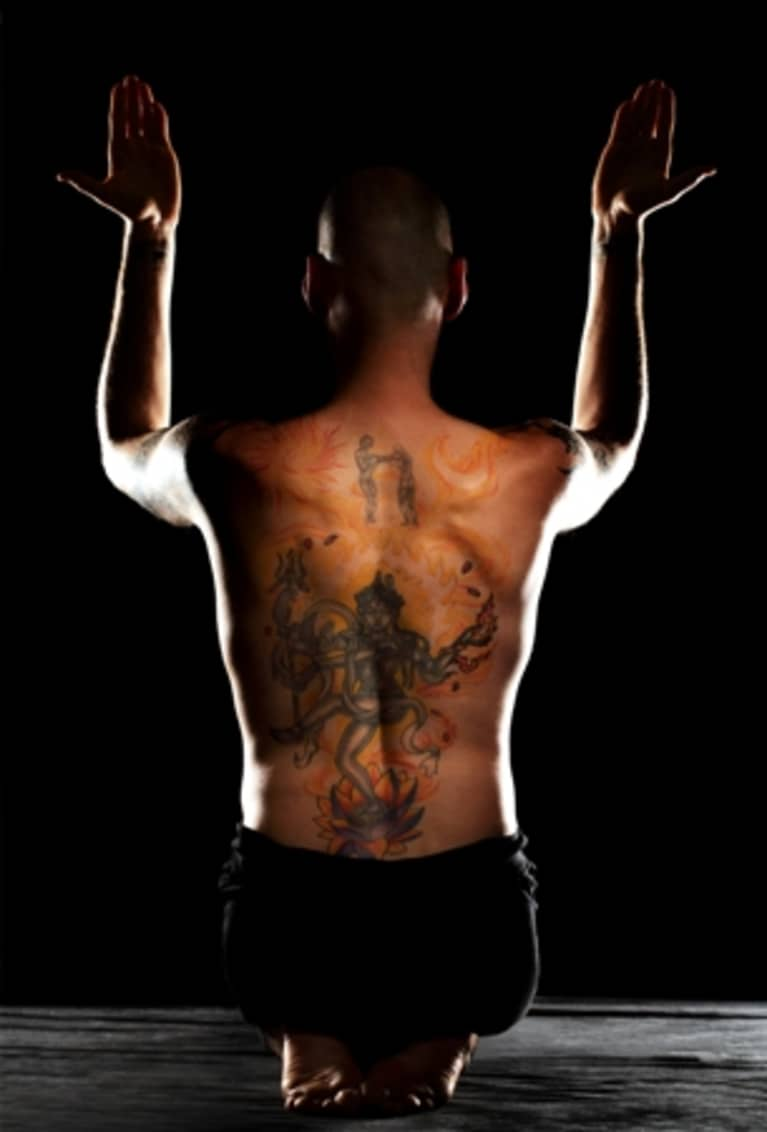 One of my earliest interviews was with my favorite comedian, George Carlin. He was an absolute gentleman, and really helped me realize that 'stars' are people too. In fact, what I've realized by interviewing over 400 artists is that the ones that think they are special produce the least interesting conversations. I love talking to people who are completely devoted to their craft yet have a sense of humility. Ben Harper is a great example. Years after I interviewed him in 1999, I ran into him and Jack Johnson, who I'd recently done a TV show with on NY1, in Hampton Chutney in Soho. They were both ready to talk and not at all annoyed that this guy sitting next to them butted into their conversation about the Blind Boys of Alabama, and that really shows through in their art. I recently interviewed Natacha Atlas, who gave a great interview as well. Michael Franti always gives an inspired talk, as does Krishna Das, who I've talked to at least a half-dozen times by now. Those men are super humble and approachable.
I'm inspired by a lot of people, though in yoga specifically, Dharma Mittra is the teacher that really pushes me into new territory inside of myself every time I take his class. And again, you have a man with so little ego and so much to give. And while I haven't met him in person yet, I'm currently taking Leslie Kaminoff's online anatomy course, and am blown away with both the depth of his knowledge and his humility in presenting it.
What's next for you -- what are you working on?
EarthRise SoundSystem has a new record coming out in March called Remixes are Songs, Too. It's a collection of the fifteen or so remixes we've done over the past two years, as well as some new material. We'll be looking to do some more touring by Spring to support the record, and working towards our next full-length in early 2012.
I'm hard at work on a new book project. It's a collaboration with another journalist and has to do with yoga, though cannot divulge too much information yet as we've just started working on it.
I'm excited to be part of Yama Talent now, who will be representing bookings for me in 2011. I've been a big fan of traveling for a long time, and love to get out of town to teach and DJ whenever possible, so I'm looking forward to getting on the road as much as possible, and so far it seems like Yama is
building up a solid Kula.
For more on Derek:
DerekBeres.com, EarthRiseSoundSystem.com
Twitter: @derekberes
Facebook: derek.beres
images of Derek via Kfir Ziv