A Gym-Free Workout You Can Do On The Road
The good intentions many of us have to go to the gym every day often become unattainable due to our busy schedules and the unpredictably with everyday life. The great thing is, exercise truly can be done just about anywhere.
I'm a personal trainer who doesn't own a gym or workout with clients in one. My philosophy is rooted in the belief that fitness is for everyone and can be done anywhere, an idea that first evolved (and was put to the test!) a few years ago while touring with a band. They were on the road, living in cramped quarters with sporadic downtime and in a new city every day: in San Francisco, we ran the steep hills and stretched near the Golden Gate Bridge; at Coachella, we worked our cores in the shade of a palm tree; in Toronto, we did planks, lunges and squats in a tiny green room at Massey Hall; visiting the Ellen Show, we worked on balance and flexibility in the waiting area.
Finding ways to get (or stay) in shape without a gym is totally possible, as long as you know where to begin. Remember these four tips and you'll be able to find time and space for fitness, no matter where you are:
1. Simplify your workouts.
When we were younger, we didn't need equipment, gyms or even a reason to be active ... we just were. Reintroduce that youthful approach into your life. Find moves you can do anytime, anywhere, like bodyweight squats, planks, pushup variations and jumping jacks.
2. Plan ahead.
Lack of preparation typically leads to poor decision making. If you plan ahead, you're setting yourself up for success. Wherever your travels may take you, be sure to do a little research on what the area has to offer. Maybe there's a hiking trail nearby or a quiet spot in a park to do some core exercises. Bonus? You'll probably see a part of the city that's a little off the beaten path.
3. Create time.
Life is busy, but we almost always have time for a quick workout every day. You can do exercises to strengthen and tone your body without having to change into workout clothes: find stairs and do calf raises; use a chair to do tricep dips; use an open expanse of wall for wall site; go for a walk on your lunch hour. You'll discover you have many workout options that require no equipment and very little time.
4. Buy a DVD or attend a workout class.
Especially ones that specialize in bodyweight and cardio exercises so you have knowledge of what workout moves you can use on the go. The issue many people run into with exercising alone is not knowing what to do or how to do it. The exercises you can do on the fly, in a small space using just your body are endless, but it's necessary to use proper form.
If you're still stuck on what to do or where to begin, try these five simple, no-gym-required workout moves that you can do anytime, anywhere.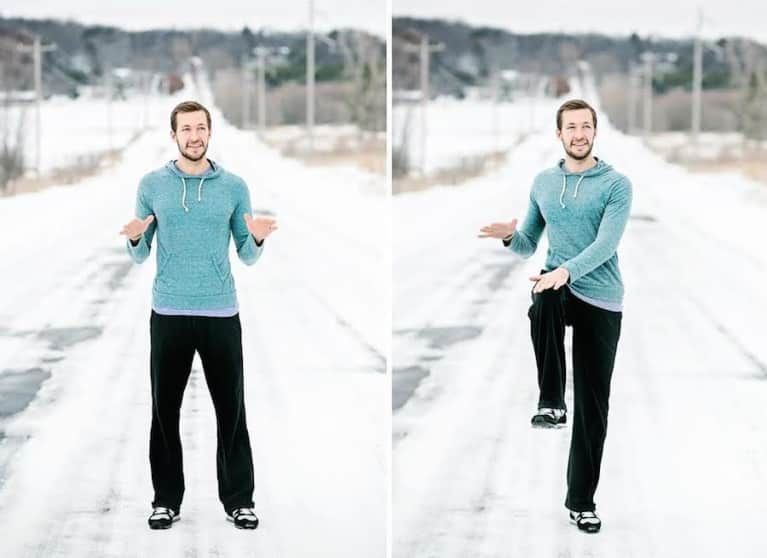 Stand up straight with your feet shoulder-width apart. Bring your right knee up toward your hip and touch the raised knee with your left hand, crossing the arm in front of your upright torso. Return to standing. Remember to keep your core engaged the entire time.
Alternate sides by next raising your left knee and touching it with your right hand. Repeat 30 times total (one rep equals one knee raise on each side).
Squat With Shoulder Press
Bring your legs and butt into a squat position with your right hand near your waist and left hand up near your should (pictured above, left).
As you straighten your legs to standing, bring your right hand straight up toward so it's in line with your eyes and parallel to the ground, and your left hand straight up to the ceiling/sky (pictured above, right). After 12 reps, switch sides and repeat.
Side Lunge With Shoulder Raise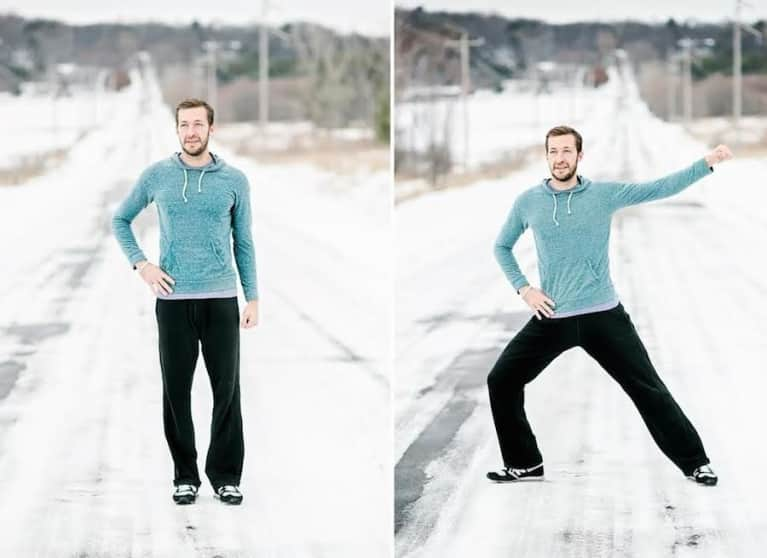 Start with your feet, arms down by your sides. Still facing forward, lunge your right leg out to the side and bend the left while you also bring your left arm straight out from your side so it's parallel to the floor (pictured above, right).
Make sure the weight is in your left and your right knee is in line with your toes. Repeat 15 times on one side, then switch sides.
Reverse Lunges With Chest Press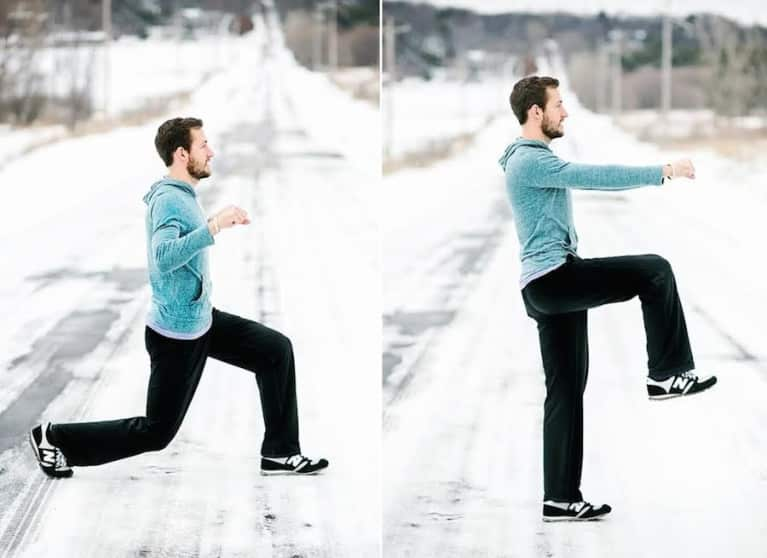 Standing tall with hand at your chest, square your hips so they're pointing forward. Then, lunge back with your left leg, making sure your right knee is tracking over your ankle.
Hold the lunge for a few seconds and then as you come up, bring your left knee up towards your chest and hand out in front, parallel to the ground (pictured above, right). Repeat 12 times, then switch legs.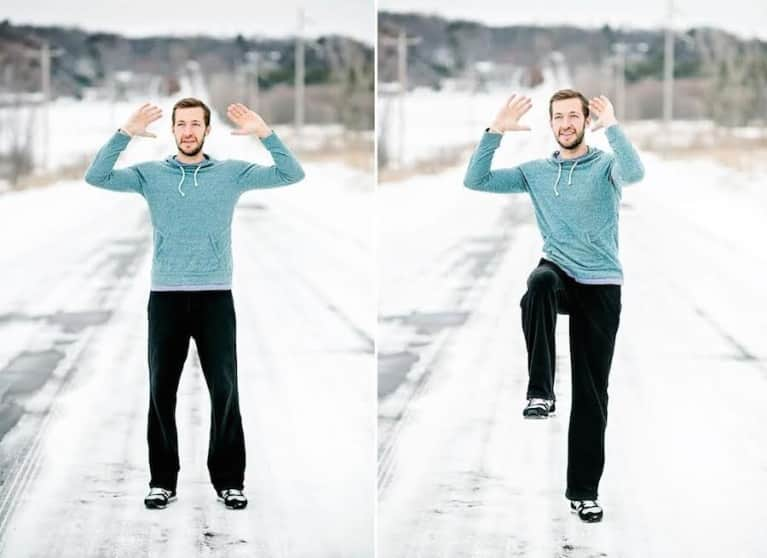 Stand tall with hands behind your head. Bring your right knee up toward your chest while simultaneously bringing your left elbow over and down to meet the rising knee. Alternate sides to side for 30 reps.
Photos courtesy of author