A Classic American Holiday Dessert, Made Healthier
Even though my mom's age and socioeconomic position suggests otherwise, neither she nor any of the other women in my family ever jumped on the jell-o ring mold, marshmallow as a component in salad bandwagon. My mom never really called on many pre-packaged processed foods as ingredients, probably because we lived way out in the country and treated a trip to the grocery store like a bonafide trip to town. So thankfully, she didn't make the jiggly, light green, sweet stuff that often spookified the savory end of our covered dish suppers and Holiday tables growing up.
That's not to say I wasn't exposed to creamy Waldorfs, Angler's Delights, and Ambrosias brimming with the incredibly odd combination of mayonnaise and marshmallow. Oh no, I definitely had them. I just never understood why people liked them.
Recently though, in preparation for our PBS series' upcoming "A Chef's Life Holiday Special," I researched my region's most treasured Holiday foods. And time after time people gushed about how nothing said Christmas like ambrosia. For a girl who believes the wise men took gold, frankincense and sausage biscuits to baby Jesus, this ambrosia worship was shocking!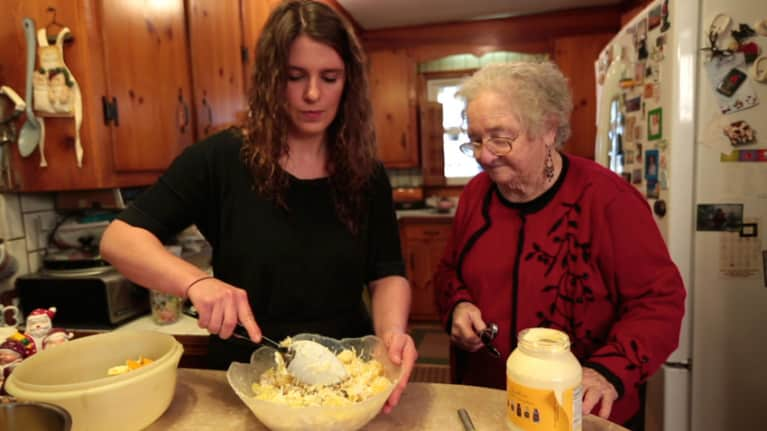 So what is it? Why do we associate it with the Holidays, and should it be reintroduced in a non-jell-o marshmallow sort of way?
The word ambrosia literally means "food of the gods," and in Latin texts, that food is often described as "nectar," or sometimes honey. So it makes perfect sense that the ambrosia we mortals know has generally been tooth-aching sweet.
But when you strip away the mayonnaise, heavy cream, marshmallow and pineapple properties found in many types of ambrosia, it looks as if it's at its core a combination of orange and coconut. At its worst, that's canned mandarin oranges and flaked coconut. At its best, we're talking about something I can get behind, orange supremes and fresh coconut.
What's really interesting though, and a sign of the ever-changing times, is that most recipes call for fresh shaved coconut used in conjunction with the aforementioned gelatin and marshmallows. So contrary to what I previously believed, ambrosia was not a salad of convenience because finding, getting into and shaving a fresh coconut ain't that easy. Rather, at ambrosia's zenith back in the 60s, 70s and 80s home cooks deemed things like gelatin packets, marshmallows and canned fruit valuable- ingredients used for special occasions like Christmas.
Another thing happens every winter — Florida citrus season. Come November, high school students all over the American South peddle oranges and grapefruit like their prom depends on it. Going door to door, they sell sweet mamas way more citrus than their families could ever consume, and those mamas give those oranges and tangerines as gifts to friends and neighbors. What you end up with is a glut of citrus, the makings of ambrosia.
For me, a modern ambrosia that's less like nectar and more like a bright salad means a lot to the Holiday spread. It can be the acidic, balancing element that cranberry sauce is to Thanksgiving.
My ambrosia is creamy, fun and capable of waking up your palate. It's also pretty easy to make. If the crumble is too much of a chore for your kitchen, just chop a few roasted peanuts and sprinkle them on top. And just like traditional ambrosia, you can assemble it ahead of time, making it an easy choice for Holiday entertaining.
Viv's Ambrosia
Serves 6
Ingredients
1 cup orange supremes
2/3 cup tangerine supremes
1 cup ruby red grapefruit supremes
1 cup diced apple
2/3 cup pomegranate seeds
2 heads Belgian endive, chopped into 1 inch pieces
1/3 cup sour cream
1/4 cup coco lopez
1/3 cup lemon juice
1/4 cup freshly grated horseradish root
1 teaspoon salt
1/3 teaspoon cayenne
Preparation
1. Make the Dressing: In a medium bowl, whisk together all the ingredients and chill until you're ready to use.
2. Make the Salad: In a medium bowl, combine the citrus, endive, apple and the dressing. Take care to stir it gently, as you don't want fruit that's looks ragged. Transfer the salad to the refrigerator until you're ready to serve it.
3. Just before serving, cover the top with pomegranate seeds and curried nuts. Serve chilled.
Coconut Curried Peanut & Pecan Crumble
Makes roughly 5 cups
Ingredients
2 cups rolled oats
1 cup shredded coconut
1 1/4 cups roughly chopped pecans (we buy pecan pieces)
1 1/4 cups peanuts, roughly chopped
2 egg whites
1/2 cup sugar
3 teaspoons madras curry powder
2 teaspoons ground coriander
1 teaspoon cayenne
2 teaspoons Worcestershire
1/2 cup unrefined coconut oil, melted
3/4 teaspoons salt
Preparation
1. Preheat the oven to 300ºF. In a large bowl, stir together the oats, shredded coconut, pecans and peanuts. In another bowl, whisk the egg whites till frothy. Then whisk in the sugar, cayenne, fennel, Worcestershire, coconut oil and salt. Pour the egg white mix over the nut mix and stir it to combine.
2. Spread the whole thing out in a thin layer onto a baking sheet and bake for 30 minutes. Remove it from the oven and let it cool before breaking the crumble into pieces.
Cover Photo Credit: Stocksy