10 Tips To Make This The Year You Actually Keep Your Fitness Resolutions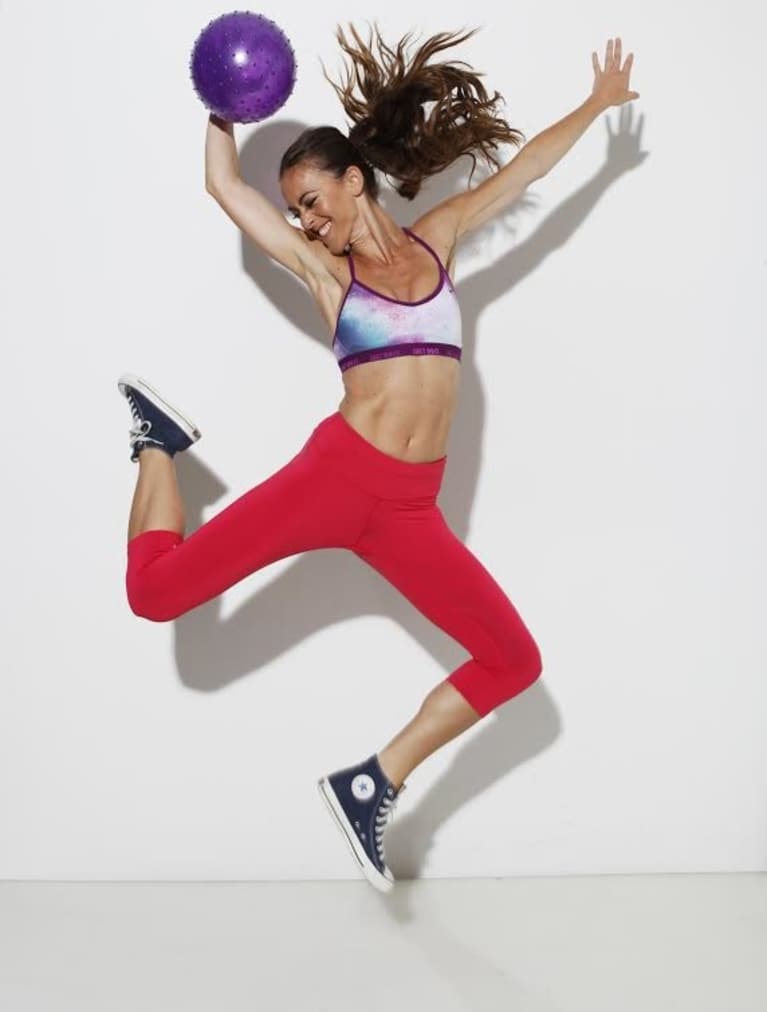 As a society, it seems we're getting more and more health conscious ever year, which means a healthy lifestyle is moving up our list of New Year's resolutions.
However, as is the case with a lot of our well intentioned goals, by February 1 so many of us have either forgotten about or given up on all the positive intentions we set for ourselves just a month earlier.
Why is it so hard for us to stick to these goals? Good question. Whether it be on January 1 or July 11, we have to make sure goals we set aren't also setting us up for failure from the start. We must actively make an effort to ensure we not only reach our goals, but that they also help us enact real, true change in our lives.
So how do we do this? Here are some universal tips on how to actually stick to your New Year's resolutions throughout the entire year (whether they're are fitness oriented or not).
1. Set realistic and specific goals.
While it's great to shoot for the moon, completely overhauling your entire life usually isn't realistic, attainable or sustainable. Start small, be specific and build from there. If you haven't worked out since Richard Simmons was leading class, you're likely not ready to go out and run a marathon during your first workout. Setting unrealistic goals not only sets you up for likely failure, but also injury.
Additionally, be specific about your goals. For example, instead of making a resolution to "go to the gym more," pick a specific number of days you want to workout, sit down with your calendar and schedule that time in just like you would a meeting or social engagement.
2. Set goals you'll look forward to.
If you've tried spinning and it's still just not something you enjoy, don't feel like you have to force yourself into it just because it's trendy or someone else says it's good for you. Take some time to think about activities you enjoy and look for workouts and classes that either come close to these activities or have some elements of why you enjoy the activity.
With so many amazing workout options on the market — from working out in your basement to a trampoline Zumba class — there's no doubt you'll find something you look forward to doing. If you happily anticipate what you've set out to do and actually enjoy doing it when the time comes, you're much more likely to not only reach your goal, but keep doing it — all while having fun!
3. Make it monthly.
Setting an intention for the entire year is tough. Life is just too unpredictable to hold ourselves to such long-term, lofty goals. Instead, set new goals every month. Not only does this keep you actively engaged with what you've set out to do, but you can check in with yourself and make any necessary changes as they pop up. If you've already reached a goal, maybe take it to the next level and keep pushing yourself. If you set a goal that you haven't been able to reach, replace it with something more realistic and see if that works.
4. Set up an accountability system.
Accountability is everything, and there are countless ways to make yourself accountable for your goals. If you can't hold yourself accountable to something by writing it down and checking it off, have someone else help you out. Whether you share your resolutions with a friend, family member or significant other, have them check in with you and help you stay on track.
If you have the budget for it, hire a trainer. It's much harder not to show up to the gym when you have an appointment with someone and you know how much you're paying for it!
5. Buddy up.
Find a resolution partner. Not only does this give you a built in accountability system, but it's just more fun to do things with a buddy! Pick workout classes you can attend together, head to the gym at the same time and put dates in the calendar so you can actually stick to them. You'll likely inspire your other friends as well, in which case your standing Sunday brunch could turn into group bootcamp instead!
6. Make one of your goals about someone else.
This is one of the most positive ways to stick to your resolutions. For some reason, we tend to be better at keeping promises we make to other people than when we make them to ourselves. Perhaps train to run a race in someone else's honor, take an elderly loved one (or volunteer for someone you don't know) for a weekly walk or encourage someone who's really struggling with their health to join you for some workout time and healthy eating!
7. Make it about more than weight loss.
While weight loss is certainly a needed part of getting healthy for some and can often make us feel better in certain ways, focusing solely on the scale is not only unsustainable, it's often not healthy. Instead, focus on working on your overall health and wellness, which will inevitably have positive effects on your appearance and the way you feel about it.
8. Reward yourself.
Coming up with a reward system sets up your own personal incentive to stick to your resolutions. For example, at the end of every month you complete your fitness goals, treat yourself to a massage or a new piece of fitness gear you've been eyeing. Or, at the end of each week, indulge in a favorite treat. You can also set bigger goals like a trip or a big ticket item you spend the year saving up for, but only allow yourself to have if you've stuck to your goals!
9. Treat every day like January 1.
While the start of a new year is a great time to start new goals, it's really just a number on a calendar in the end. If you don't start a new routine on January 1st, that doesn't mean you've missed out on the one day a year you're allowed to improve yourself and your life. You can set and start resolutions ANY day of ANY year. So if you don't get started "on time" this year, don't give up — do it when you can!
10. If at first you don't succeed, try and try again!
If resolutions were easy to stick to, we wouldn't have to set them and you wouldn't be reading an article like this. However, if you start a resolution and you find you've fallen off the wagon come spring time, don't just give up! Take a moment to reassess if that was really the right goal for you. If so, start again and take another stab at it. If not, replace it with a new goal that's more realistic and better suited for your lifestyle and needs.
In the end, there are no rules, there are no deadlines, there is nobody who is going to punish you and there is no real failure. So be positive, have fun and know you CAN do this!
Photo courtesy of the author