A 4-Minute Workout To Boost Energy When You're On The Go
This workout is so fast you can do it in the airport, train station or even in the kitchen between peeling apples and taking the pie out of the oven. Just a few moments of exercise will make you feel confident, attractive and relaxed, making you more pleasant to be around — even when fighting the stress of the holiday season.
The best part? You only need four consecutive minutes to spare, any time, day or night.
Spend about a minute on each exercise with little or no rest between moves. All four exercises together make up a round. You can perform three (or more!) rounds at once, resting 30 to 60 seconds between each, or spread your rounds throughout the day. Form is key, so if you can't do at least five repetitions of an exercise with strict form, consider choosing a less advanced version of the movement pattern.
Photo courtesy of the author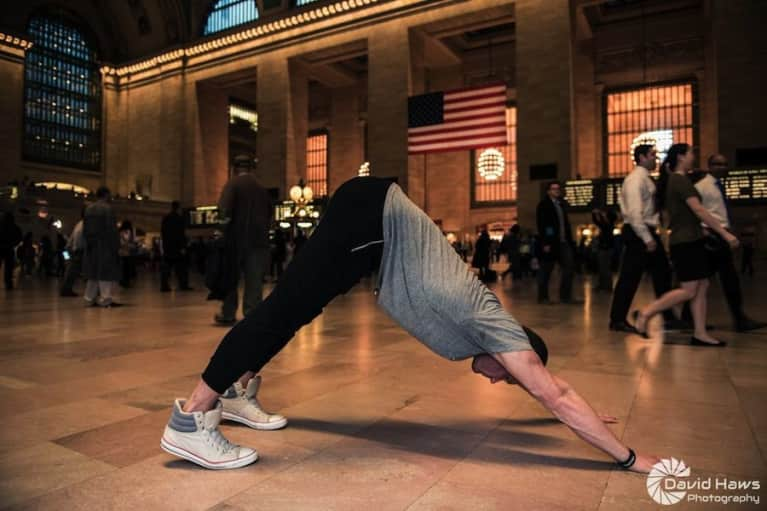 In a plank position (long neck, shoulders over hands, limbs straight, core braced and feet hip width apart), inhale as you descend into a deep push-up.
Exhale slowly as you press up and hinge your hips into downward facing dog. Maintain straight limbs and an engaged core. Push into the floor and shrug your shoulders closer to your ears. Press your heels towards the ground and lengthen the back of your legs. Take a deep breath and repeat.

Beginner: Begin in the same position, but use your knees to assist with the up phase of the push-up.
Advanced: Perform a Dive-bomber push-up.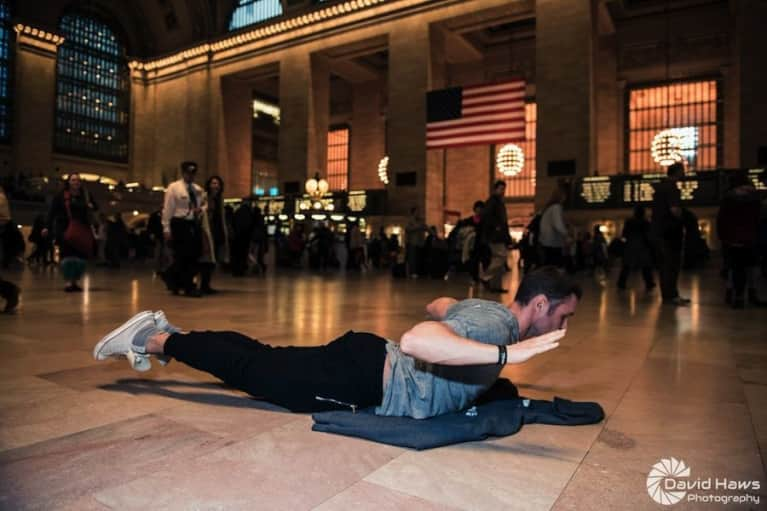 On your belly, point your toes and squeeze your legs together. Reach forward with straight arms, palms facing down, hands shoulder width apart.
Lift your chest, arms and legs as high as possible. Maintaining a full-body squeeze, bend your arms and pull your elbows towards your ribcage. Return arms overhead. Fully squeeze your upper back and shoulders, similar to a pull-up.
Beginner: Bend at the hips and perform this move standing.
Breast Stroke (Active Hang)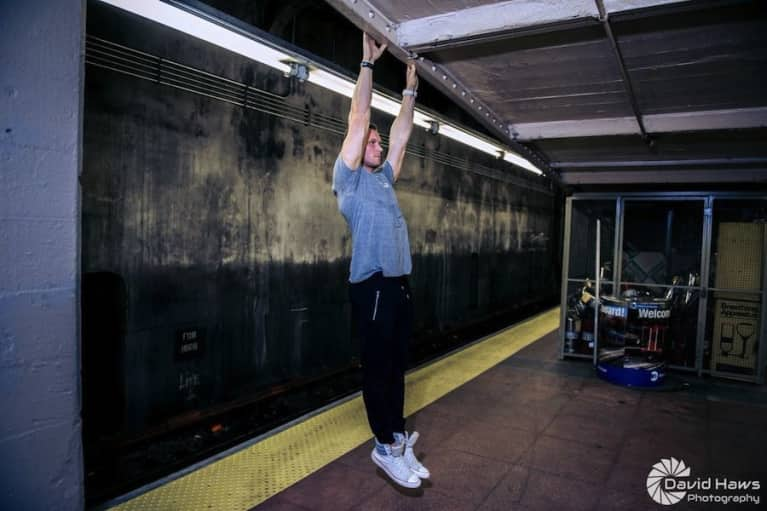 Advanced: Find anything to hang on and perform pull ups, chin ups or simply hang for as long as possible while maintaining straight arms and engaging your upper back.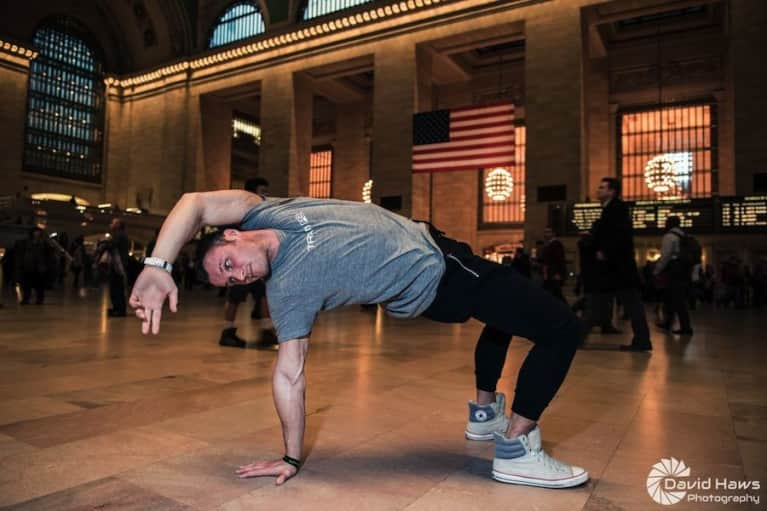 Start in crab position: legs bent, feet hip width apart, toes facing forward, hands under shoulders with fingers facing away from your toes.
Open your chest by squeezing your shoulders back and down, away from your ears. With hips 1-2 inches above the ground, bend your left arm and bring your open hand in front of your face.
Bridge up as high as possible and reach your left arm up and over your head toward the ground. Look down towards your right hand and hold for three seconds. Return to starting position and switch sides.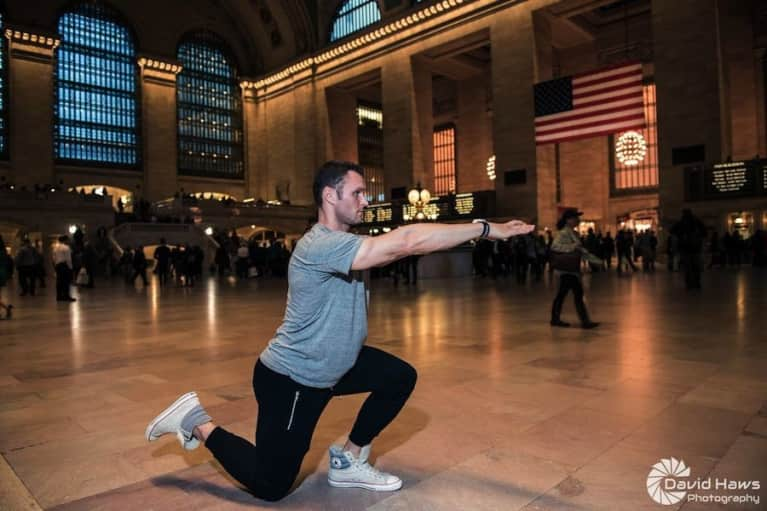 Stand on left leg, hips fully extended and butt squeezed. Bend your right knee. Raise your arms to shoulder height, pull your shoulder blades down and back and reach your fingers forward.
Hinge at the hips and bend your left knee until your right knee comes close to or lightly touches the ground. Gently rock forward and press up to standing.
Beginner: Use your back foot to assist you on the way up, or do a back lunge.

Advanced: Do not let your back foot touch the ground.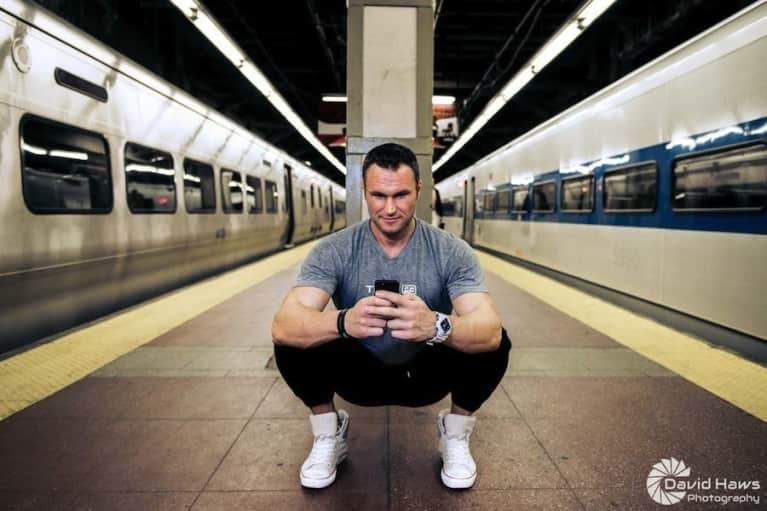 Be creative and bold in finding space to workout.
Another travel tip: sit in a primal squat while waiting for transportation, family or even a latte. It will improve your mobility, help digestion and start conversations with people who think that you're strange and interesting.
Most importantly, have fun, challenge yourself, breathe and focus on quality over quantity.