11 Super-Cute, Eco-Friendly Items To Gift This Season
Not your typical eco-friendly gift guide, healthy living chef, author and TV host Candice Kumai shares 11 super-cute, eco-chic gifts that you'd buy even if they weren't so green.
1. Hydrate Cleaner + Do Good: Soma Water Filter
Being clean includes drinking cleaner water. This stylish and sleek German-engineered glass water filter is the next best thing in water. It's made from shatter-proof glass, coconut shells and plant-based casing. With every filter you purchase, Soma kindly donates to a water charity. Something you can feel amazing about while looking cool at the same time.
2. Socially Responsible High-Fashion: Amour Vert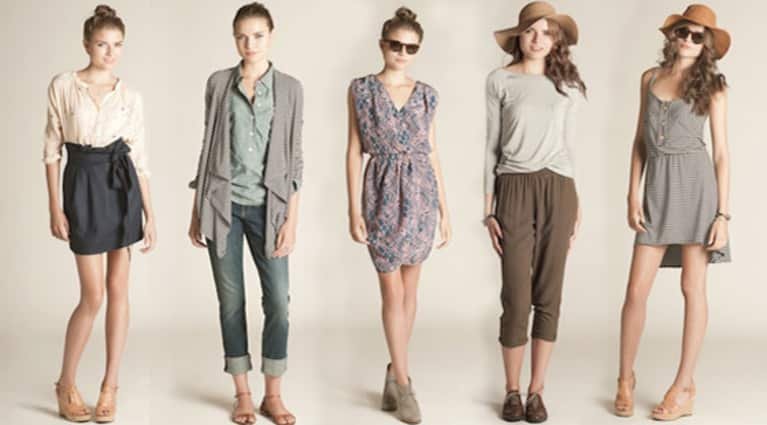 Amour Vert's hearts and minds came together to create gorgeous fashion with a focus on sustainable practices while using quality and sustainable ingredients. You can feel (and LOOK) really fabulous in their stylish digs. I love wearing these dresses on set and with girlfriends out for a birthday brunch. They also have a perfect plant a tree for a tee program! Buy a Tee, Plant a Tree!: Amour Vert believes with every stitch they are pioneering a sustainable future through smarter fashion. By 2015, Amour Vert will plant 100,000 trees through the sales of their just-right tees.
3. Delicious + Decadent: Chuao Chocolate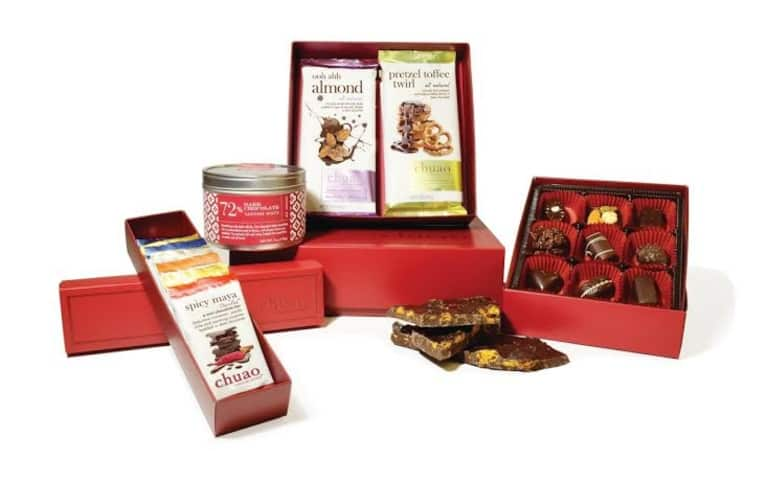 This delicious handmade chocolate, from my hometown of sunny San Diego, is a favorite back home. Founded in 2002 by Chef Michael Antonorsi this ethically-traded, farmed and sourced chocolate was originally created by the Venezuelan chef to support ethical trading with Venezuelan goods. You can find these delicious confections with unique flavors like Maple Bacon and my fave, Ravishing Rocky Road, at Whole Foods, Dean and Deluca or online.
4. Sexy + Sustainable: Hanky Panky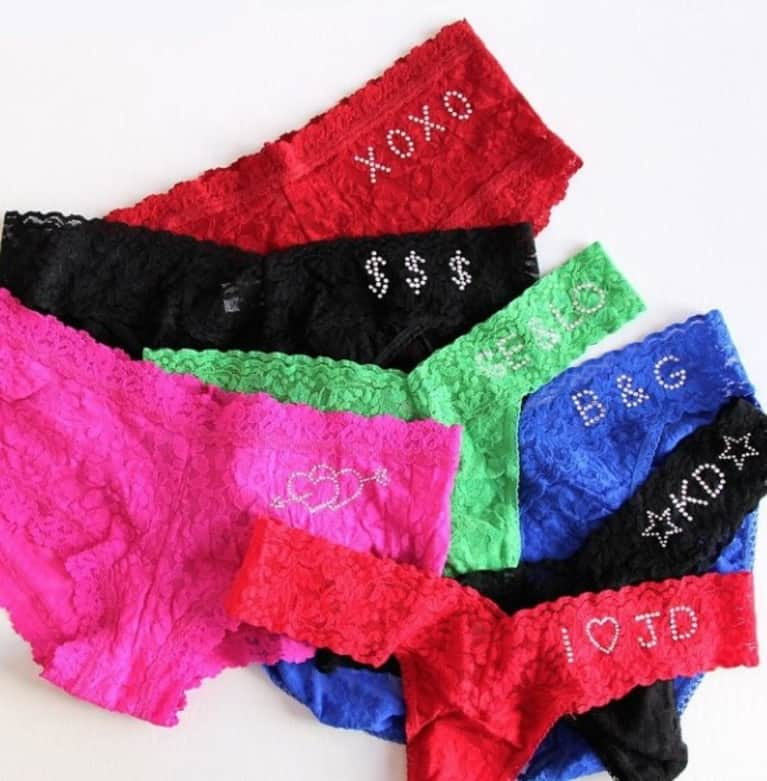 Made in the USA using only recycled packaging materials of the utmost and comfiest quality, these delightfully sexy panties are still my absolute favorite for any gift. With a "one-size fits all" look you won't ever offend her. ;) I personally love the fit, colors and style of this classic panty! Bet you never knew how sustainably-friendly these panties really — more here on what Hanky Panky has been doing since 1977. Buy a multi-rolled pack for a perfect stocking stuffer!
5. Eco-Chic Feet: Feelgoodz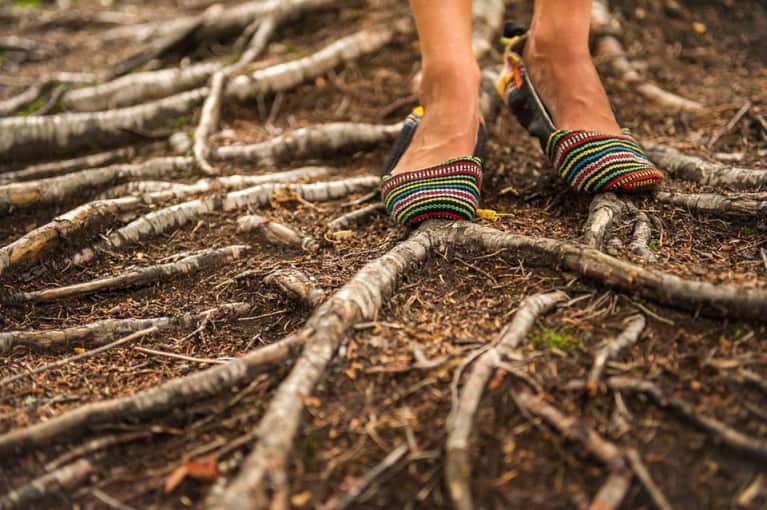 Feelgoodz handwoven, women's Lizzielooms are crafted by some of the most remote villages in the world. They use traditional techniques that have been a part of the Mayan culture for many centuries. To empower their artisans, they help to create weaving co-ops in their communities. They started Lizzieloom products employing 25 weavers in two villages and now use 160 weavers in 9 villages. If you can believe it, there are now over 150 weaving villages in Guatemala. FeelGood! about your next pair of shoes or even flip flops with Jack Johnson's Kokua Foundation, too! The Kokua Foundation helps to ensure that children around the nation are better to our environment! Truly, better together!
6. Look Good, BeGood: BeGood Organic Clothing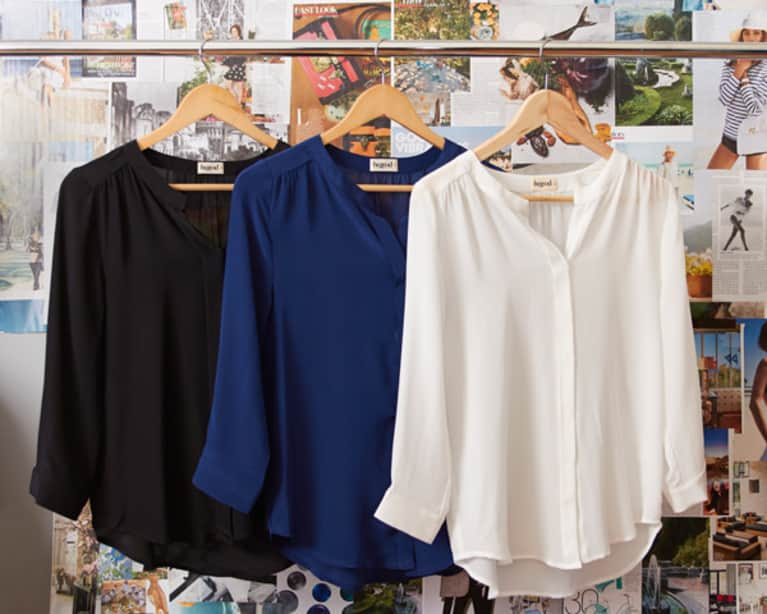 Who doesn't want a perfect white, cotton tee? Or how about a classic and socially responsible silk shirt? Made with the finest, softest organic materials, this San Francisco-based clothing company uses preimum fabrics and responsible resources to create some of the softest, finest organic ingreds…and they ship straight to you to keep costs down. No markups, just organic clothing & goodness. Bravo to all of you at Begood, doing great things!
7. Coffee For Hipsters: Stumptown + Mast Brothers Ser.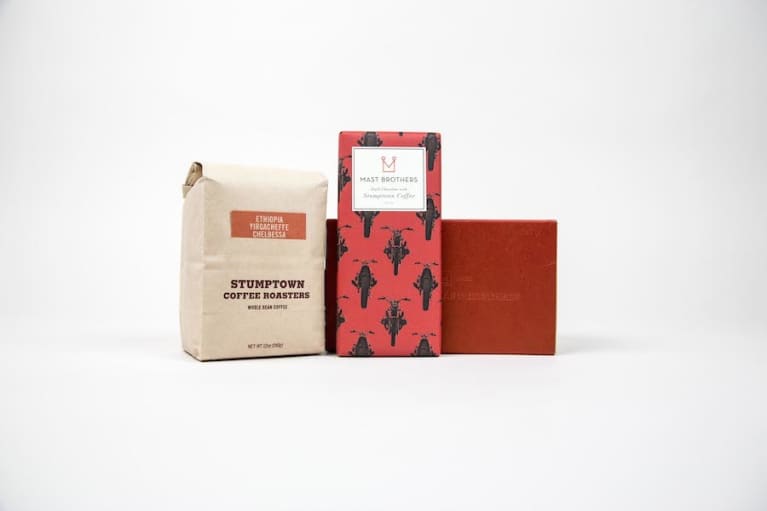 A local Brooklyn fave here in NYC, this coffee company has some of the richest and deepest roasted beans. If you really wanna be BK this holiday, Mast Brothers Chocolate & Stumptown teamed up for a fabulous, made-in-Brooklyn matched duo. The peach and honeydew notes of their Ethiopia Yirgacheffe Chelbessa pair fabulously with chocolate!
Stumptown producer, Chelbessa, achieves a consistently fantastic cup primarily by focusing his efforts on pristine processing and the care of his young plants. Chelbessa provides you with a 100% organic heirloom variety that supports a better life for the community of farmers and their families while promoting environmental stewardship. Better plants, better service, better practices = better coffee and a happy, healthier planet!
8. Clean-Burning Coconut Wax Voluspa Candles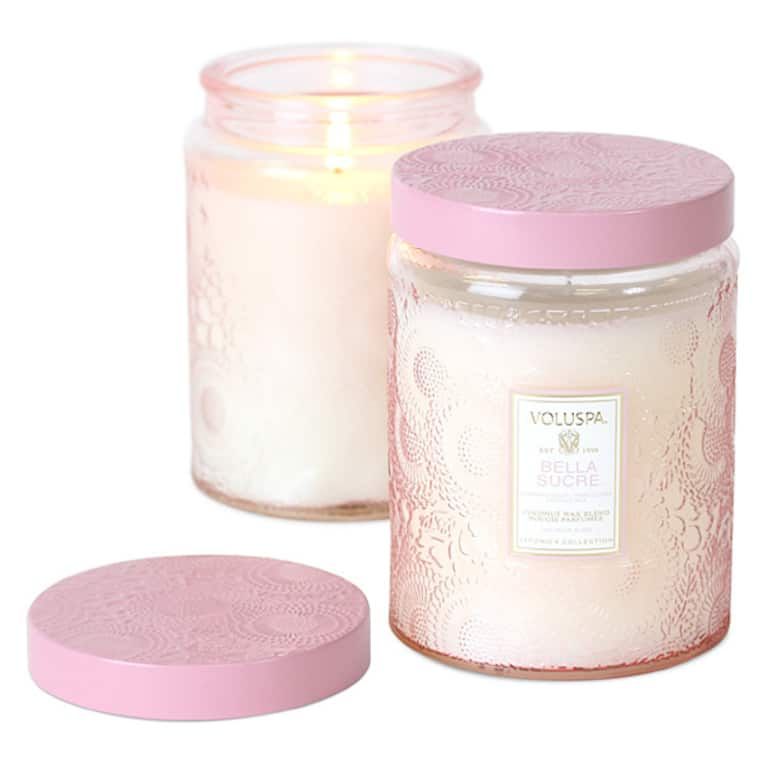 If there were ever a coconut based eco-friendly and sustainable candle to burn, this is the one. Hand made in the USA, in sunny So Cal, I love cooking whilst burning these candles before a dinner party. Or try setting a beautiful brunch scene with these gorgeous candles for the girls on a Sunday Brunch! Voluspa candles are hand-poured with love in Southern California, using an extremely clean burning coconut wax blend, lab tests show that Voluspa's coconut wax blend burns up to 90% cleaner than a 100% soy wax candle of the same size and fragrance. More on these yummy and fab candles (the Japonica collection is my fave!) here.
9. Fresh Faced + Fab: Naturopathica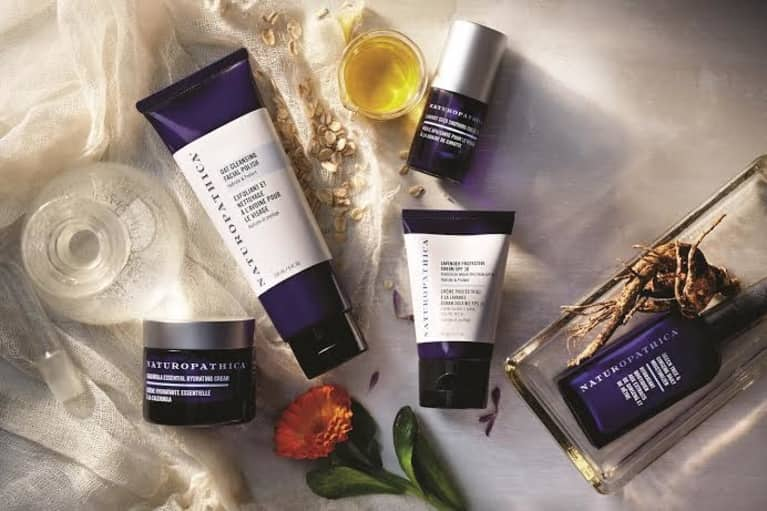 I love this wholesome, natural, cruelty-free, made in the USA and organic beauty brand. This wonderful NY local based company uses wholesome, hollistic ingredients to create refreshing, glowing and clean beauty products, (their natural and soothing oat cleansing facial polish is my fave!) Naturopathica's approach to skin care addresses the primary cause of premature aging of the skin, inflammation and the harsh environment! Every ingredient used with Naturopathica products is carefully curated to promote skin health, restore skin youthfulness and delight the senses for overall well being. Sounds incredibly refreshing, right? More on the lovely cleansing gifts for this season here.
10. Matcha Tea Love Furoshiki + Matcha Tea Set

This gorgeous and traditional Matcha LOVE Gift Set, wrapped in an Eco-Reusable furoshiki cloth is to die for. These beautiful, Japanese furoshiki's are traditional Japanese cloth gift wraps: Translated to: (Furo-Bath) and (Shiki-Mat)....the furoshikis were used in the ancient days to wrap the cloths when going to the bath houses. Today, it is a time-honored tradition of ift Wrapping for gift giving needs. This gift set also includes a reusable matcha brush, a matcha tea cup and matcha love powder. The real thing, created by my Japanese ancestors. Enjoy the antioxidants, vitamins and immunity boosting powers of Matcha Love this holiday!
11. Aloha Gardenia Fragrance Love!: Kai Fragrance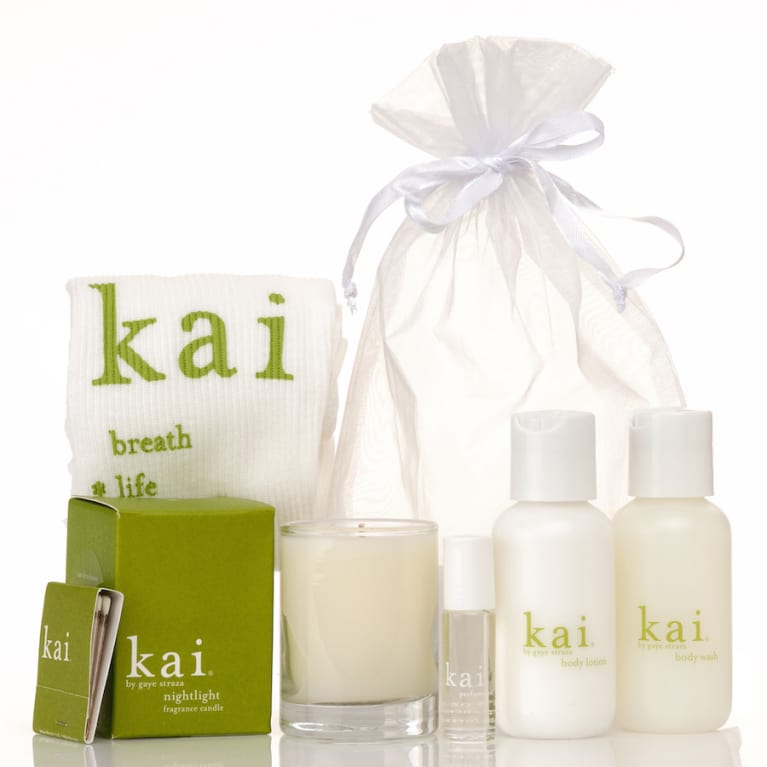 This delightful gardenia-Hawaiian-love fragrance is my favorite from childhood trips to Hawaii and from my hometown in San Diego. Kai is originally a collection of fragrance home, bath and body care products that are all free of parabens, sulfates, phthalates and phosphates. The environment is extremely important to Kai and its employees, and in a continuing effort to reduce Kai's carbon footprint, all manufacturing occurs in the USA with recyclable packaging. Kai is also cruelty-free and never tested on animals. These important initiatives are what makes the Kai collection more sustainable, and keep in line with the company's mission: "beauty lies in the simplest and purest of things."
Cover photo courtesy of Feegoodz