Pear-Honey Exfoliator For Glowing Skin
Winter is upon us, which means below freezing temperatures, frigid winds and bone chilling nights. For many of us, these harsh conditions result in itchy, dry skin. However, that doesn't have to be the case!
Every winter I receive an influx of emails asking what products and techniques I recommend to protect against severe weather. This year, my advice to you is ton skip the skin care aisle and head straight for the produce section or local farmers market.
As a professional makeup artist and advocate for natural skin care, I steer away from the harsh chemicals found in many store-bought products. For this reason, I rely on Jojoba and coconut oils — staples in my beauty kit, both personally and professionally. When coupled with ingredients like honey, oatmeal and pears, they work to keep your skin's cell turnover rate high, resulting in beautifully vibrant skin.
Honey, although a natural exfoliator itself, also acts as a moisturizing agent, while oats are known to help soothe any rashes or itching that may occur as a result of the colder weather.
Similarly, pears have natural antioxidants that shield our skin from daily pollutants, and are packed with hydroxycinnamic acids and flavonoids which are designed to protect our skin cells from damage. When used as a topical treatment, the skin of the pear assists in gently removing dead skin while the flesh of the pear acts as a gateway to deliver essential nutrients directly to the skin.
Pear-Honey Exfoliator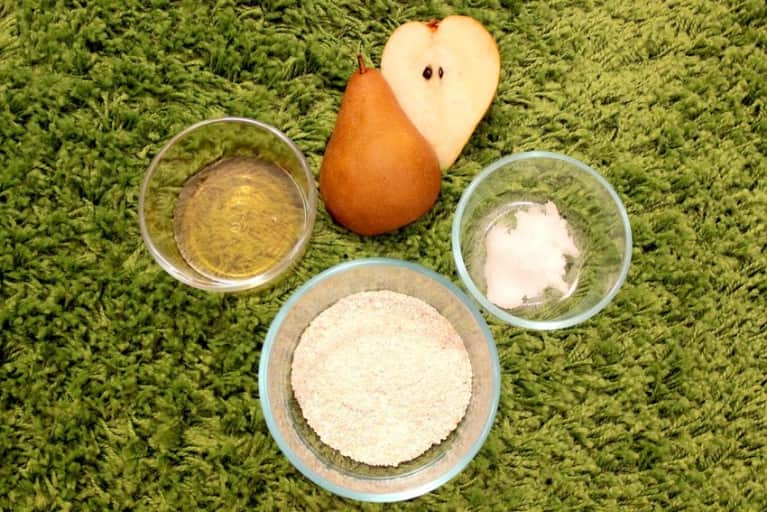 1/4 cup of a diced organic Bosc pear
1 tabelspoon of organic extra virgin coconut oil
1 teaspoon of organic honey
1/4 cup of quick cooking oats
Combine all ingredients in your blender until your mixture is puréed.
Wash your face as you would normally, removing all makeup.
Take a palm full of your pear exfoliator and begin to apply it in small increments with your fingertips, starting with your cheeks and nose and moving around your face to your forehead and chin.
Gently massage the mixture on your face for 1-2 minutes and rinse with warm water.
Pat your face dry and apply a natural moisturizer like jojoba oil to replenish the skin.
Exfoliate with this scrub at least once a week. Organic ingredients are nice and fresh, but unfortunately don't last very long so make this exfoliator fresh each time. You can add cane sugar to the remaining pear for the perfect body scrub.
With your pear exfoliator on standby, you're ready to conquer the cold once again!