Boston Bombing Victim Who Lost Her Leg Vows To Run Next Year's Marathon
November 25, 2014 — 9:15 AM
Rebekah DiMartino, a 27-year-old married mother, has been living in agony for the past 18 months following the Boston Marathon bombing. Earlier this month, after 17 operations filled with metal plates, screws, and rods, and a serious bone infection, the doctors finally amputated her leg below the knee. She's anxious to get her stitches out and be fitted for a prosthetic leg — so that she can begin training for next year's race.
"The prognosis is great. I chopped off what was holding me back," DiMartino said in a telephone interview with the Associated Press as she packed up to leave. "The prognosis, is you'll see me running the Boston Marathon next year."
Both she and her then-boyfriend Pete DiMartino suffered serious leg injuries in the Boston Bombing attack, but got married soon after the incident. And through all lingering pain she experienced, she still managed to remain positive.
In fact, she even hosted a last supper for her left leg and wrote the leg this loving parting note on her Facebook page: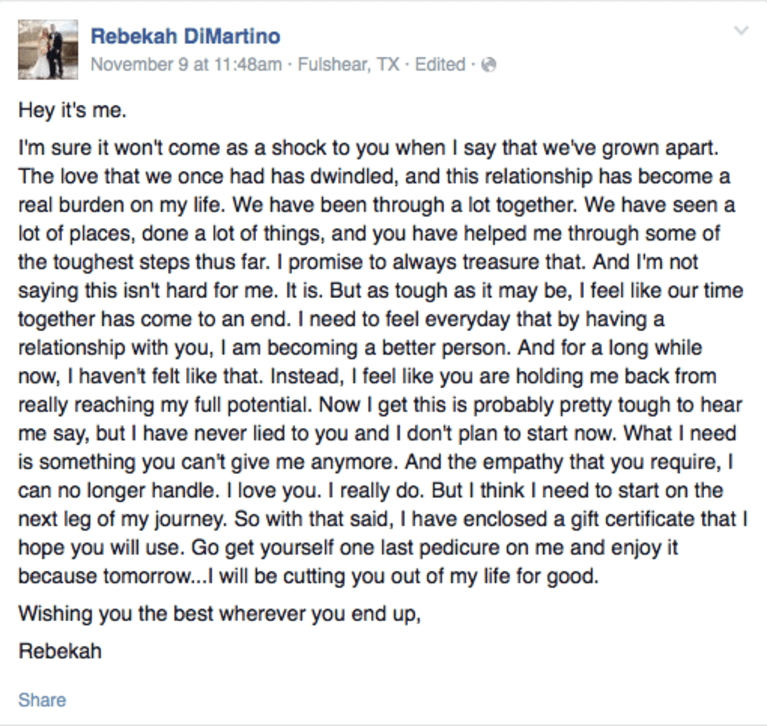 She also posted this accompanying photo of her ill-fated leg:
While she was sad that the 18-month effort to save her leg ultimately failed, she doesn't plan to mourn her loss: "This is about to be Rebekah unleashed. They haven't seen anything yet. This is the good part of the story," DiMartino said. "Not only am I moving on, I am trying to do my part in changing the world while doing it."
On November 14, she posted a humorous video to Facebook celebrating her last day at the hospital (which you can find here) — and the remainder of her left leg plays a starring role.
DiMartino also entered rehab November 14 and went home Saturday to nearby Richmond. At last, she can start the process of recovery. Her doctors say they believe she could be taking her first steps in three months.
We'll be cheering her on from now until the race and through every endeavor she takes on. She is an inspiration to all those fighting their way through dire circumstances — because not only is she trying to make the best of her situation, she's actually thankful for it.