For The Morning After: Pumpkin Flax Pancakes
These vegan and gluten-free pumpkin pancakes are light, satisfying and really simple to make. Top them with pecans, pumpkin seeds and maple syrup for a sweet crunch with every bite.
Pumpkin Flax Pancakes (Vegan & Gluten-Free)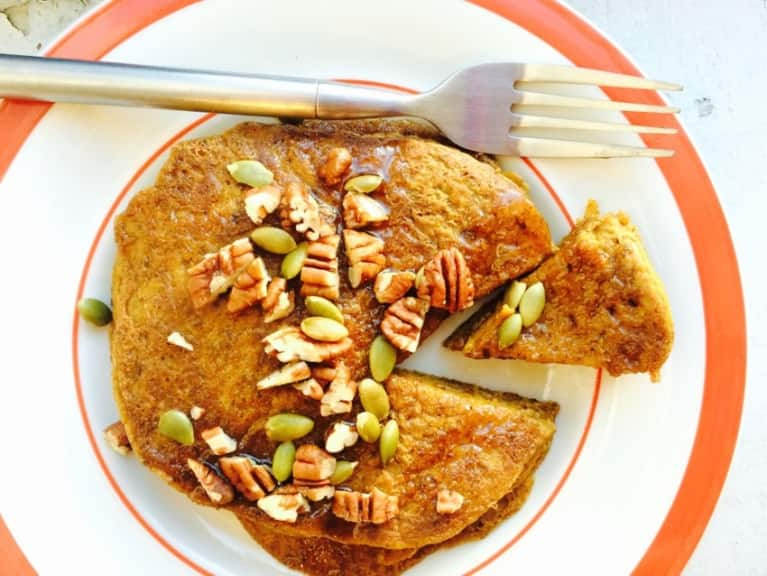 1 cup pumpkin puree
2 flaxseed eggs (2 tablespoons ground flaxseeds & 6 tablespoons water, see note below)
2/3 cup almond milk (or any non-dairy milk you prefer)
1 tablespoon coconut oil, melted
1 tablespoon lemon juice
1 teaspoon maple syrup
1 teaspoon vanilla extract
1 cup oat flour
1/2 teaspoon baking soda
1/2 teaspoon salt
1 teaspoon cinnamon
Preparation
1. Prepare your flaxseed eggs by combining 2 tablespoons of ground flaxseed to 6 tablespoons of water. Stir and set aside for 5 minutes.
2. Next, in a small bowl combine pumpkin puree, flaxseed eggs, almond milk, coconut oil, lemon juice, maple syrup and vanilla extract. Whisk together until smooth.
3. Then, in a medium bowl combine oat flour, baking soda, salt and cinnamon. Stir to combine.
4. Pour the wet ingredients into the dry, whisking together until there are no lumps left in the batter.
5. Cook pancakes on a large skillet on medium-low heat making sure to coat the skillet with coconut oil so that the pancakes will not stick. Cook each side for about 2-3 minutes.
Photo courtesy of the author