What Happened When I Tried Mystery Juices At Brooklyn's Newest Apothecary
In their Halloween-themed piece, the New York Times paints a picture of Botica & Co. as an old-school apothecary — a completely different genre from your run-of-the-mill juice place. Naively, I envisioned walking in to the open arms of a witch doctor — owner Adriana Ayales — with long black hair and billowy sleeves, inhaling the fumes from a sort of cauldron, who already knew my problems before I got there.
Upon arriving on a cold, windy Greenpoint night, the look and feel of the place live up to my expectations: walls lined with essences and "tonics" — potent mixtures of herbs all sourced from Ayales' native Costa Rica –– make it seem like some sort of magical apothecary, while the wood-heavy interior, lighting, and music lend a warming vibe (Thanks to Sam Smith's "I'm Not The Only One".).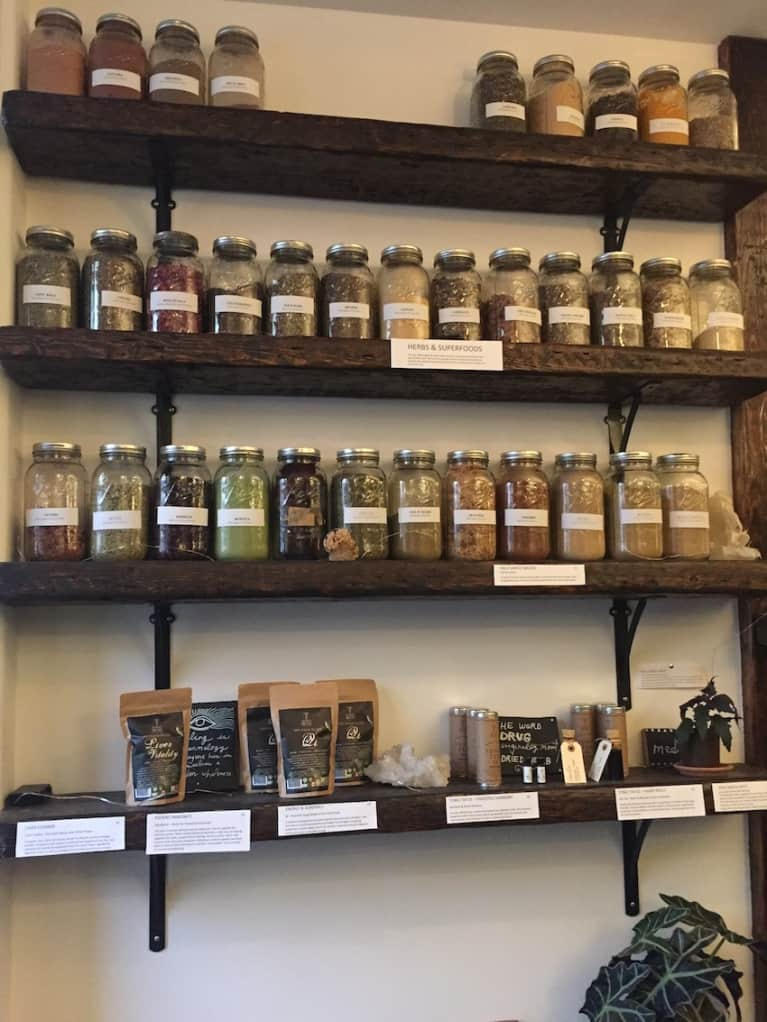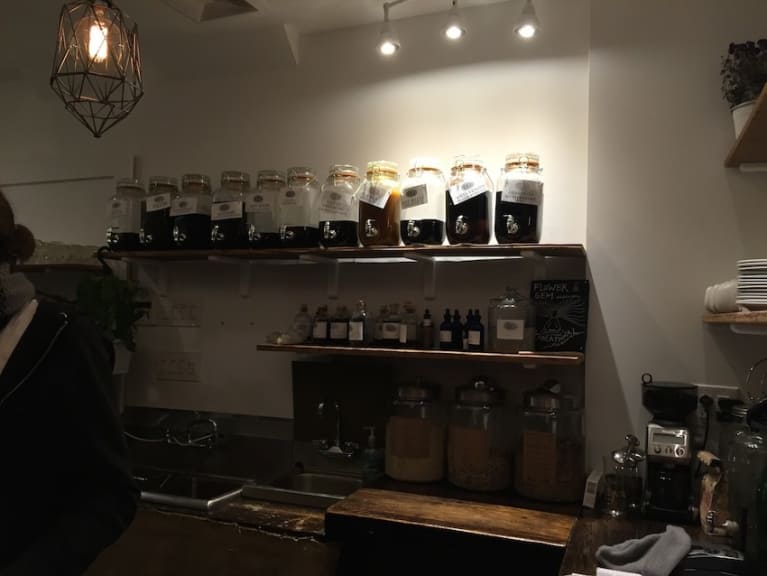 But instead of Adriana, I get Josh, her right-hand man. And I like Josh — he's very helpful once prompted — but certainly no witch doctor. Really, he's a bartender, who hands me a menu.
I am far from an experienced juicer. I only know what my issues are. I have to make a big decision later tonight, and I need my head to stop running a mile a minute.
So I ask Josh: "What should I get?"
"Well, what kind of juice do you like?"
I don't know! That's what you're supposed to tell me! "What do you like?"
"The watermelon's good!"
He needs a little more push. "I feel stressed."
"Okay, well maybe you should try Lucid Dreaming — it's supposed to deal with anxiety. I could replace the aphrodisiac elixir with it in 'The Cuddle,' which is a combo of watermelon, jamaica, and pomegranate."
Josh prepares the juice in a stemless wine glass, and then drops in the Lucid Dreaming tonic from a jar above the bar. He shows me a bottle of the stuff that they sell individually, and I see that it includes kava, ashwaghanda, rose, and passionflower (none of which I've had before).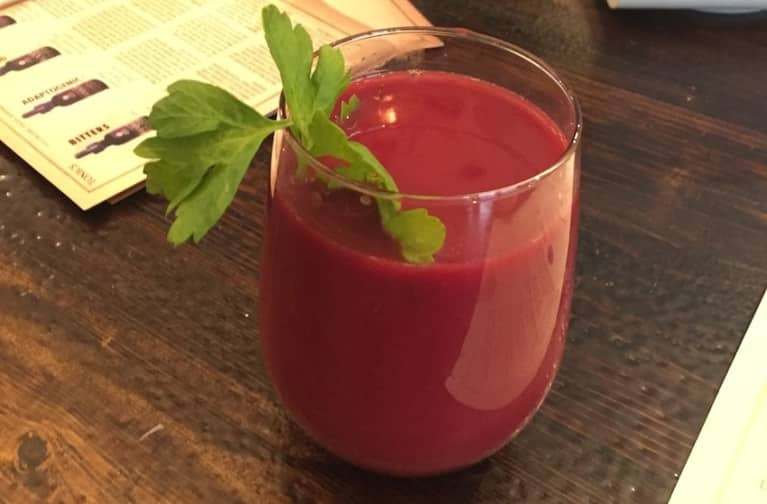 The drink is pretty, with a jewel-red color, and refreshing. Watermelon dominates the flavor, but it was still gentle — not too sweet ­— and I could taste spicier notes from the jamaica flowers.
"When I drink it, my dreams feel like they're real. Every morning, I feel like I already did something, because I dreamt about it. It knocks me right out, and I wake up feeling refreshed. I skipped it a couple nights and was tossing and turning," Josh tells me.
I drink it pretty quickly and feel a little tipsy. I think my heart rate actually increases at first — sleep is nowhere in sight — but that may just be the trying-new-things jitters. I'm giddy at the counter, asking a bunch of inconsequential questions. I'm certainly not calming down.
Am I drunk?
I ask Josh about food and he hands me a menu, which he mentions they just put together two weeks ago. Unfortunately, it shows.
I order the "Garden Nori Roll," which includes kitchari, mashed avocado, curly kale, cherry tomatoes, shallots and tahini dip. Some of the flavors are here: The mellow, earthy tahini works against the salty nori. But the tahini mimics the flavor of the kitchari and I want another flavor component — maybe something spicy or acidic to wake it up. The textures follow the one-note nature of the flavor. The nori is soggy, adding no variation to the mushiness of the kitchari. The snack pales in comparison to the complexity accomplished in the drink.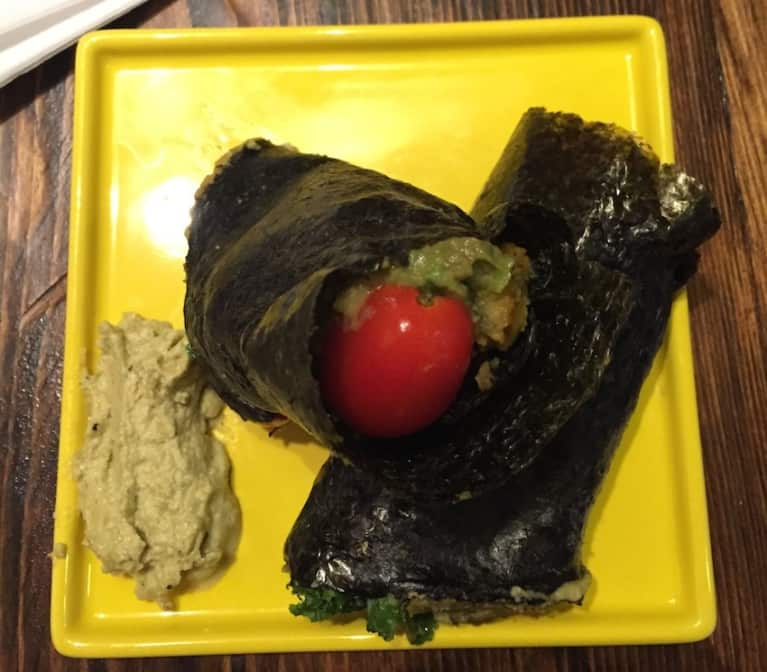 Now, back to drinks.
I ask Josh what the most popular is. He mentions "Love Handles" (the "fat belly buster") and the green juice, but also, and perhaps more interestingly, that two drinks on the menu have never been ordered before: The "Diuretic" and the "Number Two." Maybe because they're embarrassing to order aloud in public?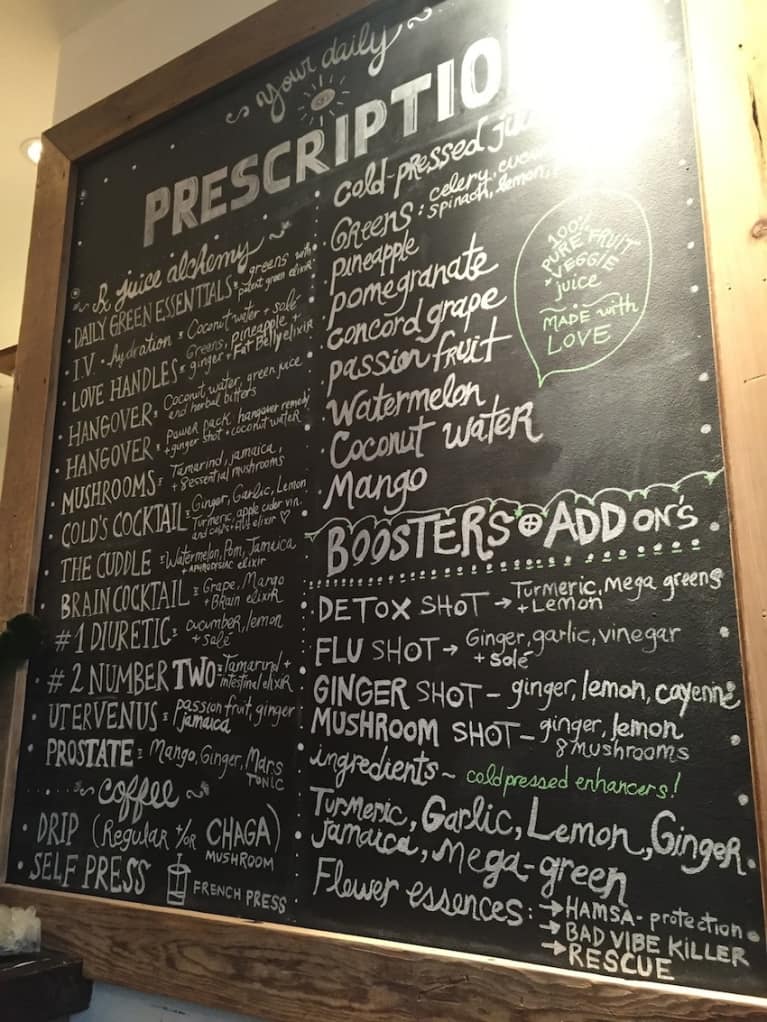 I have no shame and order the Number Two, even though I don't generally have trouble in this department and Josh is unsure of the contents of the tonic even after searching for the recipe (He gives me 20% off for being so daring.). I ask him to throw in the "Bad Vibe Killer" for kicks, which includes black tourmaline, white yarrow flower, and ocotillo flower to increase "deep telepathic communication."
The drink placed before me a brownish-yellow (telling) with a slight iridescence from the coconut water. It smells distinctly of tamarind but without much taste. As Josh explains, it's a drink of function.
I look through the recipes of the elixirs that are scattered about the counter. The "Cura" catches my attention, as one of its descriptors is "anti-cancer." Quite a claim.
Josh?
"Well, I gotta be careful what I say here, but I think it's because it has chlorophyll, which clears out bad cells so that new cells don't grow in abnormally, or cancerous." An explanation that can be used to describe pretty much everything with chlorophyll, like the kale in my nori roll.
After a little over an hour, I thank Josh and head home to wait for the effects to kick in.
A few hours later, I feel sort of hungover, with a slight headache and stomachache. Josh had cautioned me that the Number Two might work immediately, but instead, I spend the entire rest of the night with sharp pains in my stomach.
The next day, the juice creeps up to fulfill its promise suddenly and violently. Let's just say I can't leave the house. Effective? Yes. Comfortable? Absolutely not.
The upside, and although not the mystical experience it might hope to be, Botica & Co. turns out to be a refreshing change from a typical juice bar where overenthusiastic cleansers sip wheatgrass. And even though Josh could spend less time curing my health and more time correcting my pronunciation of things like "jamaica" (ha-MY-kah, by the way), I could see myself going back at some point to order something on the safer side. But mostly just to see Josh.
Photos courtesy of the author