Food Diaries: What This NYC Food Blogger Eats In A Typical Day
As a healthy, happy living guru, aka someone whose life and career is based on helping people learn how to nourish their bodies, you can imagine it's pretty essential that I walk the walk. In most interviews or blog features, I always get the question, "What do you eat in a typical day?"
So here it is, the glamorous or not so glamorous truth of what I ate last Tuesday. (Note: I do make a larger more leisurely brunch on the weekends!)
7AM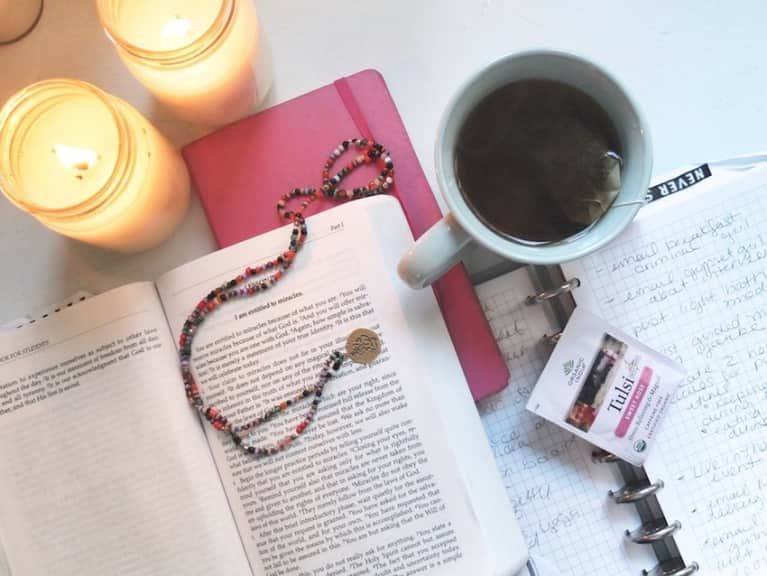 The first thing I do in the AM is my morning practice, which involves a meditation and visualization. I then make myself some tea. I'm off caffeine right now so my favorite has been the "Sweet Rose – Holy Basil" tea from Organic India. After my tea, I settle back into my special meditation space and read my daily lesson from ACIM, meditate on whatever the subject is for that day, this is a much shorter one than my earlier practice.
8AM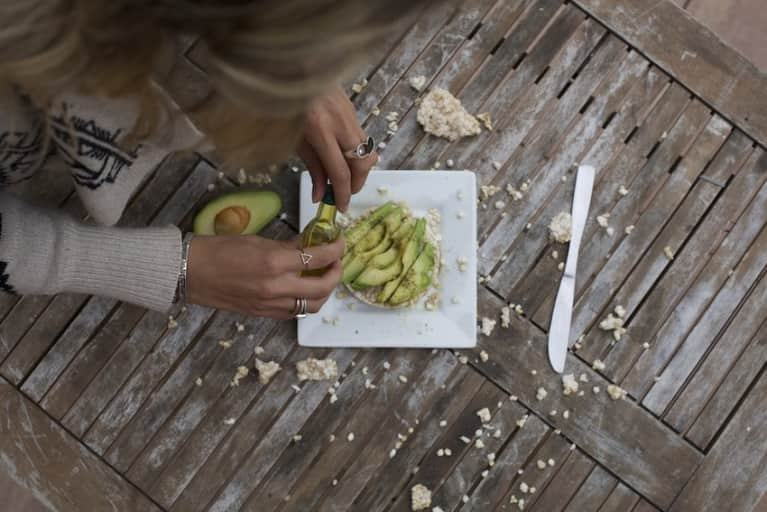 I have to leave the house pretty soon to go work with a client, so I grab two brown rice cakes and cut up an avocado to spread over them. I drizzle it with a little macadamia nut oil and sprinkle with salt, oregano and cumin.
If I have more of a leisurely morning, lately I've been really into smoothie bowls, particularly this pumpkin one this fall but on average it's a green smoothie bowl like this one with kale, almond butter, banana, almond milk and topped with chia seeds and granola.
8AM-12PM
I am working pretty much until noon, so I don't have time to snack before lunch today! Also my breakfast was nice and filling.
12.15PM
Back at home.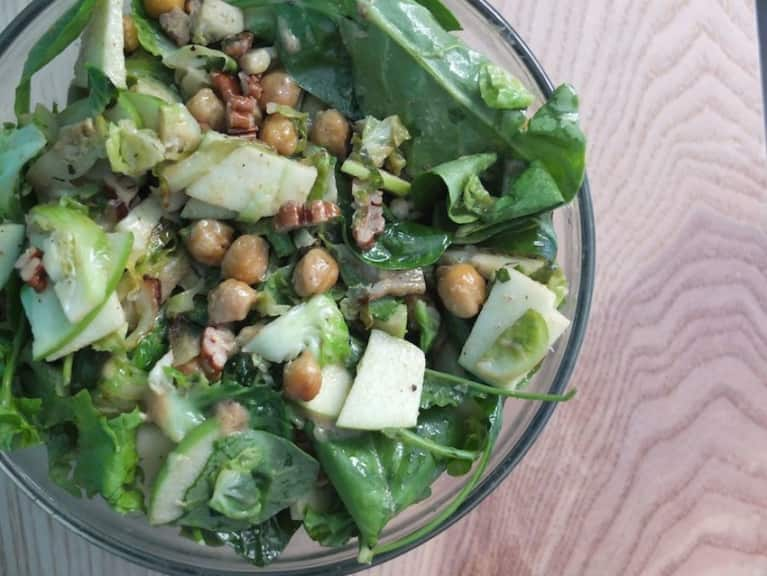 Lunch today (and many days) is usually what I lovingly refer to as a "kitchen sink salad" also known as whatever I have around the house and some greens. Today, I toss some mixed greens leftover from the weekend's farmer's market haul, chopped walnuts and apples along with some roasted chickpeas, tossed in a homemade classic vinaigrette with balsamic vinegar, olive oil and Dijon.
3.05PM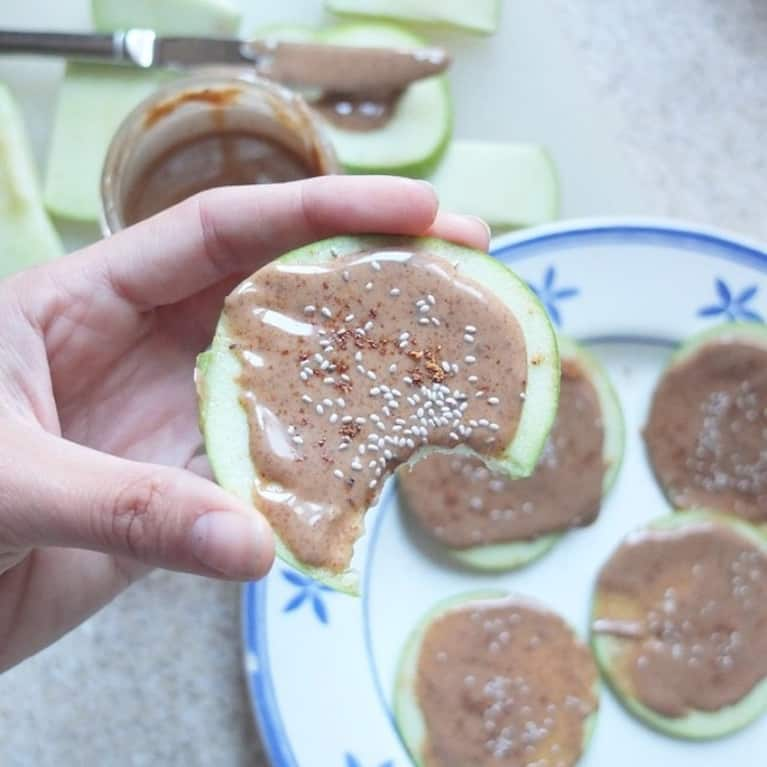 Midday snack: I don't snack too often, but today I have some sliced green apples with almond butter sprinkled with some chia seeds to hold me over until dinner. This is definitely my snacking go-to.
7PM
Dinner is when I whip out the quinoa. Seriously — I always have quinoa on hand. I tell a lot of my clients to make a big batch of it in the beginning of the week and then use it to mix for meals all week long. It's a perfect protein and my favorite base for dinner.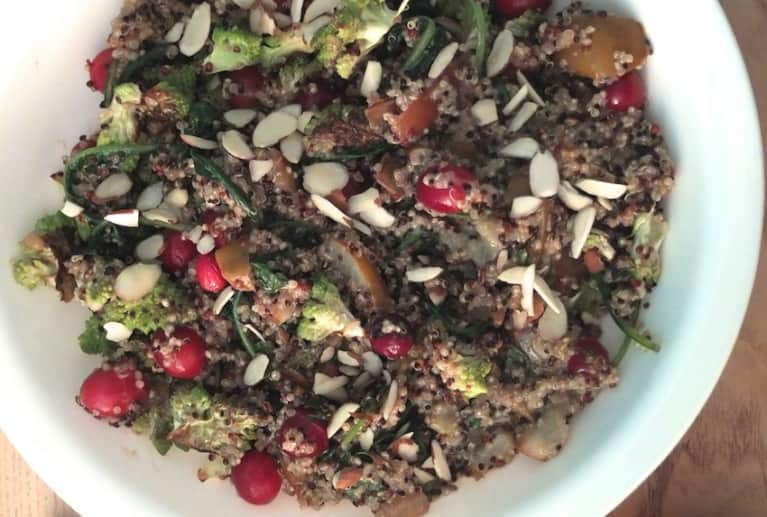 Tonight, I use a cup of quinoa I already have made and add some fall flavors – roasted pumpkin, cider soaked cranberries, romanesco, kale, sliced apples…it honestly goes on forever, but it's actually one that's on my website, so you can find the full recipe here.
Are you seeing a pattern? I know a salad for lunch and a quinoa bowl for dinner sounds annoyingly healthy, but I've learned that adding a bunch of delicious, seasonal ingredients really keeps things interesting and makes the meal super filling.
8PM
I don't eat dessert half as much as I used to, and am often satisfied with a mixed herbal tea with with a little almond milk. But on days like today when I'm craving something sweet, I'm a total cookie monster.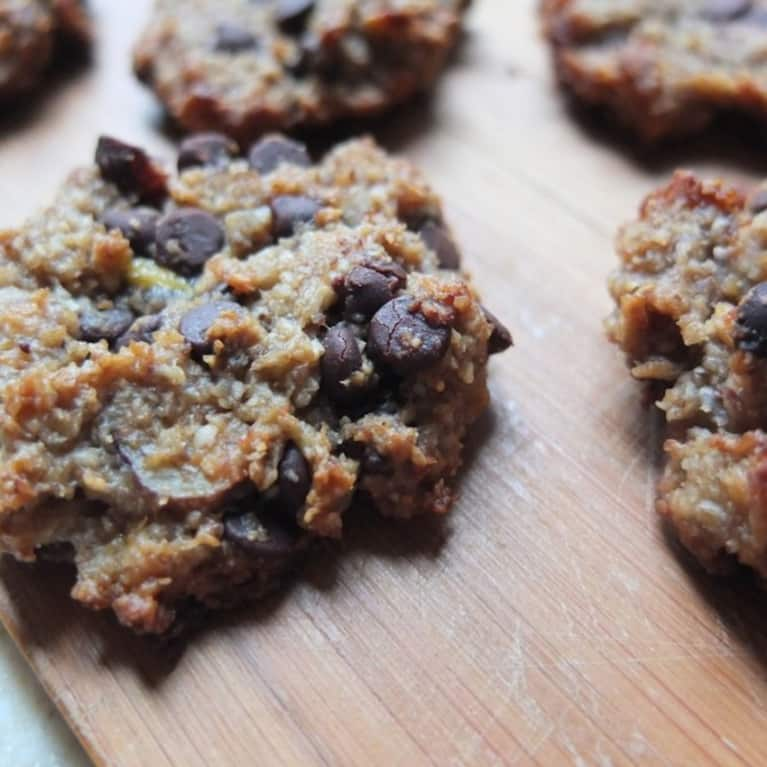 Something about ooey-gooey chocolate chip cookies just gets me every single time. So I make mine 'healthified' by skipping the sugar, butter and processed white flour and don't feel an ounce of guilt for eating as many as I please.
Photos courtesy of the author