Baked Bass + Bell Pepper Tacos
Baked Bass + Bell Pepper Tacos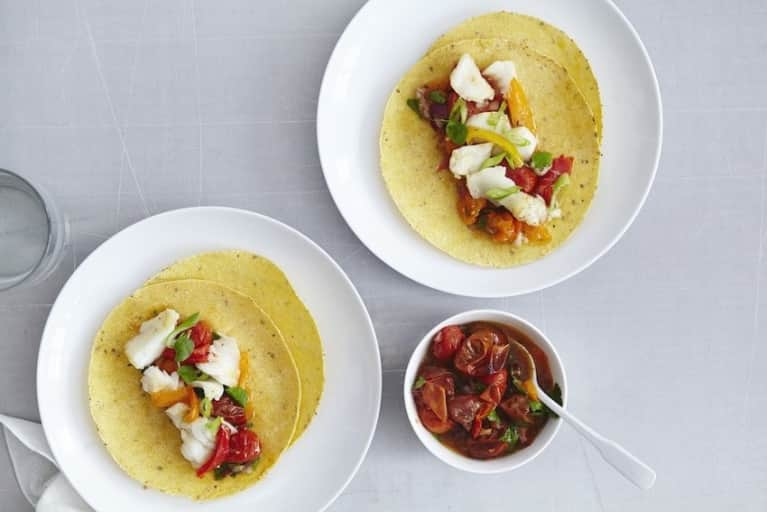 8 corn tortillas
2 sea bass filets, ½ pound each
1 bell pepper (red, yellow or orange), sliced into strips
4 sprigs of fresh thyme
olive oil to drizzle
salt + pepper
Preparation
1. Pre-heat oven to 375ºF.
2. Place the sea bass in two pieces of parchment paper just large enough to fold over the fish to make a parcel. Arrange equal amounts of bell pepper around the fish and equally distribute the thyme. Season with salt and pepper and drizzle with olive oil (about a tablespoon for each filet). Fold the parchment paper over the fish to cover in and tuck in the ends, making a tight little package.
3. Place the wrapped filets on a baking sheet and place in oven for 12-15 minutes.
4. Meanwhile, over a low flame on a gas stovetop, place the warm tortilla directly on the burner. Heat for a few seconds on each side. Remove from heat and place in cloth towel to keep warm.
5. Remove the fish from the oven and let rest for a few minutes to allow the steam to finish cooking the filets. Remove the fish from the parchment and flake it into the tacos.
6. Serve tacos with our Roasted Tomato Salsa, full-fat yogurt (instead of sour cream), and your favorite hot sauce.
Photography by V.K. Rees
Recipes + Styling by Christina Liva