Ancho Chicken + Caramelized Onion Tacos
Ancho Chicken + Caramelized Onion Tacos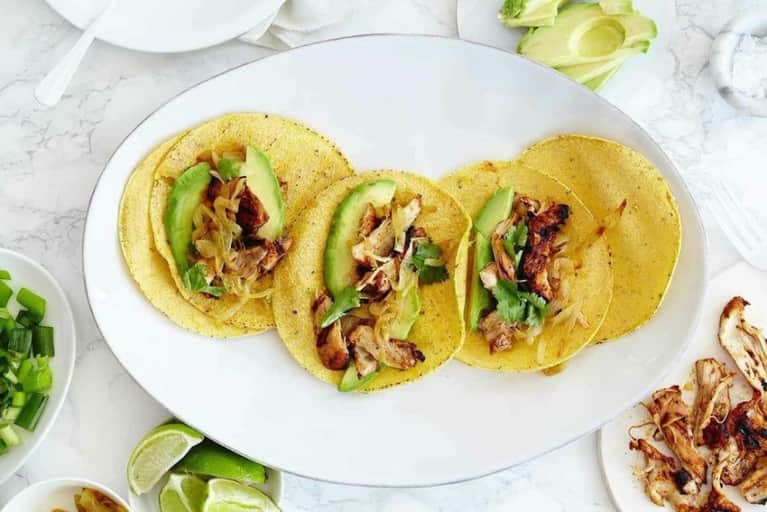 8 corn tortillas
4 chicken thighs
1 large onion or 2 small-medium onions, sliced
3 tablespoons ancho chili powder
1 tablespoon honey (or agave)
olive oil
salt + pepper
Preparation
1. Place the chicken thighs in a large mixing bowl. Add the chili powder, honey and about 2-3 tablespoons of olive oil. Massage the mixture into the chicken with your hands until the thighs are coated. Cook right away or marinate for up to four hours for a deeper flavor.
2. Coat the bottom of a large frying pan with olive oil and place over low-medium heat. Add the onions to the pan and season with salt and pepper. Cook for around 20 minutes until the onions are soft and lightly browned, stirring every 5 minutes or so.
3. Add about a tablespoon of olive oil into the bottom of a griddle pan (enough to coat the pan) and place over medium high heat. Once the pan is heated, add the chicken in a single layer. If you have a weighted handle, place over the chicken, otherwise, they are fine without. Cook for about 5-6 minutes on each side. Remove from heat onto a cutting board and let rest for 5 minutes.
4. Meanwhile, over a low flame on a gas stovetop, place the warm tortilla directly on the burner. Heat for a few seconds on each side. Remove from heat and place in cloth towel to keep warm.
5. Using a fork, pull the chicken apart into shreds. Add chicken to the tacos and top with the onions. Serve with our Roasted Tomato Salsa, Fall Slaw, full-fat yogurt (instead of sour cream), and your favorite hot sauce.
Photography by V.K. Rees
Recipes + Styling by Christina Liva