Apple CEO Tim Cook Says He Is Proud To Be Gay
October 30, 2014 — 9:06 AM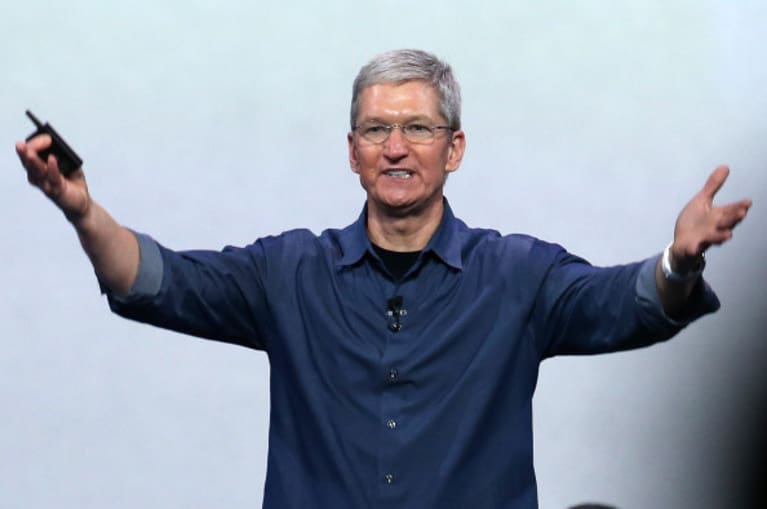 Apple's CEO Tim Cook publicly came out in an article for Bloomberg Businessweek today, making him the highest-profile executive of a public company to be openly gay.
Until today, Cook, 53, had never spoken publicly about his sexuality. He said his need for privacy was less important than helping others, a decision he claimed was inspired by Martin Luther King, Jr.
"So let me be clear," he said. "I'm proud to be gay, and I consider being gay among the greatest gifts God has given me."
Cook had been open with his colleagues and those in his private life, but he wanted to make a public statement in order to show his support for others struggling to come out. He acknowledged the fact that he works at a company that embraces peoples' differences and has long advocated for human rights — and that many other people aren't so lucky.
Here's more from his article:
I don't consider myself an activist, but I realize how much I've benefited from the sacrifice of others. So if hearing that the CEO of Apple is gay can help someone struggling to come to terms with who he or she is, or bring comfort to anyone who feels alone, or inspire people to insist on their equality, then it's worth the trade-off with my own privacy.
He said that accepting himself has made him empathetic toward "the challenges that people in other minority groups deal with every day" and has given him "the skin of a rhinoceros," which is certainly necessary when you're the CEO of such a powerful company.
Cook's bravery is not only an example for others who feel they can't publicly embrace their sexuality, but also for anyone struggling with issues of self-acceptance. He shows us that as long as we can accept ourselves for who we are, we can be an inspiration to others. That's a message we can definitely get behind.
You can read Cook's entire essay here.