Why You Shouldn't Worry About Losing The Baby Weight
I'm a strong, slim personal trainer who once weighed over 300 pounds. Having been at so many different points on the weight spectrum, I can tell you that body obsession knows no limits.
I've learned than unless — and until — we talk about and treat ourselves with respect, we're just as likely to hate our bodies thin as we are fat. We're also just as likely to criticize our bodies after having a baby as we are at any other time in life.
I've had two babies in three years. If you've had a baby, you may be eager to get your pre-baby body back.
Unfortunately, we young mothers have been lied to. And those lies are keeping us from enjoying ourselves and our babies. Let me explain.
That we can and should be able to look the same after birth as we did before we got pregnant is a lie. Not gonna happen. We've just gone through humanity's single most intense physical experience,and we'll always carry evidence of it.
Some of us will be rounder. Some will have slightly bigger feet. Some will have differently-shaped boobs. Some will have miles and miles of stretch marks, or different hair, or darker skin. This is all normal, and natural, and there's nothing wrong with any of it. What's wrong is this notion that these changes are problems to be solved.
Every time you've ever read "Get Your Pre-baby Body Back!" someone was playing on your insecurities to try to make money. I know, I know ... shocking, right?
Your body was a wonderland before you had that baby. And now that you've grown and given birth to her, your body is an Other-Worldy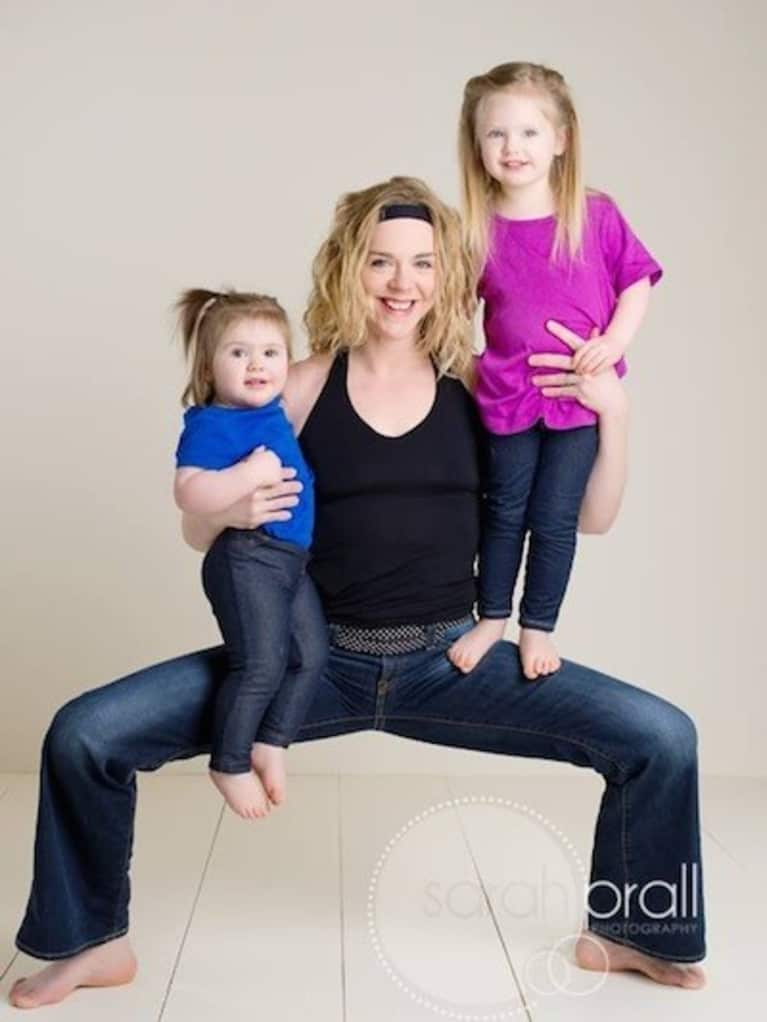 Miracle Machine. Much like you can't turn a pickle back into a cucumber, you can't turn a life-creating celestial being back into the human equivalent of an amusement park (sorry, John Mayer).
For better or worse, we mothers are stuck with all that evidence of strength and miracles, so let's try to wear it proudly. Let's accept the stretch marks. Let's buy new shoes for our slightly expanded feet. Let's walk with all the height and pride we'd expect from The Source of Life, since you know, that's what we are.
We will never look exactly like we did before we got pregnant, no matter what line of crap anyone tries to sell us. But we CAN do things everyday that make us as strong, and — as a consequence of that strength — as toned as we can be post-delivery. Moving with our babies in the world is a good start.
Every time you lift your baby, wear her in a carrier or go for a walk, every time you cradle her in your arms and do the "sleep now, please!" shuffle, you're doing resistance training.
And as we feel more capable, we can do that with heavier and heavier weight (wether it be your growing infant or actual weights). The result will be strength and tone, and a well-deserved sense of power and pride.
I know firsthand how impossible it feels to get motivated when there's a little baby (or, in my case, two) that needs us all day, every day. It's hard to feel like we're doing enough when we're hardly able to do anything. So I help women like us make the strongest choices they can, taking everything — the baby, the limited time, the budget, the fatigue, the emotions, the new body — into consideration. I've lived it, I've guided others through it, and I promise, there's hope.
I know you're tired. I know you're unsure. I know you're feeling overwhelmed. I promise you it won't feel this way forever. Until and as things change, take the best possible care of yourself that you can. This begins with you nurturing acceptance, respect and love for your post-baby body.