Every School Should Serve Lunch Like This Middle School In Nebraska
October 21, 2014 — 8:00 AM
Our school lunches may not be as impressive as those in France, but we're trying to make our kids' school lunches healthier. In 2010, Congress passed the Healthy Hunger-Free Kids Act, championed by First Lady Michelle Obama, which required school lunches to include more fruits, vegetables, and whole grains.
Since the bill passed, there's been backlash from politicians, parents, and organizations such as the School Nutrition Association (SNA), which represents companies that supply school lunches. They complain that the new rules are too rigid and the lunches aren't edible.
According to The Atlantic, the SNA says that student participation in the lunch program has plummeted, devastating revenue. And many of the kids participating in their school's meal plan are throwing away the food they're given — especially the fruit.
This isn't the case at Schoo Middle School in Lincoln, Nebraska, which pioneered a new lunch program two years ago with the goal of using healthy, whole foods to create tasty meals. The plan has been so well-received that all Lincoln Public Schools now use fresh, seasonal produce and make their own bread (which is made from 100% whole grain) from scratch — and the students are eating it.
The Atlantic reports:
The Lincoln public school system has gone above and beyond the legal requirements, dishing out a daily vegetable smorgasbord. On top of veggie burgers and black-bean chili, the school system serves up local yellow watermelons, black and green peppers, cherry tomatoes, blueberries, ripe plums, and fresh cantaloupe. It was enough to earn the district a "Golden Carrot Award" from the Physicians Committee, a nonprofit medical organization of 12,000 doctors.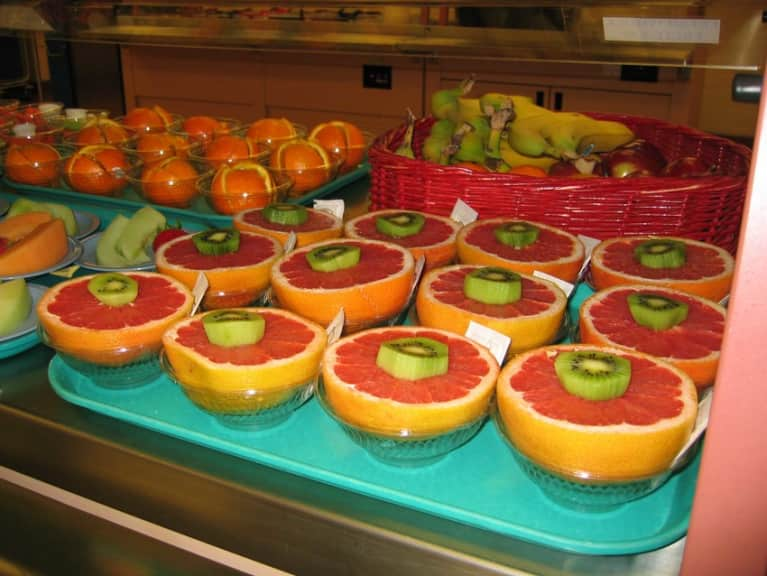 Fruit options at Lincoln public schools (Jessie Coffey)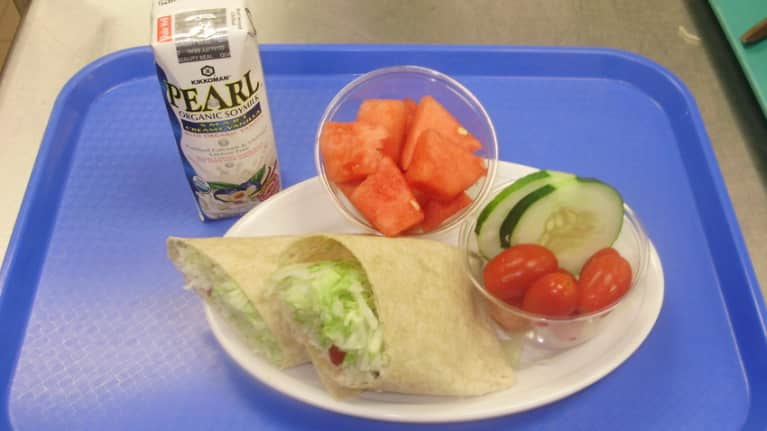 A typical lunch at Lincoln public schools: veggie wrap, soy milk, fruit, and vegetables (Jessie Coffey)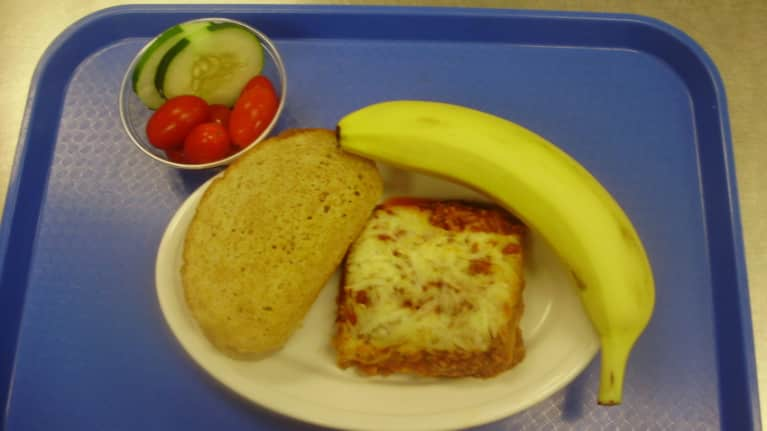 Another typical lunch: whole grain lasagna, whole wheat garlic bread, vegetables, and a banana (Jessie Coffey)
We hope that schools across the country can use the Lincoln public school system's lunch program as a model to improve their own failing programs. Let's get more nutritional food into our kids' bellies — instead of the trash — by making it delicious.
Photos courtesy of Jessie Coffey