Quinoa Like You've Never Seen It, With Yotam Ottolenghi
Our editors have independently chosen the products listed on this page. If you purchase something mentioned in this article, we may
earn a small commission
.
Acclaimed London chef Yotam Ottolenghi's fourth cookbook, Plenty More, focuses on cooking vegetables. This is not a health food book. Though these are some of the best quinoa recipes we've come across lately, there's no talk of the grain's nutritional benefits or why you should eat more vegetables. It's just a fantastic book filled with delicious plant-based recipes that happen to be good for you.
This is the new way of eating.
Sure, most people have heard of quinoa and are using it in salads and or as the base of healthy lunch bowls. But rarely is the star — that part of the meal you get super excited about. These three recipes from Plenty More will make you re-think the way you cook and consider quinoa.
Wild Garlic Cakes With Salbitxada Sauce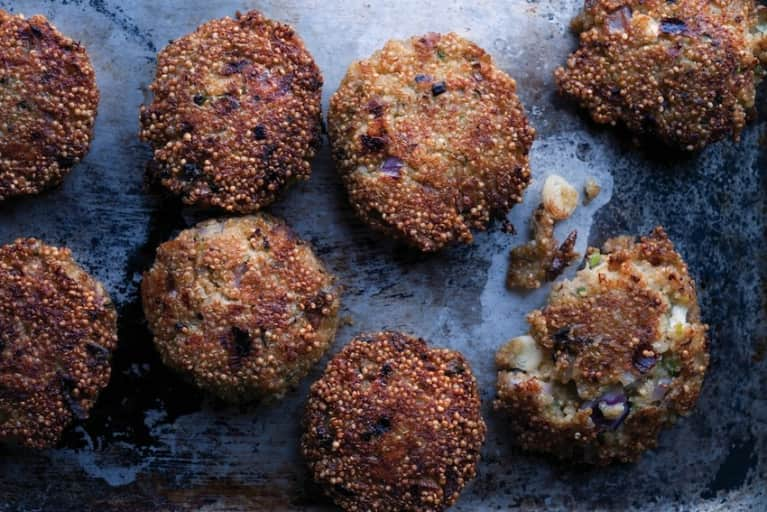 As anyone who reads her 101 Cookbooks blog will know, Heidi Swanson is the very lovely champion of all things vegetarian. She is also the source of inspiration for these quinoa patties, which are great with just a squeeze of lemon but work like a dream with the salbitxada sauce. Tara, who errs away from bread crumbs whenever she can, makes the cakes with ground flaxseeds instead, for those who want a gluten-free option. Make more than you need of the wonderfully versatile salbitxada, a Catalan sauce similar to romesco. Store it in the fridge for up to a week to have ready to serve alongside any rice-based dish or grilled vegetables, meat, or fish.
Quinoa Porridge With Grilled Tomatoes & Garlic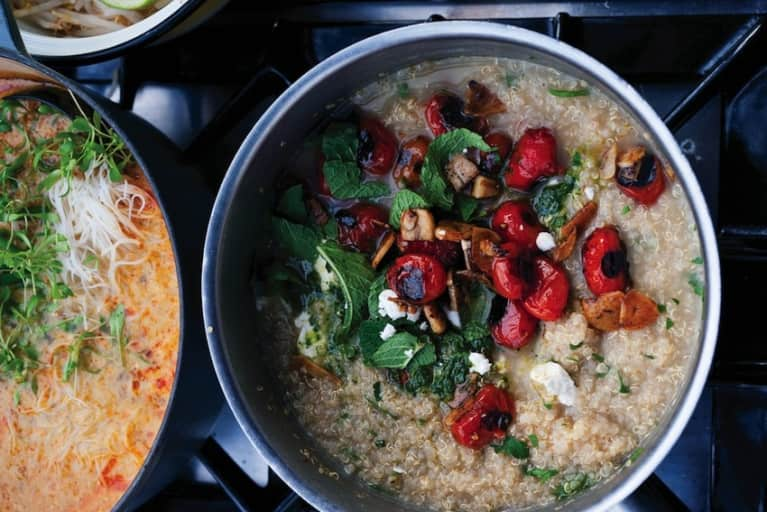 Quinoa as comfort food is not quite the oxymoron some might initially think. The cooking method here is opposite to the way I nor mally cook quinoa, where, like pasta, I throw it into boiling water for 9 minutes, then drain it and refresh it under cold water. Whereas that method encourages ever y grain to remain separate and distinct, the por ridge-like consistency of this recipe,enriched with butter and feta, is more the method you'd follow to cook polenta. The result is satisfying and comforting in a way that will appeal to bothsigned-up converts to the seed and those still in need of some convincing. You don't want the quinoa to sit once it's cooked, or it will set, so make sure the tomatoes and herb oil are ready as soon as the quinoa is done.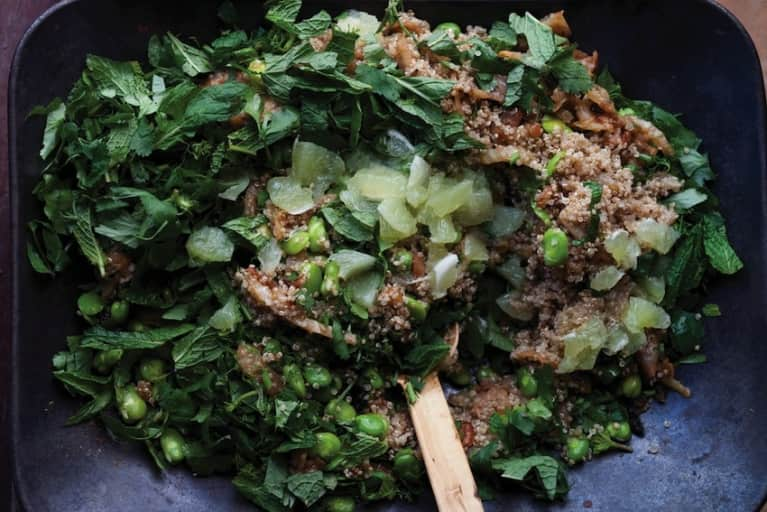 Adding freshly chopped lime or lemon flesh to a salad will be a revelation to those who haven't tried it before. Against the mild and nutty quinoa, it makes a simple salad sing. This is a small meal in its own right but can be fortified further by adding nigella or pumpkin seeds, toasted walnuts, goat cheese, and ovendried tomatoes.