Natural & Nontoxic Makeup Tips For The Perfect Fall Glow
Did you know the United States hasn't passed a federal law to regulate the ingredients in personal care products since 1938? And according to the Campaign for Safe Cosmetics, "the average woman applies over 500 chemicals per day to her body." Are you as shocked as I am at this fact?
You could be unknowingly applying products filled with chemicals, toxins, heavy metals and other undesirables.
Luckily, we live in a time where there's no need to sacrifice our health or well-being to look, smell and feel our best. We just have to be informed and get proactive, trading up to products that are clean, green and good for our health.
My favorite resource for verifying the safety of personal care items is the Environmental Working Group and their Skin Deep Guide to Cosmetics. Here you'll find safety ratings of over 80,000 personal care products on the market. It's a virtual encyclopedia for beauty!
Remember, you don't have to sacrifice efficacy just because you're switching to a natural product, but you will need an open mind. We're creatures of habit and it's sometimes intimidating to try something new, but all of the products I use here are amazing, beautiful and nontoxic.
Now I'll show you how to create one of my favorite looks for fall, step-by-step. Just because the warm weather has gone for some of us doesn't mean we can't make that summer glow last into autumn! Not only are all of these products natural and organic, they're also good for your skin! (Also, I'm not affiliated with any of these products; I've just tried them and think they're great.)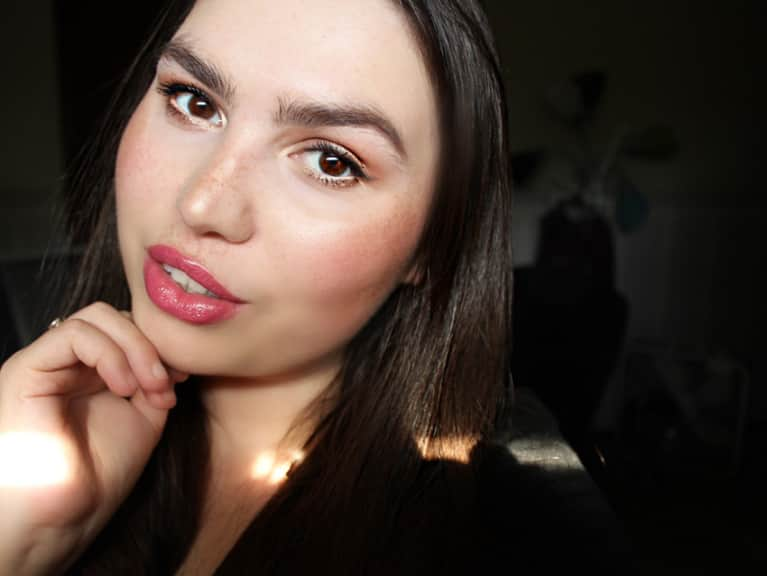 Step 1: Prep + Prime
Massage a light layer of moisturizer along with two drops of argan oil onto your face, neck and decolletage. I used CV Skinlabs Calming Moisture Cream and Kahina Giving Beauty Argan Oil.
Making sure your skin is adequately moisturized adds that glowing-from-the-inside-out look after your makeup is applied.
Step 2: Correct + Conceal
It's so important to embrace your skin and not cover it up too much. Rather, focus on the areas that need added attention such as redness around the nose area, blemishes or under eye circles.
Use a light-to-medium coverage foundation all over and dab a bit extra around your problem areas. A few drops of the Gressa Skin Minimalist Correcting Serum Foundation is all you need.
Step 3: Get Your Glow On!
To get a beautiful glow, apply Alima Pure Bronzer in Maracaibo to cheekbones, temples, forehead and chin. Add a very light wash of neutral pink by blending Kjaer Weis Cream Blush in Embrace onto the apples of your cheeks with your fingers. The heat from finger application helps the cream to blend nicely.
Now for the sun-kissed glow you're bringing with you into the fall season! The secret? Highlighting!
First, dab Kjaer Weis Radiance Cream Highlighter to the top area of your cheekbones, down the bridge of your nose and on your cupid's bow with your fingers. To set the highlighter and add a bit more radiance, dust Alima Pure Highlighter in Luna over the top of the same areas and blended well with a fluffy brush.
Step 4: Eyes + Brows
They say eyes are the window to the soul, and this look is no exception!
For your base, use Alima Pure Satin Matte Eyeshadow in Vanilla all over the lid, up to the brow bone. Swipe the Alima Pure Bronzer in Maracaibo from earlier through the crease of your eyelid to deepen the color. Make sure to blend!
Pro tip: Using bronzer as an eye shadow contour is a favorite trick of mine and perfectly pulls a whole makeup look together.
Next, use Alima Pure Pearluster Eyeshadow in Glow on the inner corner of your eyes and along the top lash line to add definition. Line your waterline with Tarte's Inner Rim Brightener to make your eyes pop and to achieve a bright, wide-awake look.
Keep your eyebrows simple. Lightly apply Jane Iredale's Bitty Brow powder to fill in any sparse areas. Finish by applying 1-2 coats of your favorite mascara to the top and bottom lashes.
Step 5: Lips
When it comes to lips, make sure to accentuate as well as define!
First, lightly line your using Gabriel Cosmetics Lipliner in Berry. Use the same liner to fill in your entire lip with a sheer wash of color. To set and add additional shine and depth, apply a light layer of Gressa Skin Lip Boost in Radiant.
And there you have it. Who said you can't take the glow of summer with you? All you need are some clean, green products to enhance your inner goddess!
Now go warm up with a mug of apple cider. You glow girl!
Photos courtesy of the author