8 Gorgeous Photos That Will Inspire You To Hike This Fall
Is there anything more invigorating than achieving a perch atop a giant mound of rock and realizing, I just climbed this thing? Hiking keeps us in touch with nature (there's so much to look at and experience) and with ourselves (think of all those positive thoughts we direct at our legs and feet as they take us higher and higher up the trail). Push yourself, and you realize that yes, this is a big world—but I just conquered a big piece of it! It stays with you for weeks.
So, what are the best places to check out? We teamed up with LÄRABAR to bring you our list of breath-taking views that are most definitely worth the ascent this Fall. And we could not have asked for a better partner to scour the country with: LÄRABAR does, after all, have its roots in hiking and the outdoors.
And if you aren't quite ready to make that big hike just yet, don't fret. Just enjoy these amazing images and put these places on your hiking radar!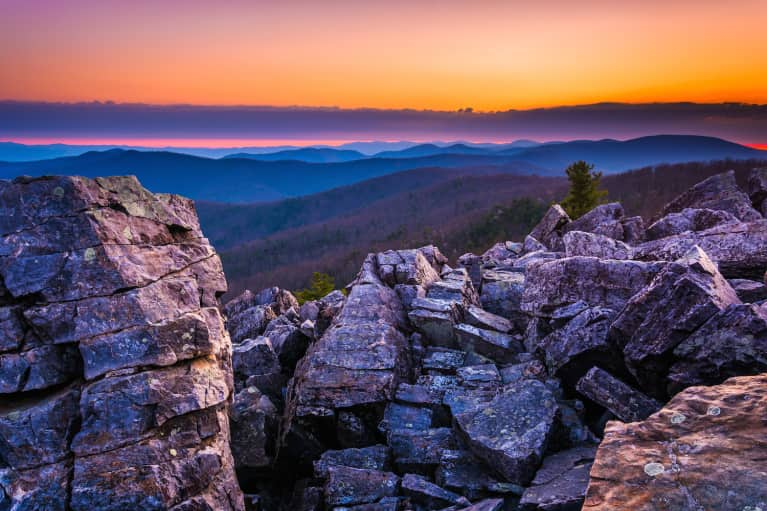 This 10-mile trail offers a good workout—to the tune of 1,700 feet up in a mere 4 and a half miles. The prize? An impressive rock overhang for you to perch on and enjoy a 270-degree panorama of serene mountains, extreme cliffs and quiet valleys miles beyond and thousands of feet below. You'll feel like you're standing on a magic carpet, so just dangle your feet, enjoy a Shenandoah sunset and snap one of the most popular photos along the Appalachian Trail (and deservedly so). Make a day of it by setting up camp at nearby Campbell Shelter—marshmallows for roasting preferred, though not required.
The Angel's Landing Trail, Utah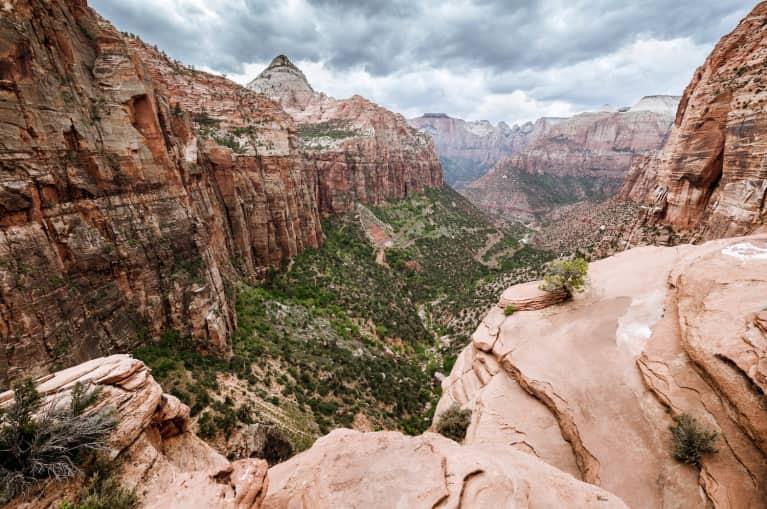 Stay hydrated during this tough uphill five-miler, over which you'll ascend close to 1,500 feet in the beating sun. What you'll love about the scenery: contrasting hues of deep-saturated greens, oranges, blues, reds and grays. At the summit of this Zion National Park trail, you won't feel the fear or pain. All you'll feel is intense appreciation as you gaze at the deep, narrow trench of Zion Canyon. Get this one in before the end of October, when the snow moves in.
Grinnell Trail Glacier, Montana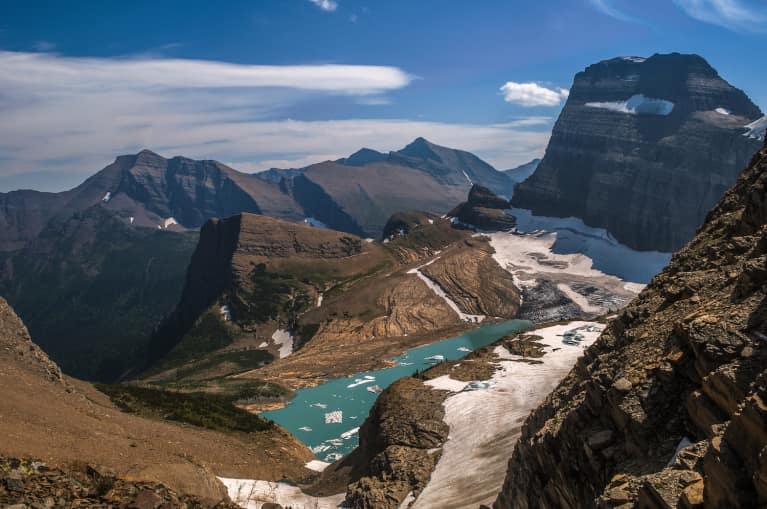 It's on the longer side—more than 1800 feet up over a trail of seven and a half miles—but along the way you're treated to untouched vistas of three glistening side-by-side lakes below, plus the bighorn sheep and mountain goats that inhabit the area. The finale? Grinnell Glacier Overlook, offering a front-row seat in front of the spectacle that is 152-acre glacier, along with Upper Grinnell Lake and the impressive Mount Gould.
Honopu Ridge Trail, Hawaii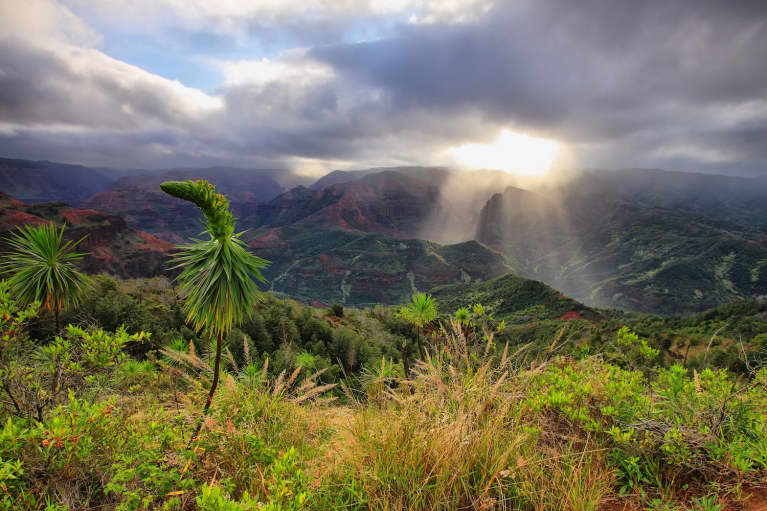 Hike down, down, down by about 2,000 feet on this wild trail that runs through Waimea Canyon State Park on the island of Kauai. Don't let the brevity of this trail fool you; though it may be only five miles long, it's considered extremely difficult because of the fact that it's no longer maintained by the park—so be prepared to fend off the plantlife (and choose cargoes over shorts for this trip!). The payoff for all that bush whacking: an absolutely stunning floor-to-ceiling view of Waimea Canyon's ridge, rising up into the clouds and thousands of feet down to the aquamarine Pacific Ocean. It's unanimously regarded as one of the best vistas in Hawaii.
Harry's Ridge, Washington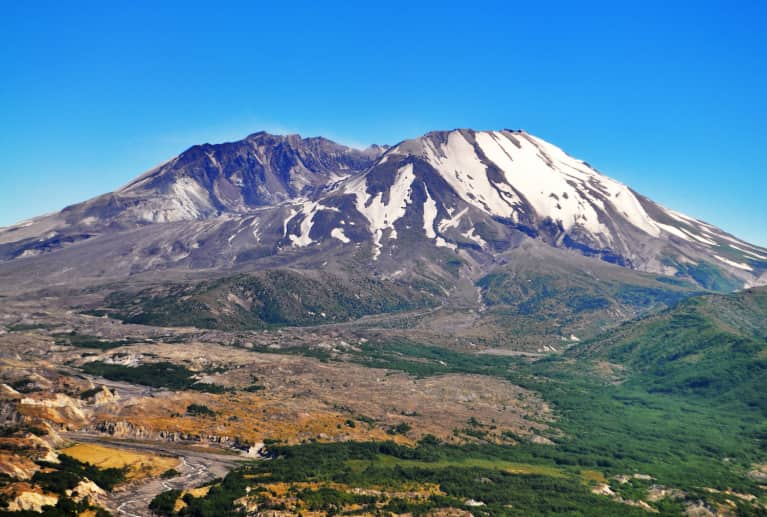 A round trip of eight miles, this hike will take you up 1,400 feet to an awe-inspiring view of the smoldering crater of Mount St. Helens, the famous active volcano in the Cascades range. The trail's varied terrain will feel barren one minute and lush the next—a fun juxtaposition—and along the way you'll catch gorgeous glimpses of Mount Adams's white cap, the sapphire blue of Spirit Lake, the long and slender stream of Loowit Falls and majestic Mount Hood in the distance.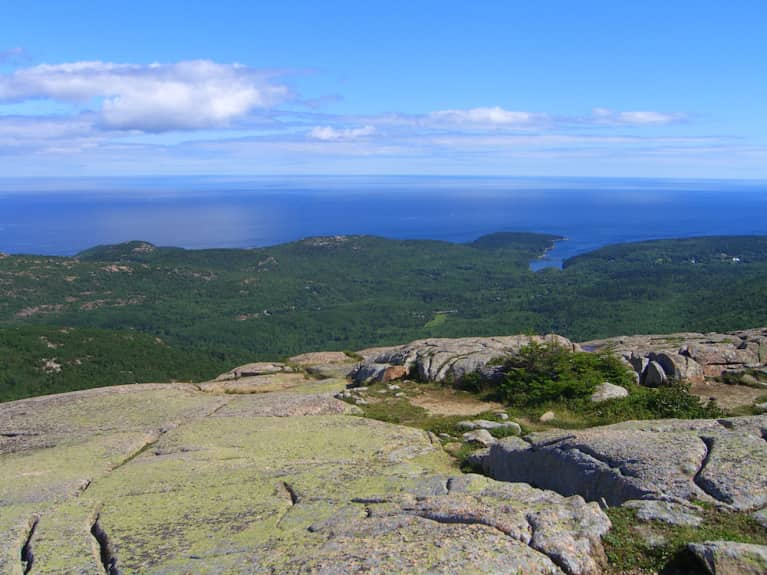 "Don't look down" will be your mantra for this nail biter of a trek, which takes you up an exposed and nearly vertical climb of 1,000 feet on the east face of Champlain Mountain in Acadia National Park. But once you arrive at your destination, you'll be rewarded with an exciting view of the midnight-blue Atlantic Ocean and island-dotted Frenchman's Bay below. The trail is often closed in the spring and summer to accommodate endangered falcons, so fall is your best bet for this challenge.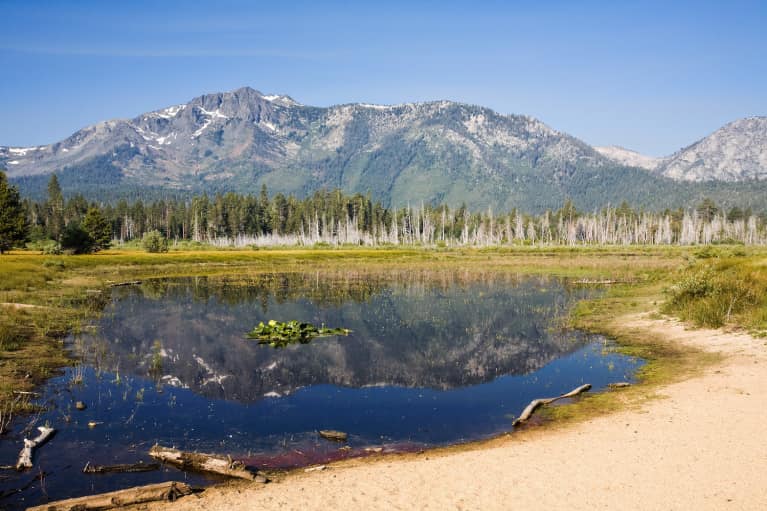 Ok, get ready. You're going to climb more than 3,000 feet over less than six miles (bring those snacks!), but in exchange you get what's been deemed one of the absolute best 360-degree views on the continent. The summit, which approaches 10,000 feet above sea level, affords a vista including charcoal granite of the mountains and the azure blues of the sky and above and Lake Tahoe below. Score.
Conkles Hollow Rim Trail, Ohio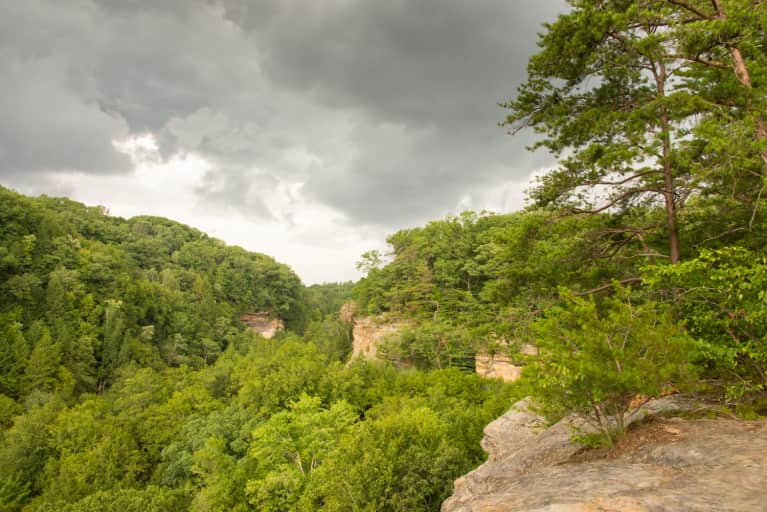 Hike two and a half miles along this rugged path, which hugs the sides of steep cliffs and is downright treacherous in places. When you reach the top, you get to circle the rim of Conkles Hollow, a deep, narrow gorge that's only 100 feet wide in certain places and boasts beautiful waterfalls and wildlife to boot.