Plant-Based Ultraman Rich Roll's New Cookbook & Food Philosophy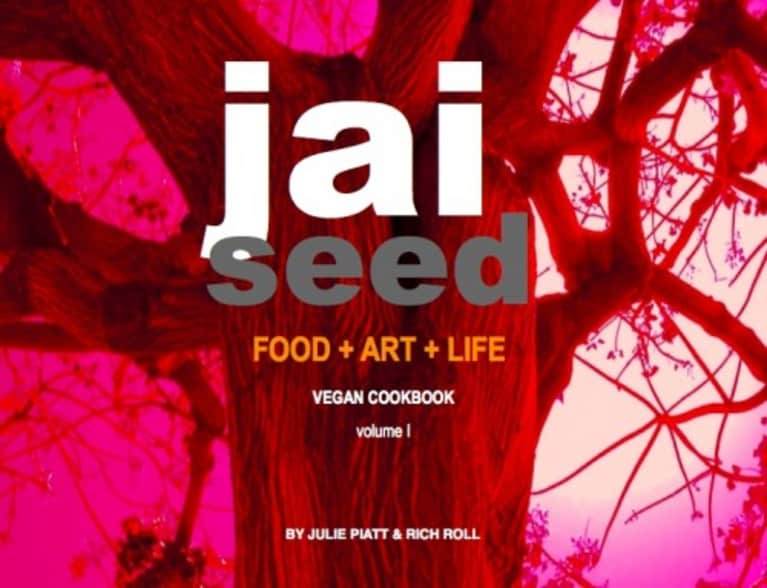 When we interviewed plant-based Ultraman, Rich Roll earlier this year, we were blown away by the positive response. From Ironman Champion triathletes to people who had never hopped on a bike, everyone was inspired by Rich's transformation of his body and mind. Much of the curiosity focused on one key part of Rich's reinvention: food. What does this 44-year-old Ultraman eat? Where and how does he get his protein?
Rich and his wife, Julie Piatt, are sharing the meals that have nourished and energized their family in their vegan e-cookbook, Jai Seed. Rich and his family's journey to health was on a plant-based path paved with vegan mocha lattes, hunza raisin smoothies, vegan lasagna, and daily blends of nuts, fruits, and veggies. Jai Seed is 77 pages of delicious, approachable, and inventive recipes as well as the kitchen equipment (Julie and Rich thankfully keep it simple) and shopping essentials you need to get started on your "plant strong" path. Looking for a blend before a rigorous day of training? There's a pineapple-kale-maca-coconut-chia seed-orange juice concoction to prepare your body. Want an easy, delicious meal that even the fussiest of eaters will enjoy? Try the vegan tamales or black bean chili. And, yes, Jai Seed even has some sweets. Vegan pumpkin pie anyone? However, Jai Seed is more than just a great primer in healthy eating. Through beautiful pictures and inspiring words, Jai Seed captures one family's inspiring journey of health for the body and soul.
So while we're on the subject of eating plant-based and awesome vegan cookbooks (and this one is a bargain at $9.99), I talked to Rich about his food philosophy, the misconceptions of being a plant-based athlete, and about getting started with a plant-based diet.
MBG: What's your food philosophy?
RR: Food is so much more than calories. Food is vibrational energy. Food is life. The cookbook focus is to provide the reader with fortifying high vibrating organic whole food plant-based recipes that are nutrient dense.
In addition, it was important to us to make it fun and inclusive -- accessible to everyone. There is a misconception that a vegan diet is not only bland, but daunting and overly time consuming.
I don't have time! I'll never get my kids to eat this stuff!
Our goal is to show people they too can do it. Not only are the recipes delicious, the vast majority are very quick and easy – much easier than baking a lasagna or your basic pot roast. In addition, we share many recipes our four kids love.
The other aspect of the book that distinguishes it from other cookbooks is the lifestyle component. On the theme that food is life, we share our art and lifestyle as expressed through food from an experiential point of view -- what we as a family have learned (and continue to learn) as we pursue this always-evolving path towards greater wellness.
We don't preach. We don't tell anyone what they should or should not eat. Again, it's not about labels. It's about helping people understand how they too can embrace healthier choices in a manner that will fit within — rather than disrupt — the parameters of their busy daily life. Our honest hope is that people will take what resonates with them and over time make and modify the recipes to their liking.
What are some of the misconceptions of being a plant-based athlete?
There are two primary misconceptions about being a plant-based athlete. The first (and biggest one) is that you cannot get enough adequate protein to perform at a peak level. This is simply patently false. If you are eating a well balanced whole food plant-based diet with a wide variety of high protein plant foods, protein sufficiency should never be a problem. Despite enduring 20-30 hour training weeks, it has never been a problem for me and it shouldn't be for you either. During very heavy weeks I will supplement with some hemp, brown rice and pea proteins. But I still use them sparingly and prefer to procure the vast majority of my protein from plant-based whole foods.
The cookbook addresses this issue with some helpful tips, as well as a listing of the high protein plant-based foods that are a staple of my diet.
The second misconception is that an athlete cannot get sufficient calories on a plant-based diet. Again, false. If you are eating a well balanced plant-based diet you should be more than adequately fortified no matter how much you are training. In fact, plant-based foods (particularly when raw and Vitamixed) are so nutrient dense that you ultimately provide you body with a higher percentage of nutrients per calorie than you would on an ordinary diet. Over time, I have experienced a reduction in my appetite as my body learns to run more efficiently on fewer calories. This occurs when processed (very low nutrient dense) foods are supplanted with nutrient dense foods. The cookbook provides more insight on this issue.
And if you are still a doubter, just look at ultra marathoner Scott Jurek, triathlete Maik Twelsiek or UFC/MMA fighter Mac Danzig -- all astounding athletes training and competing on plant-based diets. Scott Jurek is one of the world's top ultra runners, and Maik Twelsiek was the only athlete able to ride pace with Chris Lieto (the fastest cyclist in triathlon) at this year's Ironman World Championships.
Any advice on getting started with a plant-based diet?
Due to being very overweight and terribly out of shape when I turned 40, I had to draw a firm line in the sand and go cold turkey on all animal products. That's just me. Of course I realize most people may not be willing to undertake such a drastic change, and that's fine. It's not about labels, and it's not about suffering. My advice on getting started is to begin gradually with a very basic premise:
Eat more plants.
It really is as simple as that. It's not rocket science! Studies show that the typical American diet is overwhelmingly comprised of highly processed foods, meat and dairy (much of which is genetically modified and hormone infused). Plant intake is absurdly low. And organic plant intake even lower. It's no wonder that, despite our cultural prosperity, we are overwhelmingly overweight and sick with heart disease, diabetes and high blood pressure. Simply increase your intake of a diversity of multi-colored organic vegetables, fruits and whole grains on a daily basis. My feeling is that by slowly shifting your diet in this direction your health will improve. You will begin to feel better. Do it more and you will feel even better. In turn and over time, this will motivate you to expand the scope of your healthy options.
For more on Rich and his new Jai Seed Cookbook:
You can purchase Jai Seed for $9.99 at www.jai-lifestyle.com/cookbook/