I Went To A 7AM Sober Dance Party & Loved It
True story — earlier last month, I attended a dance party. On a boat. At 7am on a weekday. And I danced my ass off.
In this type of setting, I usually have the crutch of being surrounded by all of my friends in a dark club, with a drink (or two) in hand. But I wasn't with my friends and there wasn't any booze. So why would I want to attend a dance party at the crack of dawn with a bunch of strangers? I'm not even a morning person.
But when an invitation appeared in my inbox to attend a Daybreaker event co-hosted by Lululemon, I decided to go out on a limb and see what the fuss was about. I had read about early morning dance parties before, but really didn't know what to expect.
All I had gathered from the cryptic invite was that there would be yoga, meditation and dancing (on a boat). Naively, I wore yoga clothes.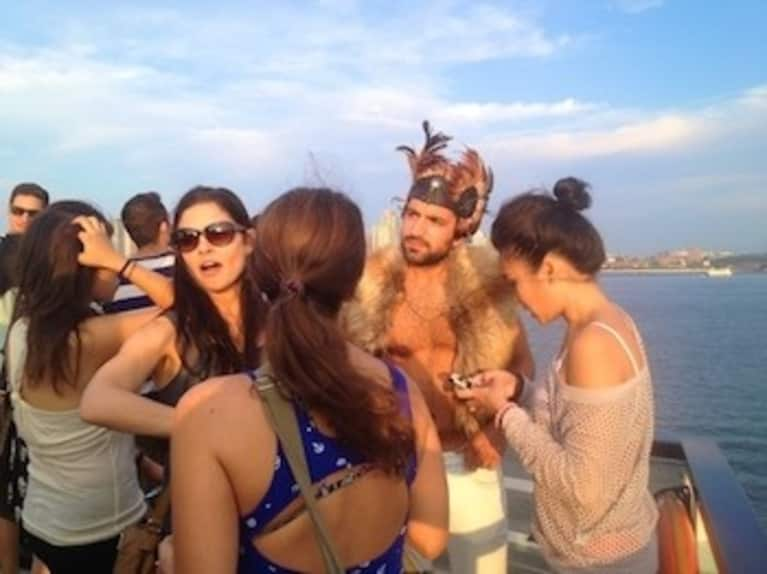 I was first to arrive on the scene shortly before sunrise, at Hudson River's Pier 40 and was promptly greeted by a 20-something man who was dressed as a pirate.
As a crowd of hipster millennials began to line up to board the boat (which was actually a 210 ft. yacht), I felt like I had just been transported to Williamsburg. I was surrounded by a sea of captains' hats, feathers, suits, sequins and sparkles.
I looked down at my Lululemon shorts and matching zip-up, and felt sorely underdressed and pretty lame. Apparently, I'd missed the memo. This was a RAVE.
Promptly at 7am, the first few rays of summertime sun began blasting through the windows. A tall blonde Lululemon representative with a sexy voice took the microphone and calmly asked everyone to gather around for a brief pre-castoff meditation.
I nearly laughed out loud at the idea that over 300 highly-caffeinated people were actually going to pipe down, get seated and meditate. But they did, with eyes closed and big smiles on their shining faces.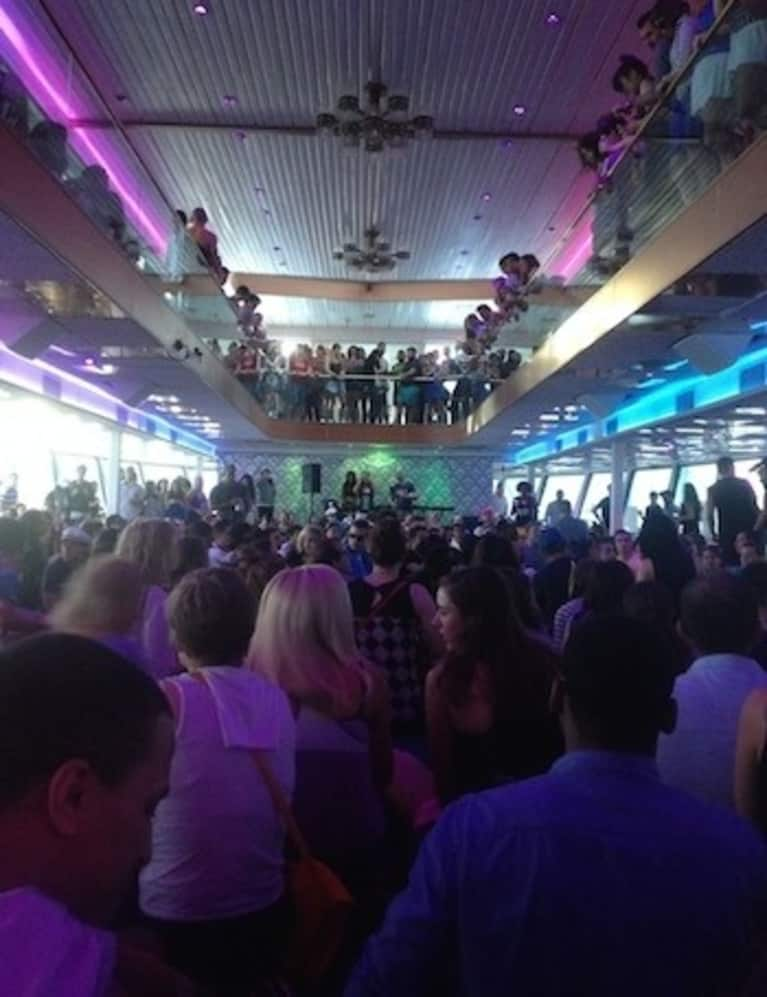 "I know it may feel weird to ground yourself because we are on a boat, but try," the blonde said, almost seductively as the boat left the dock.
Three long OMs later, the cheering and whistling began. The DJ cued up the music. Within seconds, the entire boat transformed into a sweaty, sober dance party. What choice did I have now but to start shaking my tail feather? I love to dance, so this wasn't exactly the most difficult thing for me to do. It did feel admittedly weird that I was dancing with myself and not my friends, but as I scanned the dance floor I noticed that most everyone else around me was, too.
"Hydrate, drink water! Hydrate, drink water!" the MC's voice rolled over the beat. And hydrate I did — both floors of the boat were stocked to the brim with all-you-can-drink green juices, smoothies, and anti-oxidant energy drinks. Not to mention, a full open bar with coffee from Brooklyn Roasting.
I couldn't help but wonder how all of these people managed to get up at this ungodly hour and have the energy to dance their faces off. What I did know for sure was that I needed more coffee. As the room whirled around me, I reveled in Acro Yoga performances, men in suits writing free Haikus, and a man dressed like a giant broccoli stalk, dancing with a woman dressed as an eggplant. EVERYBODY was dancing. Awed by this spectacle, I couldn't recall the last time I'd seen so much positive energy in one room.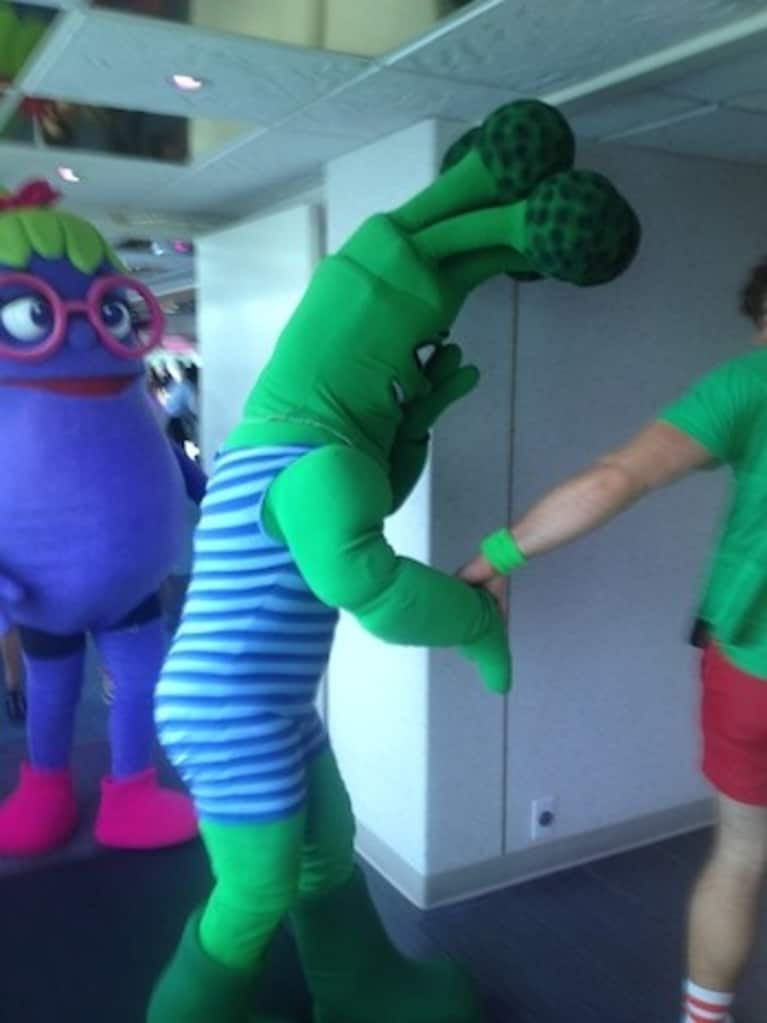 For the next hour as we cruised up and down the Hudson, Classics by Blondie and Prince broke up some of the monotony of wordless techno.
"We're on a boat!" The MC proudly shouted again. I lost track of how many times everyone cheered each time this proclamation was made.
Finally, I noticed that things were winding down. Tables were littered with abandoned juice bottles and coffee cups — an unusual sight when you're accustomed to seeing empty beer bottles and drinks at the end of any given dance party.
And when the last booty-shaking song came to a close, we were back on the dock as scheduled at 9am sharp. To my surprise, raver gear was quickly shed for button-up shirts and pencil skirts, as the young professionals stepped ashore to their regular lives. They were just like me.
I lingered a while longer for some spoken word poetry and inspirational stories by the hosts. One story that stuck with me, was about why it's important to tell someone (like your mother) that you love them.
"Get out your phones and text someone right now and tell them you love them!"
I sent my dad a video of the dance party I had just witnessed as a way to honor this request, but didn't receive a response. Oh well, I know he still loves me anyway.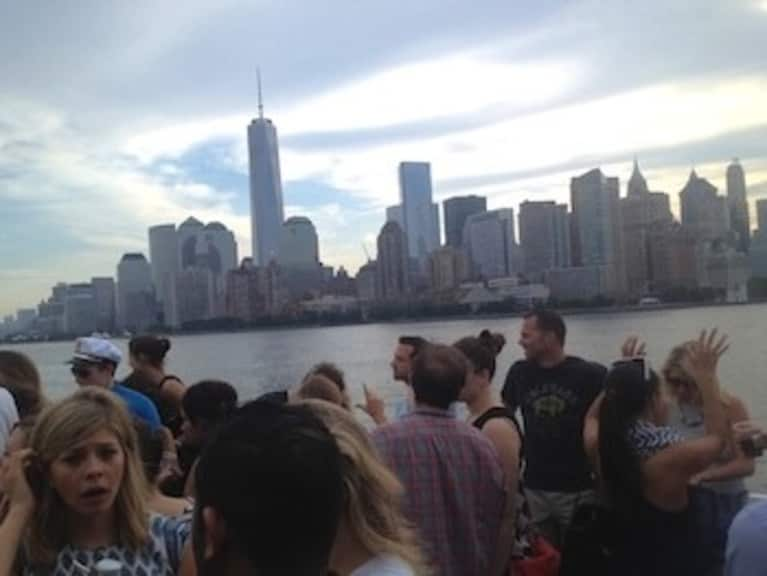 A more serious tone set in as the host beseeched us with his closing words, "The world is in a dark place right now and we need your positive energy and unconditional love."
The mission of a Daybreaker dance party to promote peace, love and sobriety, all to the tune of good vibes and bass pounding beats. A typical party will run from 7 to 9am at TBD locations a few times a month.
I had asked a few folks how they got wind of such an unusual event, and the consensus was the same — word of mouth.
Once I let go of all inhibitions, judgment and discomfort (I can't believe I didn't I wear my sequined mini-dress!), I pretty much had the best morning ever. I felt exhilarated and energized and even got to work on time. Well, almost.
But would I go again? You bet. And next time I'd like to bring a friend or two, but I've also discovered that I'm just as happy to soberly dance my ass off all by myself. Who knew?
I hope you have an opportunity to step out of your comfort zone and give Daybreaker a try. To find an early morning dance party somewhere near you check out Daybreaker's website, Facebook, or follow them on Instagram.