Why Forcing Something To Happen Never Works
About 9 months ago, I was at a Sunday morning yoga class when Maksikanagasana, aka Grasshopper or Dragonfly pose, was offered as "an option."
I was super-excited, because I knew I was really, really close to getting it! I honestly thought that day was definitely going to be THE day when I would finally be able to figure out this complicated pose with my body.
But my foot kept slipping off of my arm, and when I tried to force my foot higher up on my arm I ended up inadvertently forcing my knee into an unnatural, external rotation.
Knees don't rotate FYI.
I remember my knee made the weirdest sound — a ripping, cracking, tearing sound that I hope to never, EVER hear nor feel AGAIN. I braced myself for A tremendous rush of pain that would surely be exploding from inside my knee at any moment but instead, I felt nothing. NOTHING! Zero sensation. For the next few seconds I felt frozen and terrified.
Within about 30 seconds, I began to feel pain. And then a few hours later I was unable to walk without experiencing severe pain.
I strive to respect my body whenever possible. And (usually) I'm pretty good about listening to my body and respecting its limitations. Maybe it was the excitement about being so close to figuring out the pose, or maybe I wanted to do it because other people in the room were able to do it— whatever the reason, for the first time in my life I was faced with an injury.
I had injured myself in a yoga class, a space I considered safe and nourishing. This had nothing to do with the teacher or a lack of safe teaching, and really, it had nothing to do with the pose. This had to do with ME.
As a figure skater for over 10 years, it was normal to fall on a frozen, rock-solid surface as part of my daily 2 or 3 hour practice routine. Most of the falls didn't hurt that much, while others left a pretty gnarly bruise. But nothing like THIS had ever happened to me before. I tore a ligament on the lateral side of my left knee and spent many months that followed in rigorous rehabilitation.
It's crazy how big of a lesson this incident was for me, and how I was able to apply it to nearly every aspect of life. I've learned that forcing something to happen NEVER works.
Since then, the healing process has been an educational experience. To this day, I can still feel lingering hints of the injury, especially when I sit cross-legged for a long period of time. Through the initial pain, I've learned a lot about hamstrings (we have three: medial, central, lateral), about the attachments at the knee (and the hip), and how my injury had more to do with a lack of flexibility in my hamstrings than anything else.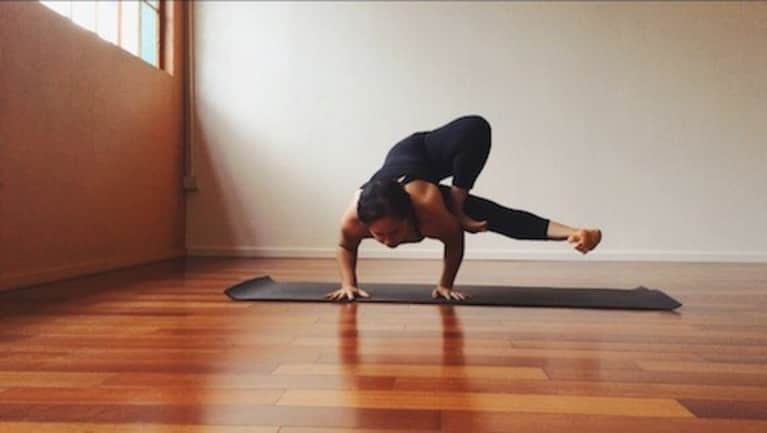 Looking back, I know that I am now stronger both physically and mentally as a result of the experience, and I know that I am a better yoga teacher, too. But still, it was a pretty awful thing to have happen, especially at the beginning of my recovery process when I couldn't go to yoga, couldn't hike, and couldn't bike. I seriously thought I was going to go crazy but hey, I survived!
In the end, the pain, the healing, (and the patience!) made Sunday morning's sweaty and playful practice that much sweeter. I learned how to practice with patience, to help prevent future injuries. The biggest lesson here is just about being able to let go and allow the process to happen naturally, both in yoga and in life.
When I actually did the pose successfully for the first time, it felt light and effortless. Nothing felt forced. A striking contrast to that fateful morning I sustained the injury!
Letting go can lead us to freedom. The same can be said in our relationships with ourselves and with other people. Physically speaking, this pose is both a deep twist and a hip opener. And as with all arm balances, this pose is more about finding balance than it is about strength.
Yoga is a practice of exploration of self and movement. And through this exploration, we cultivate a keener sense of body awareness with the intention of taking that awareness and mindfulness with us, when we step off the mat and back into our lives.