Fall Vata Farmers Market Guide
Walking around the farmers' market is one of my favorite things to do. All the colorful fruits and vegetables are pleasing to the eye, friendly health-conscious farmers are fun to chat with, and there is nothing better than cooking with fresh home grown ingredients. The fall farmers' market is especially rich and colorful with its bright orange pumpkins, just-off-the tree apples, and multiple kinds of squashes (one farmer boasted to me that he has over 15 kinds of squashes even though he doesn't know how to cook them!).
Nature is genius in the way it correlates the change in weather with the change in what grows and ripens in the garden. Traditional local fall produce is exactly what an Ayurvedic specialist would recommend for the chilly Vata season: nourishing, grounding, sweet fruits and veggies.
One of the main guidelines for fall's farmers' market shopping is to look for warm bright colors. Vata season (October – March) is dry and cold by its nature and it requires the opposite qualities to balance it out. Beets, carrots, squashes, and pumpkins are all perfect choices during Vata season.
Carrots: Carrots contain a ton of essential enzymes, vitamins, and minerals that our body requires. They have calcium, iron, vitamin B1, B2, B6, C, K, biotin, potassium, and thiamine. Carrots are also a great source of fiber and beta-carotene. Research suggests that people who lack beta-carotene were twice as likely to get cancer. The lignin found in carrots helps to strengthen our immune system to fight against cancerous cells.
To make carrots easier to digest and its vitamins to absorb, it is best to eat carrots with the presence of oil. According to Ayurveda, Vata's weakened digestion would benefit from slightly steamed or sautéed carrot or a warming carrot ginger soup. If you are too busy to cook, head to Whole Foods for this gentle stomach cure. Vata, if imbalanced, can lead to digestion problems so easy-to-digest, fiber-rich vegetables like carrots might be exactly what the nature's pharmacy prescribes.
Beets: Beets have a special place in Ayurveda. They are tridoshic, which means they are suitable for all dosha types, so you can cook them for your entire family. Beets provide antioxidant, anti-inflammatory, and detoxification support to our bodies. These colorful root vegetables contain powerful nutrient compounds that help protect against heart disease, birth defects, and certain cancers, especially colon cancer. Though the iron content of red beets isn't high, it is of the finest quality which makes it a powerful cleanser and builder of blood. This is the reason why beets are very effective in treating many ailments caused by toxic environments. Similar to carrots, Ayurveda advises that beets are cooked. Try this yummy, Vata friendly recipe or use my recent beet inspired quinoa recipe.  
Sweet Potatoes: Ah, what a wonderful, rich, creamy, and sweet autumn dessert! Sweet potatoes prove that tasty things can also be good for you. Rich in Vitamin A (beta-carotene) and Vitamin C, sweet potatoes are powerful antioxidants that work in the body to remove free radicals, prevent ulcers, and inflammations. Sweet potatoes can help reduce blood pressure, and they're diabetic-friendly because they stabilize blood sugar levels and improve immunity. Sweet potatoes have higher fiber content than regular potatoes and contain magnesium, making it very digestion-friendly. An easy way to cook sweet potatoes is to bake them. They taste so good on their own that you don't need to add anything besides a sprinkle of cinnamon and allspice. In 30-40 minutes in the oven you will have a delicious side dish or dessert.
Pumpkins: Pumpkins are soft, they build ojas ,and also have beta-carotene which is useful for the regeneration of tissue. As a cooling demulcent and laxative, pumpkins are restorative to the GI tract. Beta-carotene gives pumpkins an orange color and acts a tonic to the liver, purifying the blood. The rich orange color is a dead giveaway to the nutrients present in pumpkin. Pumpkins are also considered to be a sedative and can help reduce stress which can come very handy when Vata is out of balance. Pumpkins are loaded with potassium and zinc and studies suggest that people who have a potassium rich diet are at lower risk for hypertension. Zinc provides a major boost to your immune system and aids in bone density support for people at risk for osteoporosis. Pumpkins are great for skin due to a high content of anti-oxidant vitamins A and C, as well as zinc and alpha-hydroxy-acids which helps to reduce the signs of aging. Try this yummy Pumpkin Coconut soup  or these yummy muffins.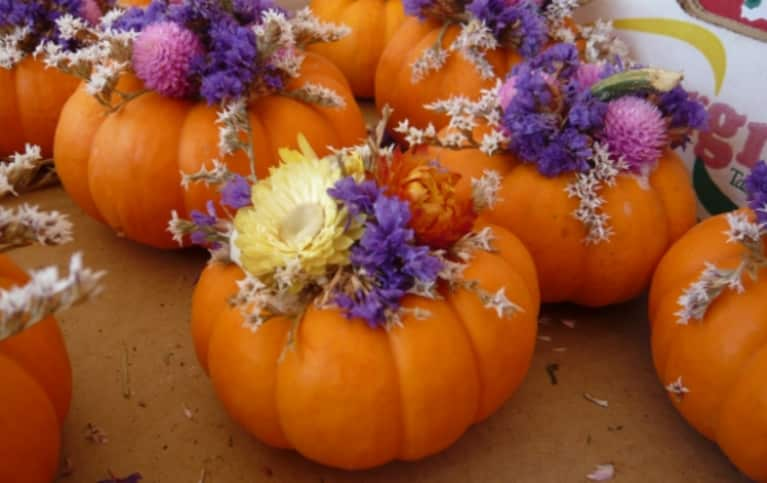 Honey: Honey is one of the very few sweeteners that Ayurveda favors. It has warming and nourishing qualities that are so important during the cold Vata season. Honey is a great natural source of carbohydrates which provide strength and energy to our bodies, instantly boosting performance, endurance, and reducing muscle fatigue. Honey is a powerful immune booster and its antioxidant and anti-bacterial properties can help you stay healthy and improve your digestive system. I recommend start every day with the cleansing tonic of warm water mixed with honey and lemon juice: It will break up toxins, wake up digestive system, and nourish you with essential vitamins and micro elements. Farmers market honey farmers typically will let you sample their honey, and some even recommend doing this easy test to make sure that honey is pure. 
Dairy from the "Happy Cows and Goats": Milk is considered a powerful strength building substance in Ayurveda. Farmers' markets offers a wide selection of various dairy products from happy, non-grain fed cows, sheep, and goats. Milk, soft cheese, and freshly made yogurts are wonderful Vata pacifiers. In order to digest milk properly, you should try to avoid drinking cold milk right out of the refrigerator and instead drink warm milk. Allow the milk to foam up and then bring the heat down so the milk is on a slow boil for about 5 to 10 minutes. Heating the milk changes the molecular structure of the milk, so it's much easier to digest and it reduces kapha. While cooking it you may want to add a pinch of ground turmeric, ground black pepper, a cinnamon stick, or a few pinches of ginger to reduce the heaviness of the milk. Warm milk consumed 30 minutes before bed can aid in falling asleep, which can be very relevant for Vata insomnia. According to Ayurvedic physician, Dr. Shirish Bhate, warm unpasteurized is the best, however, once it's refrigerated you lose some of milk's natural enzymes. Goat milk is drier and astringent and might be suitable for kapha types. Goat milk is a highly nourishing and is a great alternative if you are allergic to cow milk. (For many, cow milk can be mucus-forming.) Goat milk is not only non-mucus forming, but actually helps to neutralize mucus. The fat content in goat milk is very low compared to cow milk. Goat milk digests easily making it the perfect food for children, the elderly, those with digestive difficulties It's also high in healing enzymes and has a superior form of calcium than cow milk. For more info on goat milk benefits. If you're in New York City, Patches of Star has the best goat blanc cheeses and yogurts, I can never leave her stand in Union Square empty-handed.
Fall Super Fruits like Apples and Pears: According to Ayurveda, when fruits are ripe and eaten in the proper season and climate, they are pure nectar. Fresh ripe fruit is easy to digest and helps to increase ojas that enhances immunity, happiness, and strength. Apples and pears are abundant in the fall, as are apple cider, apple pies, and cider doughnuts! Raw fruits might be difficult to digest if Vata gets imbalanced, so if you notice any symptoms of imbalance – such as dry skin, chapped lips, constipation (eating a raw apple will add to the dryness), you might want to cook, stew, or bake apples. Cooked stewed apples are easy to digest and contribute to enhanced vitality, immunity, and overall well-being. If you're really hungry, I suggest eating fruits raw. Sweet juicy fruits are excellent cleansers as they help eliminate the body's impurities. Pears are good for energy and for balancing the hormones -- they're light, sweet, and they're good for balancing for all three doshas. Pears can be stewed or baked, or sliced and sautéed with warming spices.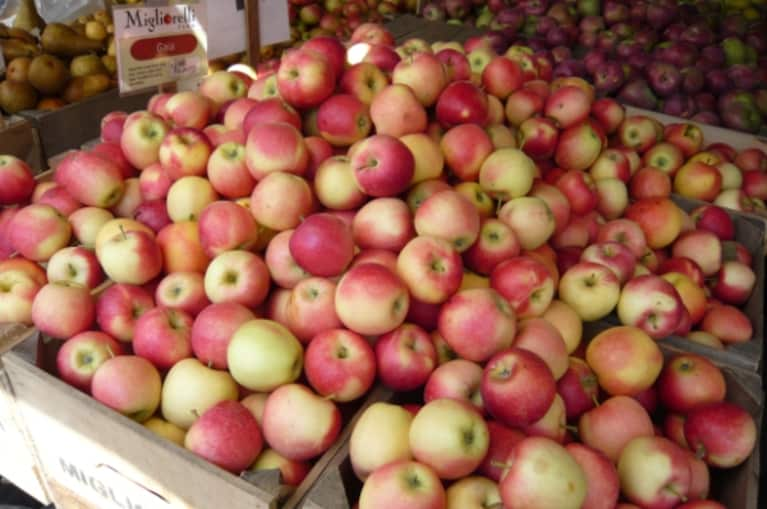 Grains: Most associate Farmers' markets with fruits and vegetables but not grains. Recently Cayuga Pure Organics gave me a whole new perspective on local, organically grown grains. Their modest stand at Union Square market boasts a large variety of beans, grains, and flours all grown in the Northeast. Grains are a very important component of an Ayurvedic diet, Vata in particular strives on freshly prepared grain dishes All wheat products such as bulghur, farina, cous cous, semolina, pasta, and freshly prepared bread are great for balancing Vata. They help boost energy, enhance physical strength, and even endurance. Organic barley (or even better, organic raw barley) is easy to digest and is a great choice. Cream of wheat, cous cous with warm milk and a sweetener, rice pudding, and oatmeal make a yummy Vata balancing breakfast.
To learn more about keeping Vata dosha in balance and choosing the most suitable ingredients for this unstable Dosha, sign up for the Ayurvedic Farmers Market Tour and Brunch on Nov 6th.
To make your shopping easier, here is a list (pdf) of farmers at the Union Square market by day and products.