16 Reasons Why Americans Are Too Scared To Take Vacation
August 20, 2014 — 8:25 AM
Anyone who's labored in post-recession, mobile-technology-fueled America will tell you what a drag it is to take a vacation. For starters, it's tough enough to find a job, and without government-guaranteed vacation time, some people worry that they will be overtaken by competitors for their jobs.
But there are plenty of other reasons nearly 40% of American labor refuses to use all of their paid vacation days. Even greater than the fear of getting replaced is the belief that no one else can do the job the vacationer does, which seems a bit misguided considering how replaceable we found many workers to be during the nation's most recent economic crisis. But that's the kind of confidence that makes America great!
Other reasons workers don't take vacation include not being able to afford it and, the most prevalent cause of vacation apprehension, the mound of work that awaits upon the worker's return. Here you can see a visual breakdown of the reasons workers give for not taking their vacation time: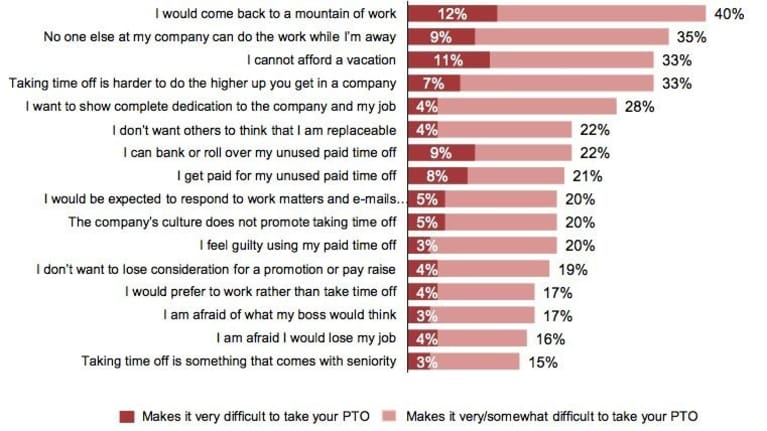 Of course, deciding whether or not to use paid time off is not a problem for many members of the American economy. JPMorgan CEO Jamie Dimon usually enjoys taking three weeks off every August (in addition to other trips) because, hey, business slows down in August. And even those who don't make their vacations public, like Aetna CEO Mark Bertolini, get paid handsomely for their hard work. Sadly, Aetna — like much of America — has faced some financial troubles recently, and had to cut the vacation time of thousands of employees.
Do you take all your vacation days? Why or why not?