Why I Choose To Breastfeed In Public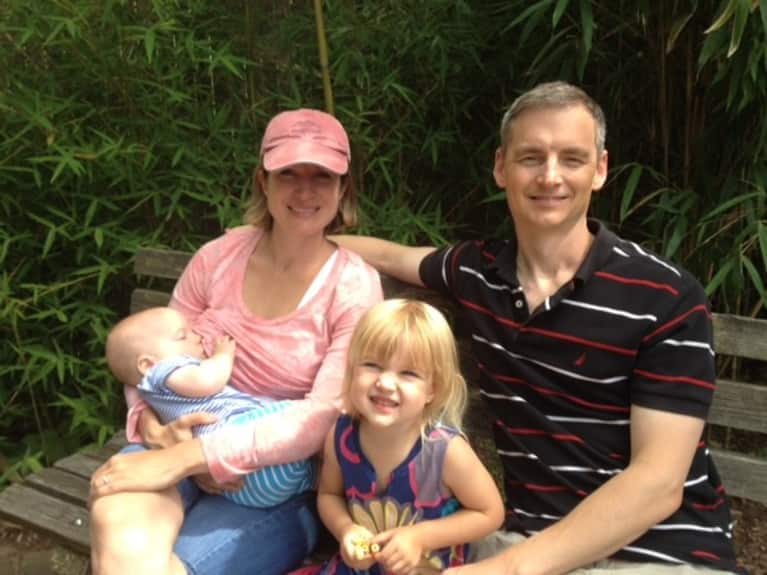 Last weekend I went to the local zoo with my family. I was sitting on a bench outside the monkey and reptile habitat with my nine-month-old son.
He was getting fussy and hadn't had anything to eat for a while and so I started nursing him, there on the bench. There was no one around.
A few minutes later, my husband and three-year old came out and sat on the bench with us. My daughter asked for a snack so my husband gave her some veggie sticks.
It was a peaceful moment and my mom saw us sitting there and got out her phone to take a picture. My first thought was, No, don't take a picture, I'm breastfeeding! No one wants to see that!
Then I realized the hilarity of my thinking and let her snap a couple shots. No one wants to see that. Why do I think that? How have I so deeply embedded the cultural norm?
In thinking about this some more, and browsing through our picture files, I realized that I have ONE picture of nursing my older daughter. Of the 5,000-plus times I nursed her, it was only captured once.
My daughter loved to nurse when she was a baby; it was her absolute favorite thing to do. So while we have hundreds, if not thousands, of pictures and videos of her eating, playing, walking, swinging, in the bath, reading books, talking, laughing, you name it, there is only ONE picture of her nursing. (Incidentally, it was a picture of her getting blood drawn and she didn't even flinch because, yes, she was nursing.)
I nursed her while I was sleeping, eating, working, on my phone, watching TV, talking to friends and many other things, but she will never know that. In fact she may never see an image of herself nursing. And that's a shame, because even if it's true that no one wants to see that, she probably would LOVE to see that, today and years down the road.
The reasons I nurse in public are simple:
First and foremost, I nurse because my baby is hungry, fussy, tired or would be crying if he weren't nursing.
Nursing is affordable.
It's convenient.
It requires no pre-planning.
Its supports our young ones' healthy immune system and digestion.
I am not one to make a public statement, but I want parents to feel encouraged and supported in doing what they need to do for themselves and their families.
Let your baby drink to that.
Photo courtesy of the author.