Healthy-ish Summer Cocktail! Spicy Watermelon Margarita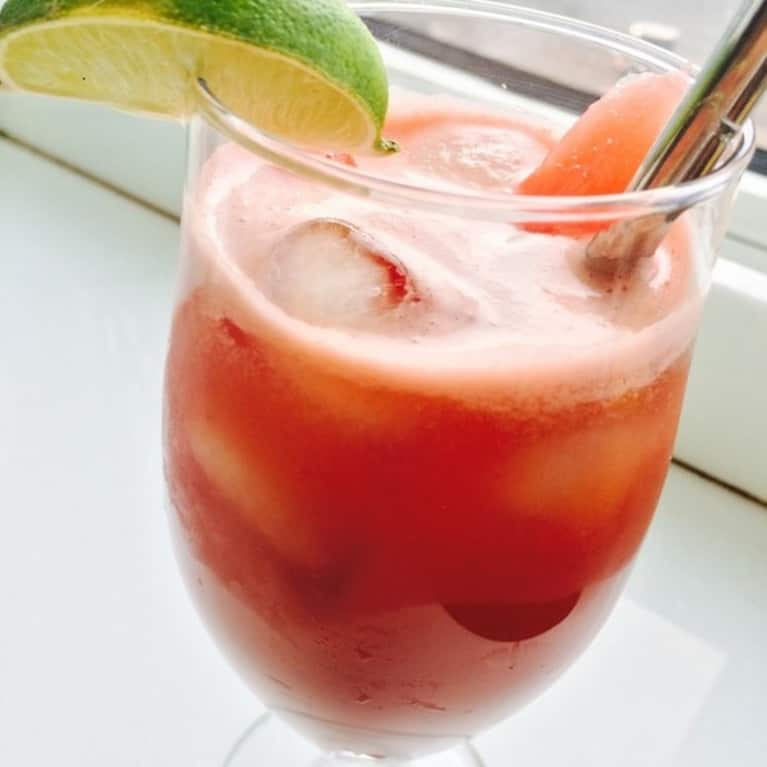 If you wanted to create the healthiest Summer cocktail, what should you put in it?
Tequila! It might actually be good for you.
There are plenty of reasons why drinking alcohol is not exactly healthy, and yet it remains one of the most popular "drugs" on the planet.
Different forms of alcohol will affect everyone differently, but there is growing evidence that tequila might actually be healthy, in comparison to other types of alcohol.
According to new research from Mexico, agavins (natural sugars derived from the stem of the agave plant) reduced weight and blood sugar in mice "prone to diet induced type 2 diabetes and obesity."
So you've got the tequila, what's next?
Watermelon! You might even replenish lost hydration and get a boost of vitamins too.
There is also evidence that watermelon is one of the healthiest fruits available. New research suggests that on top of its vitamin A and C content, watermelon might also be good for heart health and aid in sore muscle relief.
And you might not like the taste of cilantro but....
Believe it or not, cilantro contains powerful detoxification properties. Still not a fan? Just substitute basil instead.
But before you shake things up, be sure to add:
Lime juice and peppers! Make it nice and spicy.
To enhance the flavors of this drink and even turn up the heat, add lime juice and if you like a little spice, some jalapeño peppers or even pepper-infused Mezcal.
Cheers to your health!
Healthiest Summer Cocktail: Spicy Watermelon Cilantro Margarita
Serves 4
Ingredients
8oz Tequila
32 oz frozen or fresh watermelon
1 small handful cilantro
Juice from 1-2 limes
Half or full jalapeño pepper, de-seeded and sliced, or ground cayenne red pepper (to taste) or, jalapeño-infused Mezcal
Directions
Process all the ingredients in your high speed blender and garnish with extra jalapeño or lime wedges and an optional salted rim. Serve over additional ice cubes if desired.