A Perfect Farmers Market Brunch To Make This Weekend!
The weekend, a farmers market, and brunch! I can't think of three things that go together better!
My favorite way to spend a weekend always starts with a trip to my local farmers market to find the freshest and tastiest ingredients. I bring them home, lay them out and prepare a big brunch for my loved ones. This healthy vegan and gluten-free brunch incorporates some of my favorite summer produce and will delight eaters of all types! Cheers!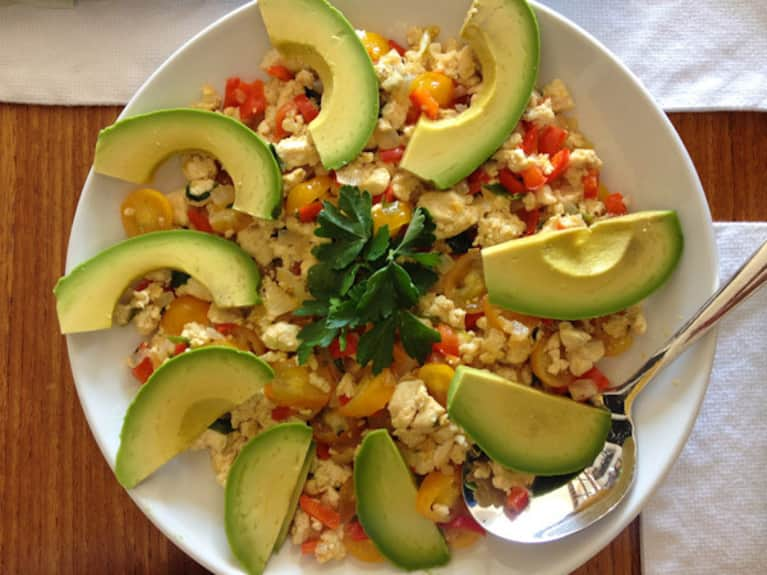 Italian Tofu Scramble
Serves 4
Ingredients
1/2 onion, diced
1/2 red bell pepper, diced
8 oz. firm tofu, drained
1 heaping Tbsp. nutritional yeast
2 cloves of garlic, chopped
1 whole fresh oregano sprig
1/2 cup chopped tomatoes
1/4 cup fresh parsley, chopped
salt and pepper to taste
Directions
In a frying pan drizzle a Tbsp or two of olive oil and sauté the onions and bell pepper on medium heat for about 5-6 minutes.
Add in the tofu, nutritional yeast, garlic and oregano sprig. Sauté one minute and then add in the tomatoes and salt and pepper.
Sauté another couple minutes.
Mix in the parsley and turn the heat off. The parsley will wilt when you toss it with the hot mixture. Serve warm.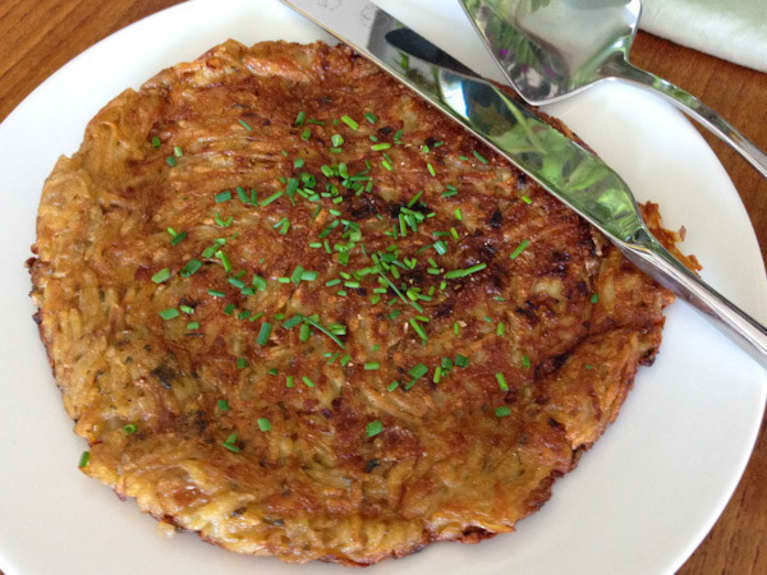 Potato Hash Cake
Ingredients
1 lb. Yukon gold or red potatoes, washed (peeling optional)
1/2 medium yellow onion, diced
2 cloves of garlic, minced
a dash of cayenne pepper
2 Tbsp. chopped fresh parsley
1 tsp. sea salt
1/4 tsp. black pepper
3 Tbsp. olive oil
Directions
Using a box grater, grate the potatoes and place in a colander. Press as much water out of the potatoes as you can. If your potatoes are still really wet, you can add a couple tablespoons of flour to the mix.
In a large bowl, toss all the ingredients except the olive oil together.
In a pan (cast iron skillet would be ideal), heat the oil over medium-high heat. Place the potato mixture in the pan, and using a rubber scraper, smooth and press down. Cook for about 10-12 minutes. Use your rubber scraper to peek underneath to make sure it is not burning. Do not stir the potatoes! You can give the pan a little shimmy to make sure it in not sticking.
When the underside is perfectly golden brown, slide into a plate and flip over, or if you are brave, do the flip right in the pan. Cook on the other side another 10-12 minutes or until golden. Serve warm.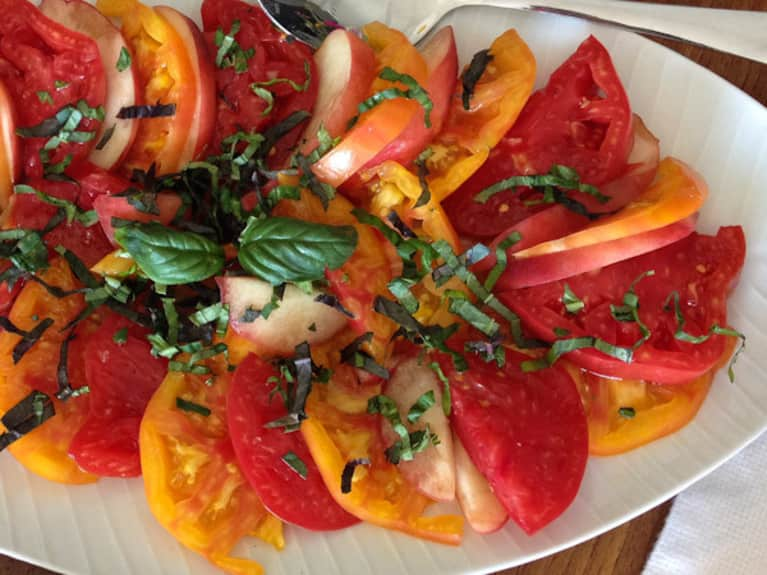 Italian Heirloom Tomato and White Peach Salad
Ingredients
2 large heirloom tomatoes, sliced
3 white peaches, sliced
2 Tbsp. extra-virgin olive oil
pinch of sea salt
8 fresh basil leaves, thinly sliced
Directions
Arrange the sliced tomatoes and peaches on a serving dish.
Sprinkle with a big pinch of sea salt and drizzle with the extra-virgin olive oil.
Top with the fresh basil and serve room temp or chilled.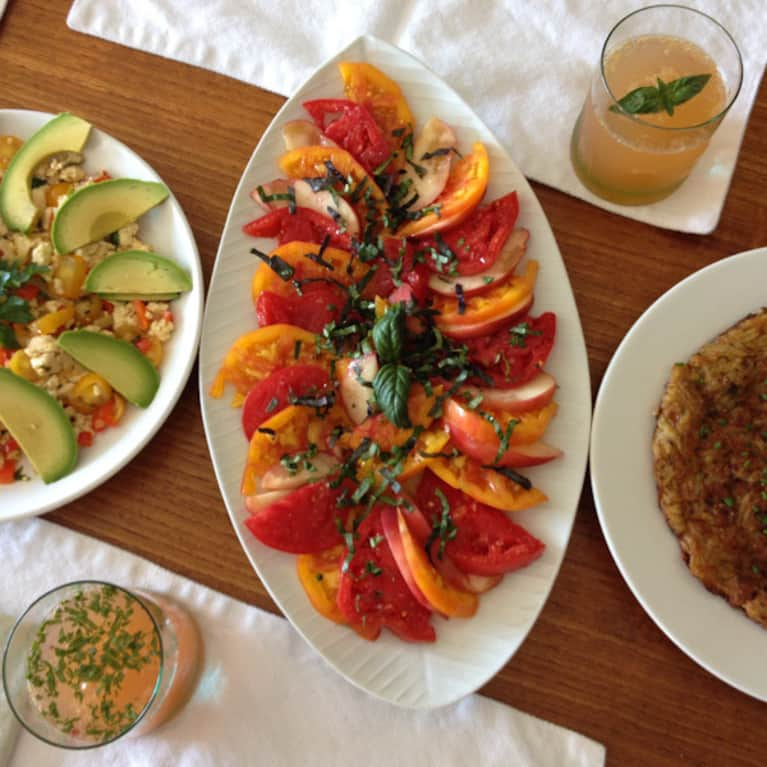 Blood Orange and Basil Mimosa
Ingredients
12 ounces of blood orange juice
15 fresh basil leaves, chopped (plus six more for garnish
1 (750mL) bottle of Champagne or prosecco
Directions
Stir the chopped basil leaves with the blood orange juice.
Pour 2 ounces of juice into the bottom of the Champagne flutes, top with Champagne and garnish with the basil leaves