A Gluten-Free, Dairy-Free Birthday Cake That Everyone Will Love!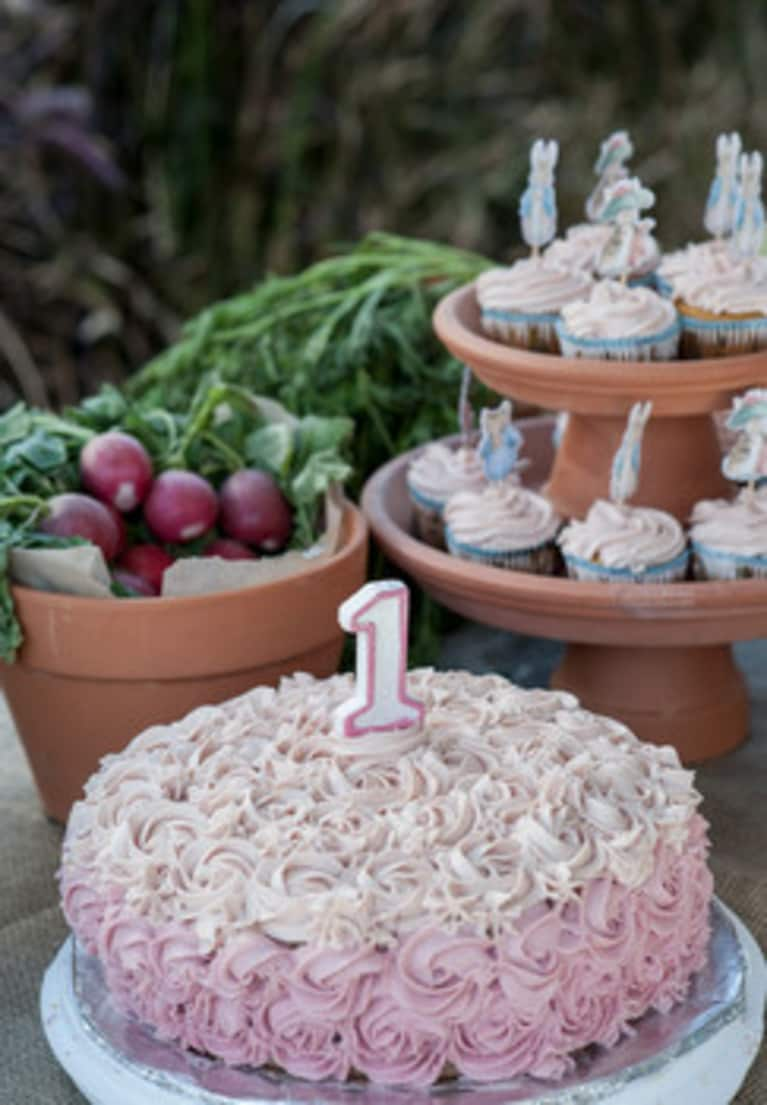 It was my daughter's birthday last month, and I was torn between baking or buying her first cake ever. I started looking into healthier bakeries in the area, but they were expensive and many of them still used white/refined flour and sugar, toxic food dyes for coloring or didn't have designs I really liked.
But I really wanted my baby girl to have a first birthday cake (and a first birthday cupcake)! Finally, I decided to just bake a healthy cake, instead. But then, I got a little excited, and ended up baking three cakes and 24 cupcakes over two days.
And I have to tell you, not only did I bake three cakes, but I ate three cakes too! It was DELICIOUS! Best cake I've ever had! My parents also loved it. All of our friends at the party (including the other babies) loved it. It was truly a huge hit!
If you have a birthday coming up, whether it's for you, a family member, a friend or a colleague, I guarantee this cake will be a huge hit! It's delicious, moist, tasty, not too sweet and good for you!
This recipe is adapted from the wonderful blog The Spunky Coconut. I created an entirely new filling and frosting but most of the batter recipe is the same, except that I varied the type of beans and method used for them and swapped the sweetener. Hope you enjoy!
A Healthy Birthday Cake That Everyone Will Love!
Serves 15-20 and makes a 2-layer 8" cake
Cake
Ingredients
2 cups organic cannellini beans, drained
6 organic, free range eggs
3/4 tsp. vanilla liquid stevia
1 tsp. vanilla
1/3 cup coconut palm sugar
1/4 cup coconut oil, melted
1/3 cup coconut flour, sifted
1 tsp. baking soda
1 1/2 tsp. baking powder

1/2 tsp. sea salt
Freeze-dried strawberries
Preheat oven to 325F.
Add beans, eggs, stevia, vanilla and palm sugar to Vitamix or blender and blend.
Add coconut oil, coconut flour, baking soda, baking powder and salt, and blend.
Add freeze dried strawberries if desired and stir.
Pour into two greased 8" cake pans lined with unbleached parchment paper.
Bake at 325 degrees for about 25-30 minutes.
Cake is done when a toothpick or knife inserted into the center comes out clean.
* Note, if you're using a larger pan (e.g. 9" or 10") double the recipe.
* Note, if you're making cupcakes, start checking after about 22 minutes.
Filling
Ingredients
Organic Strawberry Fruit Spread (or other flavor – sweetened with apple juice only)
Organic strawberries (washed, dried & sliced thinly)
Directions
See assembly below.
Frosting
Ingredients
1 cup vegan butter replacements
3-4 cups organic powdered sugar
2 tsp. organic vanilla extract
1/4 cup unsweetened almond milk
Beet juice or other natural red food dye
Cream vegan butter substitute in a bowl using a hand mixer or electric mixer.
Add vanilla.
Gradually add sugar, about a cup at a time, until mixed well and has a frosting-like consistency. If it's too soft, add more sugar. If it's too thick, add a touch of almond milk to thin it out.
Add desired amount of natural food dye and mix well.
Place one layer on your plate and cover it with strawberry fruit preserve.
Arrange thinly sliced strawberries on top, all over entire cake.
Place second layer on top.
Trim outside edge and top of cake, exposing the lighter-colored interior.
Apply a thin layer of frosting, to cover the exposed cake.
Decorate! Be creative, take pictures and share them with me!
Enjoy!