Children Who Grow & Prepare Own Food Make Healthier Choices: Go Alice Waters!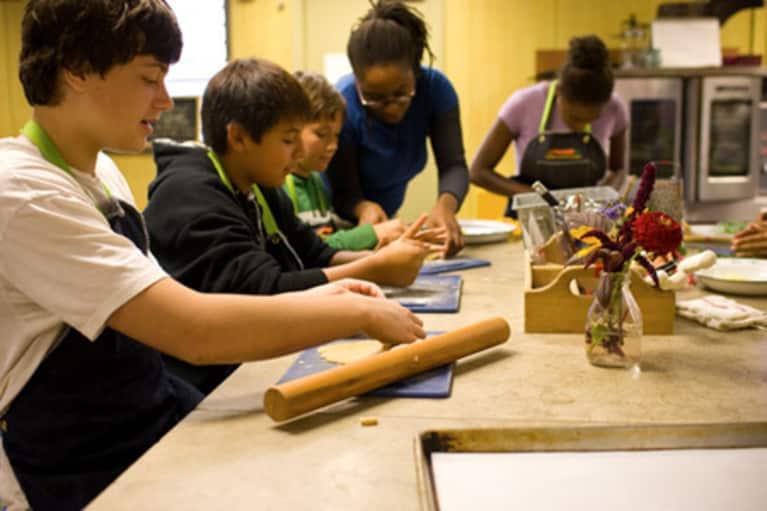 The Atlantic reports on a new study which suggests that kids who grow, prepare and eat their own food make healthier food choices. Some of the key findings include:
Increased nutritional knowledge among 4th and 7th graders who were fed a steady stream of gardening and cooking curriculum.
Vegetable intake was almost one serving per day greater in the schools with a stronger food curriculum, and combined fruit and vegetable consumption increased by 1.5 servings. About 80 percent of this increase came from in-season produce. In comparison, researchers found a nearly quarter-serving drop in produce intake among other students.
Higher fruit and vegetable consumption among elementary-age students... including a preference for leafy greens like kale, spinach, and chard.
The study was commissioned by Alice Waters' Chez Panisse Foundation. Waters had worked with Ann Cooper, aka the 'Renegade Lunch Lady' (Ann is also working with Whole Foods to put 300 salad bars in schools), to revamp school lunch menus in the Berkeley area. Cooper banned processed foods and "started making everything from scratch. She sought local produce, dairy, and bread, and, as much as possible, organic foods, too."
Cooper says "With this study, we can finally prove that what we feed kids and what we teach them about food really does make a difference."
Hopefully more programs like Water's Edible Schoolyard get the attention they deserve.
Go Alice Waters!