Q & A with Sara Hall: Runner Extraordinaire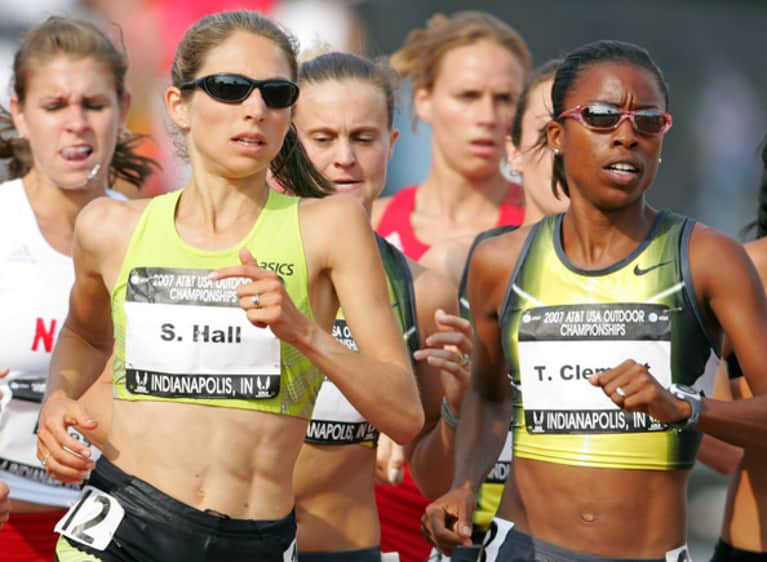 Sara Hall is one of the best runners in the world today, having won the national 5k road championship and the prestigious Fifth Avenue Mile here in New York City. She also earned four runner-up finishes in NCAA championship track races while running for Stanford, where she met her husband, marathoner Ryan Hall.
Together, Ryan and Sara make one of the most athletic and inspirational couples you'll ever meet. We talked to Sara about her passion for running, visualization, their Steps Foundation, and more.
MBG: What do you love about running?
SH: I fell in love with running in middle school when I was exploring the trails in a large state park across the street from my house. There was something so freeing about being able to chart my own course, and I also was driven to run a set course faster each time out. I won my first race, and loved the thrill of the sprint finish. To this day, these are still things I love about running. I also loved that it was an individual sport. I played soccer and basketball growing up, but I loved how with running, I was solely responsible for how well I did. I loved seeing the direct correlation between my hard work and performances. And mostly, I love running because I believe God created me with a gift to do it, and when I'm running, I feel like I'm doing one of the things I was made to do.
Any beginner tips for someone who is just getting started?
You have to know that it will take some time before you "get over the hump" and actually start enjoying your runs. It is painful at first, but the pain will get less and less as you get fitter and you will actually enjoy the very act of running. I would suggest picking a goal race to get you out the door when you're tired or in unideal conditions. And I believe when you dedicate that race to a charity, it makes that race even more meaningful and motivating! That's why we started The Hall Steps Foundation.
How does goal setting and visualization play a role in your training?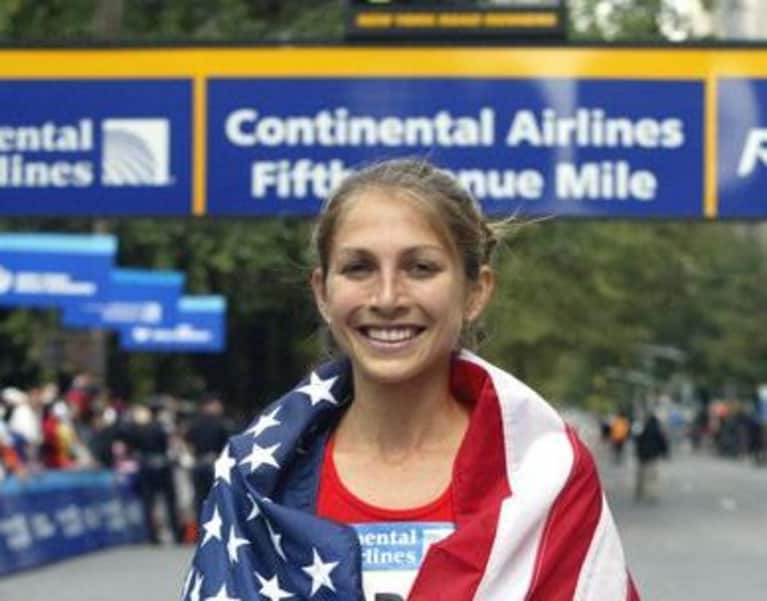 I have gotten away from some of that actually. I used to be very determined with goals, and have seen how powerful it can be when you visualize. I used to run a stretch of grass every day in high school, envisioning the finish of the Footlocker Cross Country Championships. When I did get to the race, I found myself running exactly as I had envisioned, and even though my energy was spent, I had another gear because my body knew what to do in that last finishing stretch. Visualization is powerful. But right now, I am kind of in a mode where I want to be in the moment. I want to just enjoy each day to the fullest and be the best "me" I can be that day, and not be always looking to future goals. Sometimes I think when we have "destination disease" of getting caught up only in thinking of the future, that we miss a lot of what God has for us right now. I want to hear what He's saying to me in the moment, and not miss the opportunities he has for me.
What do you typically eat before/after a long run?
Before a run, I can pretty much eat anything, I have an iron stomach! I like leftovers from last night's dinner, apple pie, and random things, but most often I eat "cytocakes", Ryan's invention of a pancake made with Muscle Milk protein powder. They never get old! After a run, I usually have a protein shake and something sugary that will get into my blood stream quickly. This might be fruit or an energy bar, or even candy. After a run is the best time to eat sweets.
Favorite healthy food?
I love healthy food. When I am on the road eating out for weeks at a time, I crave vegetables! My favorite is mushrooms -- all types (non-hallucinogenic of course!)
Guilty indulgence?
I eat some dark chocolate every day, especially in the winter when I am drinking lots of warm drinks. Whenever I drink something warm, I eat chocolate because it melts so deliciously in your mouth while sipping your coffee. I even eat chocolate with my morning coffee at breakfast. My favorite is Mo's Dark Chocolate Bacon Bar.
Do you and Ryan train together?
Every day. We always run our afternoon runs together, and often run together in the morning as well. Obviously we don't do our hard workouts together, but sometimes I can hop in for parts of his intervals, and we can do short sprints together.
Do you do any type of cross-training?
I do a lot of work in the gym. This can vary from lifting weights to plyometric exercises to walking over hurdle drills. I also really like Pilates classes on the reformer. But I don't do any cardiovascular cross training unless I'm injured. My body is pretty durable and can handle lots of mileage, so I prefer to just run.
How did you and the team get started on the Hall Steps Foundation?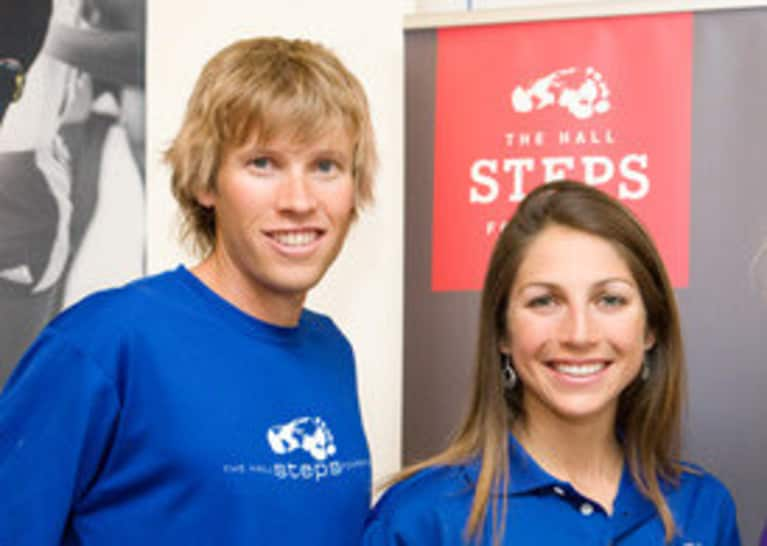 Ryan and I started the Hall Steps Foundation because we have a huge desire to see poverty eliminated. It breaks our heart, especially when traveling in developing countries and seeing it firsthand. We believe it's a dream we can see realized in our generation if everyone does their part. So we committed to doing our part, and wanted to engage the running community to do the same. Runners are an incredible mass of humanity, capable of anything if they set their mind to it. We want to channel the passion and energy and determination that runners have towards their sport to doing it for something greater than times and medals -- changing lives all over the world. We hope Steps will become a movement that will, one step at a time, will conquer this marathon goal of ending poverty.
What's next for you?
I wrapped up my track season in Europe last week, and am now finishing off the year with a couple of road races -- the CVS 5k which is the US 5k Road Championships, and the 5th Avenue Mile in New York. Then I will get some time off, the one break I get all year! So I savor it, and make sure to fully recover to build up for next year. I'm hoping to qualify for the World Championships next summer.
For more on Sara: