Recipes To Help You Stay Paleo When You're On The Go
Eating a clean, delicious Paleo diet that works for your life can be a bit of a challenge when you lead a busy life. The food options outside your own kitchen are often bleak. A little bit of planning goes a long way, my friends. Here are some great ideas for simple, portable Paleo-friendly snacks and meals.
Soaked nuts with fresh or dried fruit. If you opt for fresh, make sure you pack soft fruit in hard-cased containers so it doesn't get mashed up.
Soaking nuts for a minimum of four hours is not essential, but helps to make the nutrients more available and removes the outer coating that makes them hard to digest.
Ants on a log (celery, almond butter, and raisins)
Organic nitrate-free jerky
Hard boiled eggs
Organic lunch meat
Seaweed snacks
Kale chips
Veggie sticks with cauliflower hummus, guacamole, or baba ghanoush (eggplant dip)
Here's a couple of my favorite Paleo-on-the-go recipes from my cookbook, Paleogasm: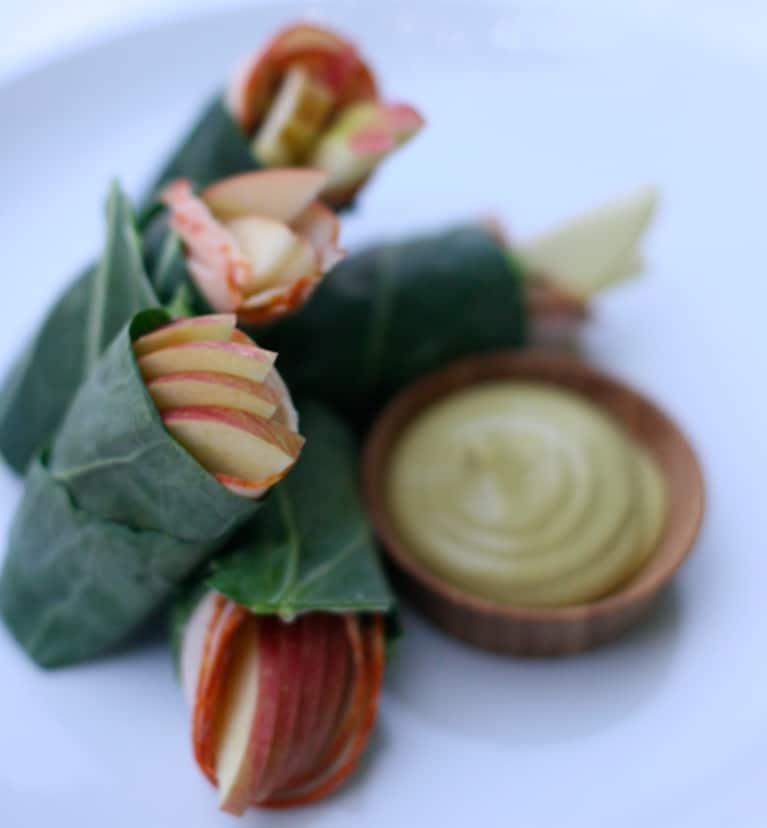 Collard Wraps
Here's a couple yummy combos:
Turkey, apple, Dijon mustard (pictured).
Tuna, cranberries, balsamic vinaigrette.
Smoked salmon, avocado, cucumber, lemon.
Directions
Wash collard greens, slice in half lengthwise, removing the thick stem. Each leaf makes 2 wraps.
Lay protein over one side and top with remaining ingredients. Season with a touch of sea salt and pepper and wrap up tightly.
Will keep crunchy for several hours.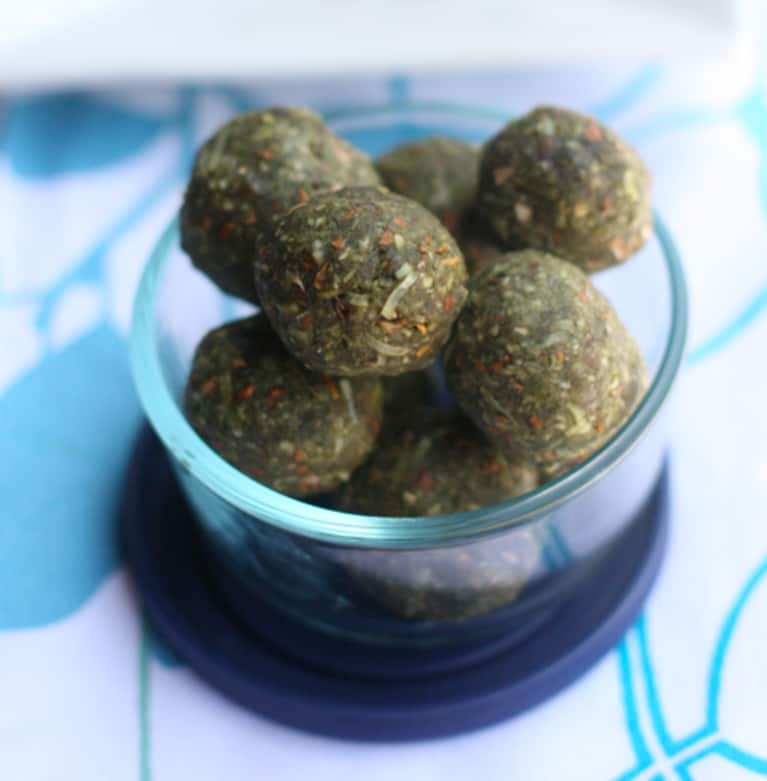 Superfood Energy Balls
Ingredients
2 cup almonds (soaked at least 8 hours), chopped fine in food processor
1 cup shredded unsweetened coconut
1 cup coconut oil
2/3 cup dates, chopped fine in food processor
1/4 cup green superfood powder (there are several brands available)
Directions
With clean hands, mix all ingredients well in a medium bowl.
Form into 1- or 2-tablespoon balls and chill on a plate or baking sheet for a couple hours before serving. Will keep in refrigerator for several weeks.
1 1/2 cups assorted veggies, chopped small
2 cloves chopped fresh garlic
1 tsp. salt
½ tsp. pepper
6 ounces protein, optional (cooked sausage, bacon, turkey, chicken, etc.)
1 dozen eggs
2 tsp. coconut oil, butter, bacon fat or ghee
Coconut oil spray
Directions
Preheat oven to 375 degrees Fahrenheit.
Heat large skillet on medium high heat and add fat. Add protein (if using) and brown all around.
Add veggies and cook to soften, about 5 minutes. In a large bowl, beat eggs with remaining ingredients. Add protein and veggies.
Line muffin tins with papers, spray with coconut oil, and divide egg mixture among them, filling about ¾ full.
Bake for about 25 minutes, or until the center is firm to the touch.
These freeze well, so make a double or triple batch and pop them into your lunchbox frozen!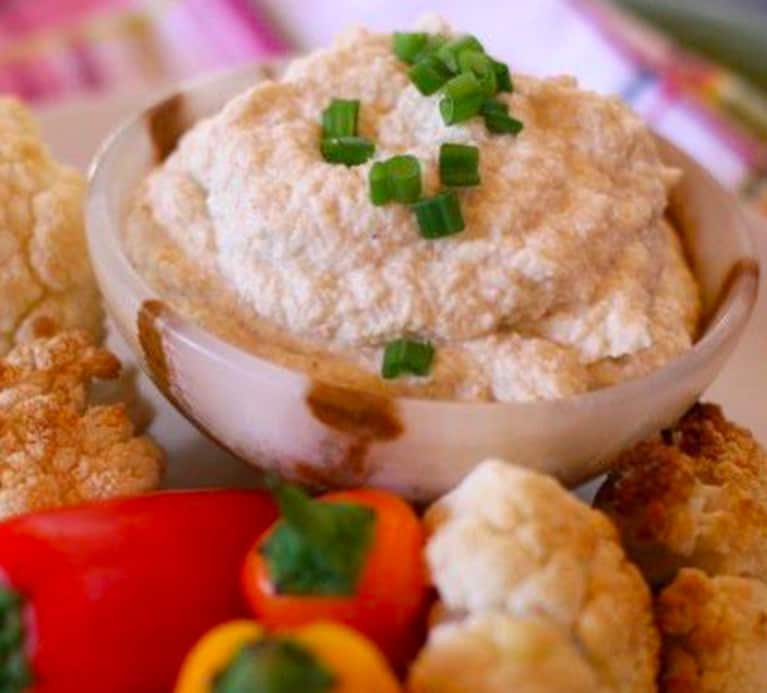 Roasted Cauliflower Hummus
Ingredients
1 head cauliflower
1 cup cashews, soaked at least 4 hours
¼-½ cup water
½ cup olive oil
1/4 cup tahini
3 Tbsp lemon juice
2 cloves garlic, chopped
2 tsp. cumin
salt and pepper to taste
Directions
Preheat oven to 400 degrees Fahrenheit. Chop cauliflower in florets and remove large stem.
Roast in a dry cake pan about 25 minutes, or until cauliflower is golden brown and soft.
Blend cashews in food processor with ¼ cup water. Drizzle olive oil until smooth. Add roasted cauliflower and blend.
Add remaining ingredients and blend until smooth, adding more water for desired consistency. Season to taste with salt.
You can also add more tahini, lemon juice, or cumin as you like to taste.
Taking the time and foresight to have healthy snacks and meals on hand will yield such tremendous benefit to your health and peace of mind. Simply schedule a couple hours of prep into your calendar over the weekend and reap the benefits all week long!
If you'd like more support transitioning to a Paleo-friendly lifestyle, I'd love to offer you a free guide that will support you in setting up your Paleo kitchen and some additional recipes and tips to make every meal more paleogasmic (yes, it's a word now).