Yoga 2.0: Kid and Teen Yoga & The Internet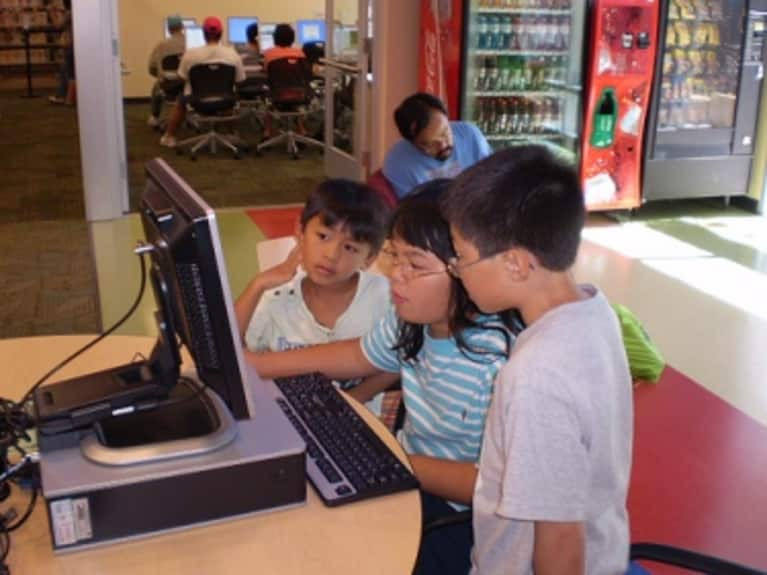 How does kid and teen yoga fit into a world of internet, texting, Facebook, and video games? How can kids/teens get interested in an ancient slow-me-down practice in a modern speed-me-up world?
Yoga can be the perfect counterbalance to modern speed and digital connection. I find most young yogis crave some slow down time and tools for connecting with themselves, even if those muscles are weak.
With older kids and teens, we talk about this issue in yoga class. First, we acknowledge that it's there and talk about the role of all things digital in their lives. We talk about the awesome aspects of these things: being able to connect to people all over the world, making new friends and sharing pictures and messages quickly, exploring different sides of yourself online when you are IMing or through your online profile. Having fun, playing.
We talk about how we also want to have fun, play, and connect in yoga, so its not really all that different. But in yoga, we also slow down and rest and learn to connect with ourselves. We even say we "unplug" in yoga. Sometimes in the outer world we spend so much time connecting with others we can forget to check in with ourselves.
Yoga philosophy can come into play here. In older kids and teen classes we talk about Dharana, the idea of concentrating on one thing completely. When you focus on schoolwork or read a book with such focus you don't think of anything else, that's Dharana. When you're focused just on your Tree pose in that moment, that's Dharana too. Multitasking is the opposite of Dharana. Both are fine, but its good to be mindful of when you're using what, and to cultivate strong Dharana muscles to balance out the strong multitasking muscles we're already constantly building.
It can be refreshing to focus on one thing at a time. It's like having only one window open on Internet Explorer and taking your time to read what's on the page.
Some say we wake up every morning with a bucket full of prana, or energy, to use. How do you want to use your energy today? Notice how using your energy on one thing at a time saves more energy for later, as opposed to using it on many things at once. Being scattered can be very draining.
With some older kids/teen classes we've tried Dharana challenges, where we try to concentrate on one thing at a time for a week. Then in our next yoga class we talk about how it went, what was challenging, and how to be forgiving of ourselves when we just HAD to text, IM, and watch a movie on HULU at the same time.
Of course, yoga and the digital world can also mean practicing yoga on your WiiFit or googling Sanskrit terms. Just because yoga was born thousands of years ago doesn't mean it has to stay the same. But just because we were born in this digital age doesn't mean we have to do all things digital, either. :)
image via sanjoselibrary/flickr