Quick-&-Easy Weeknight Dinner: Spicy Guacamole Bowl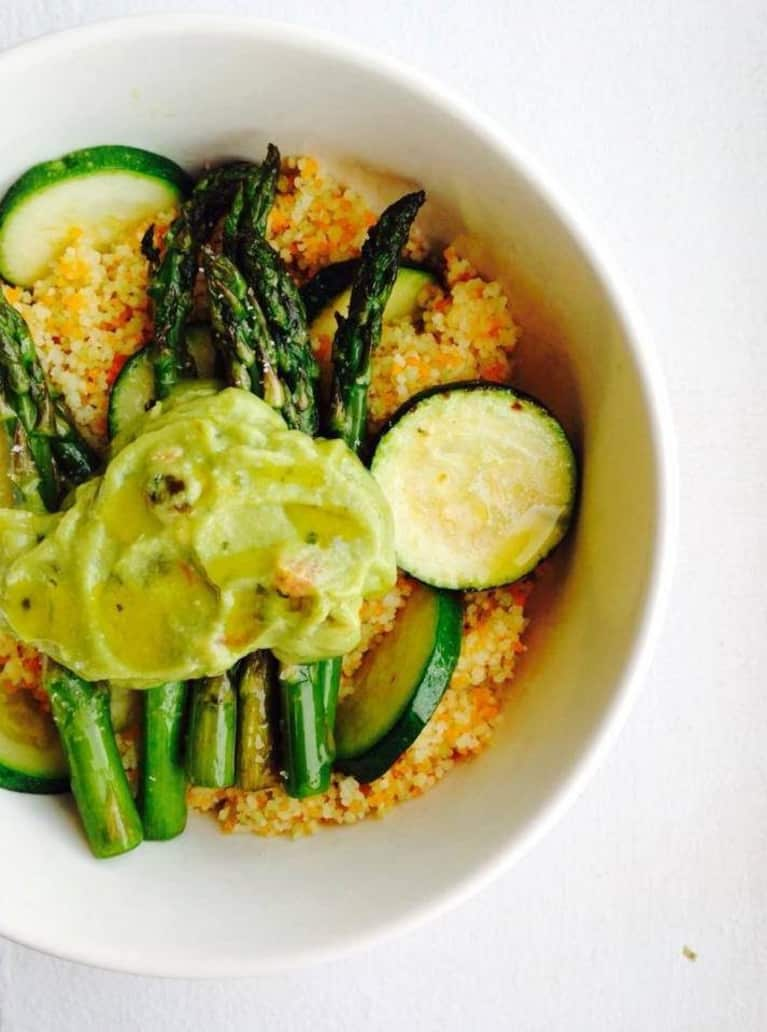 Bring spring inside the office with this spicy, yet refreshing guacamole bowl. The best part about this bowl besides it's beautiful color is it's adaptability. Swap out couscous for quinoa or brown rice and experiment with adding various vegetables like kale or spinach. The possibilities are endless!
Spicy Guacamole Bowl
Serves 1
Ingredients
2/3 cup couscous, cooked (can be made ahead of time)
1/3 cup asparagus, chopped
1/3 cup zucchini, chopped
2 Tbsp. spicy guacamole (see recipe below)
Juice of one lime
Drizzle of olive oil
Pinch of salt and pepper
Coconut oil or ghee for sauteing
Directions
Sauté asparagus and zucchini in a small skillet on medium-high for 2-3 minutes using coconut oil or ghee, until the vegetables become bright green.
Combine couscous, asparagus and zucchini in a bowl. Top with guacamole, lime juice, a drizzle of olive oil and salt and pepper.
Spicy Guacamole
Serves 4
Ingredients
2 Avocados, peeled, pitted
Juice of 2 limes
1/4 cup cilantro, chopped with stems
1/4 cup red onion, diced
1/4 cup tomato, diced
1 jalapeño, seeded, diced
1 garlic clove, minced
Pinch of cayenne pepper (optional)
Salt & pepper to taste
Directions
Using a fork, mash avocados and lime juice together. Add remaining ingredients and stir to combine.