9 Tips To Be A Savvy Solo Woman Traveler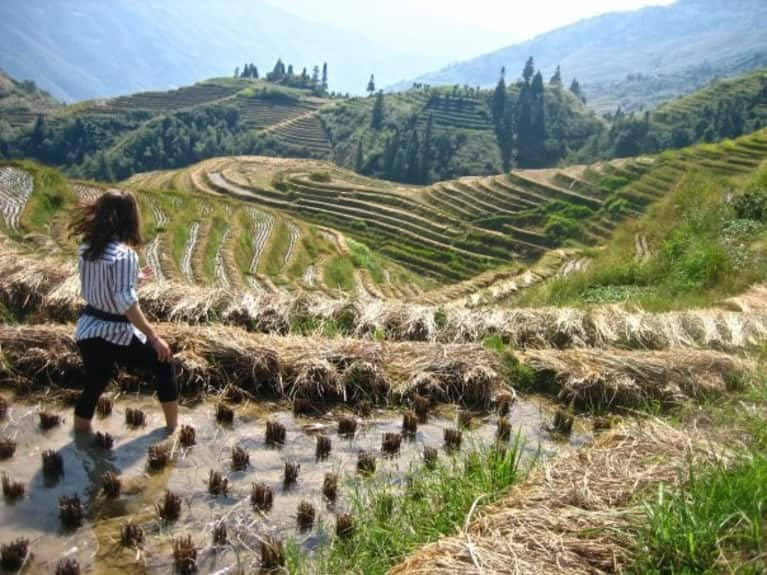 I love traveling alone! I've taken many trips solo across four continents. At five feet tall, many assume that this means flirting with danger. Traveling alone as a female can be scary at times, but in my experience, it's mostly fun, exciting and a great opportunity to make new connections! I've been extremely lucky (or maybe just well prepared), and so far I haven't run into any problems.
Here are nine ways to be a savvy solo traveler:
1. Dress appropriately.
Do your research. Know what is appropriate and inappropriate in the place you are visiting. Yes, it's often a double standard, but in many countries women need to be mindful of the way they dress, walk and speak with men in public. In general, if you don't know what is customary for women to wear, go conservative. When arriving in a new place, it's better to wear long sleeves and pants or a skirt below the knees, just in case modest dress is the norm. Carry a light shawl or sarong with you when traveling to a new place. It can be wrapped around the waist as a skirt or used to cover your head or shoulders if needed.
2. Walk with confidence.
Even if scared, tired or uncomfortable, walk tall and be sure of yourself. Speak authoritatively. Don't take shit. Easy targets are those who look lost or fearful. Put on a brave face, be firm, stand your ground. If you don't victimize yourself, there's less of a chance you'll be victimized.
3. Never walk alone at night.
I made a rule for myself when I was traveling — no matter how badly I wanted to check out the local bar scene, how hungry I was, or how much I needed fresh air, I would not go out on my own after dark in new places. I believe this has saved me more times than I could think of. Simply put, if I couldn't find company, I wasn't going anywhere.
4. Bring a small amount of toilet paper or tissues everywhere!
Some countries just won't have toilet paper in most bathrooms. Bringing it with is a welcome luxury. The little things will make your time abroad that much more comfortable.
5. Pack convertible clothing.
Are you a fashionista? Do you love variety in your wardrobe? My suggestion is to pack as light as possible but bring some versatile pieces. Convertible clothing is my kryptonite.
6. Bring a knife.
This may seem scary or violent, but having a small pocket knife can be so useful! Peeling or cutting fruit on the go, cutting friendship bracelets, making cutoffs ... having a knife is handy and might also save your life. Just by having one will make you appear as a woman who should not be messed with. A welcome notion when alone on the road.
7. Pack a mini sewing kit.
For those times when you rip some of the limited clothing you have, need a button sewn back on or a bag repaired. A needle and thread can come in handy! In an emergency situation, needle and thread can even be used to stick together a wound if it isn't possible to seek immediate medical attention.
8. Make friends with tiger balm!
This stuff is the bomb. Put it on bug bites for itching, on sore muscles from hiking, under the nose to clear the sinuses if you have a cold or on your temples to relieve a headache. Tiger balm comes in compact, no-spill glass jars and is a must for any trip! Make sure to wash your hands after use. Tiger balm in the eyes is no fun.
9. Make sure to know the status of available feminine hygiene products.
Some countries may not sell the brands or types of feminine hygiene products you are used to. It's a good idea to check what might or might not be readily available before you go, especially if you're on a long trip. To be more blunt: tampons are not the norm in many places and can be hard to find, especially ones with applicators. On that note, pack what you do bring in a resealable plastic bag. If your stuff gets flooded, at least the bare necessities won't.
The good news about bringing months' worth of tools for your ladies holiday is that by the end of the trip, as you go through them, your luggage will have more room for souvenirs! If packing this kind of supply sounds like a nuisance, try the diva cup. It's reusable and environmentally friendly.
Traveling solo is a wonderful way to get to know yourself. It's one of the best learning experiences. You'll never know how strong and self-sufficient you are if you don't call on those attributes from time to time. It's extremely liberating to feel like you alone can get from one place to another. You can solve your own problems. You can be likable among strangers. You can carve your own path, peg your own map. With a little preparation and some precaution, any woman can get on the road.