Jocelyne Lamoureux On Skating With Her Sister & Going For Gold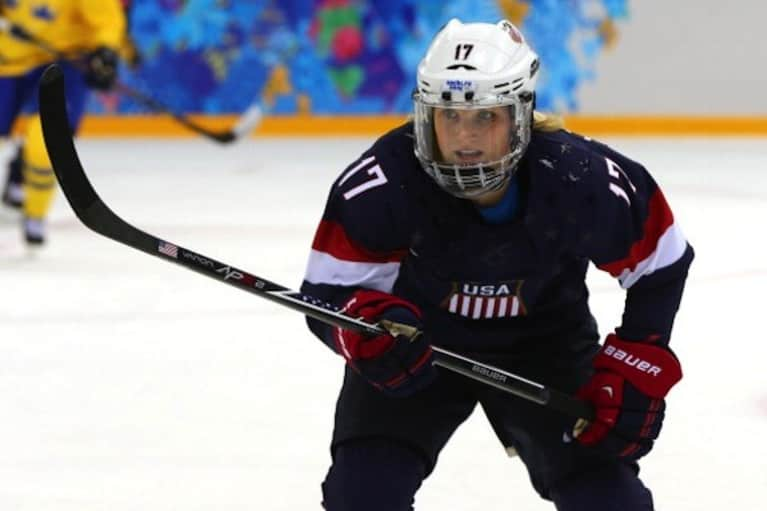 Jocelyne Lamoureux and her sister Monique made history in 2010 when they became the first twin sisters to play ice hockey in the Olympics. They took home silver medals after a 2-0 defeat by Canada.
Today Jocelyne makes her second appearance in an Olympic final, in the much-anticipated matchup against Canada. We were excited to catch up with this 25-year-old phenom and find out more about her life on and off the ice.
MBG: How exciting you get to play in the Olympics with your sister. What's that like?
JL: It's always been our dream to play together in the Olympics and we've trained our whole lives for this. Now a gold medal is what we're looking for — not just us, but for the whole team.
Was there ever a worry that one of you guys would make the team and the other wouldn't?
I'm sure my parents got a little more stressed out than we did! We've always worked very hard and done what we need to do to put our best foot forward, but there's always that chance it could happen.
You've been to the Olympics before. What's your approach like this time compared to Vancouver?
I'm just going to play it one game at a time. You always think you're prepared, but when you've been through it, you really know what to expect and you prepare appropriately for what the Olympics has to bring and all the distractions that come with it.
What are the distractions?
There are so many great athletes there and you just have to remember that you're there to compete as well. I love watching the Olympics, and I've grown up watching them. You have the opportunity to go watch a lot of competitions, but it's probably not the best thing to be doing when you're competing yourself. Plus, there are so many people you can meet! You're all in close quarters, and there's a cafeteria — so 24/7 you're seeing people.
What about Twitter? Do you check to see what people are saying?
I think it's good that girls are trying to expose personalities and get ourselves out there. In women's hockey, we have to do our part to build the sport. But it's a happy medium and I think it can be distracting if you get caught up in all that stuff. You can read the positives and you can read the negatives and that can be a roller coaster. So I just choose to not read anything.
What's something people watching ice hockey at home don't know about the game?
When you're watching on TV, you don't get a sense of how fast the game really is and how physical it can be. Plays happen so quick, and TV, I think, can slow it down, the speed of the game, the puck movement. Watching at home, you don't really see what's going on other than who has the puck, unless they get a different camera angle.
What about nutrition? Do you have a philosophy around food?
I just try to eat healthy. It's not just food; it's fuel for your body. It can help you recover faster. I try to do the best I can in terms of eating at the right times and eating the right food and doing whatever I can to get the edge.
We are a healthy living website, so we gotta ask: Do you practice yoga?
I have. I haven't done it in a while. It wasn't advanced or anything. I'm pretty sure it was just basic.
What about green juices? Do you ever drink them?
I've put kale and spinach in smoothies before. Does that count?
Totally counts! Anyone you're really excited to meet at Sochi when you're done with your competitions?
To be honest, in 2010, I maybe had my eye out for people or athletes I wanted to meet, but this time around, I'm really focused on the task at hand. I'm not really worried about who's gonna be there, or who's not gonna be there. I'm just focused on what I have to do to do the best I can.
What about after Sochi? What's next?
I'm getting married in June. That's the next big thing. Other than that, I haven't quite figured out what's next!
This interview has been edited and condensed.