Team USA Star Kelly Clark Dishes On Big Air & Charity Work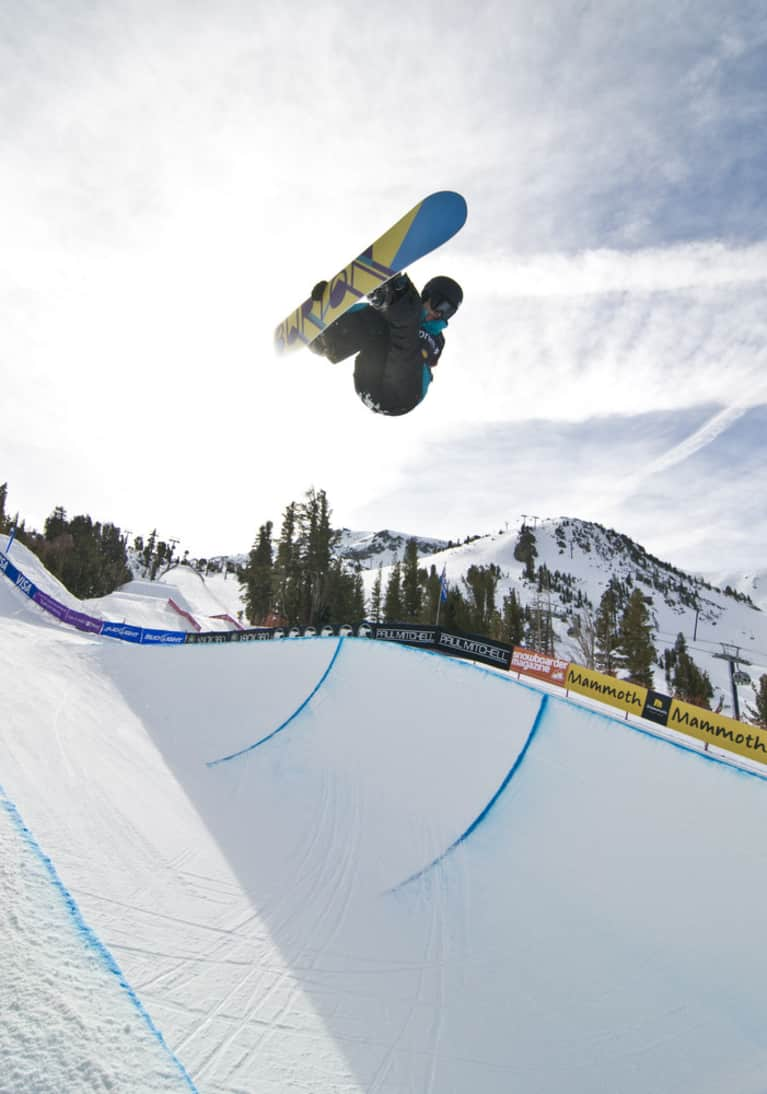 Team USA halfpipe snowboard star Kelly Clark has already won two Olympic medals – a gold in 2002 and a bronze in 2010 – but that certainly hasn't dulled her desire for glory in Sochi.
In addition to her past success in the Olympics, Clark become the first woman ever to land a 1080 in competition when she nailed the trick at the 2011 X Games, exhibiting the sort of fearlessness and audacity that should serve her well in Russia.
Kelly was gracious enough to chat via email with MindBodyGreen about the Olympics, her sport, and her charity work.
MBG: Congratulations on making your fourth Olympic team! It doesn't lose its luster, right? Do you still get excited?
KC: Thank you! It never gets old, it is always exciting. Each Olympics represents different achievements for me and it is always a privilege.
You won an Olympic gold medal in 2002 when you were just 18. How did you stay grounded with that kind of success? Did you?
It was definitely a growing up experience for me. I did not realize how winning an Olympic medal would change my life. I think I kept pretty grounded through it all, but it really caused me to grow up and figure out who I was apart from what I did … which was a good thing.
Your experience at Torino in 2006 has been summed up in the media this way: you went for a big trick, fell, and didn't medal, but probably could have made the podium if you'd played it safe. But is that how you see the story? What's your take?
That is kinda how it went. I was conservative in my first run and I had hoped it would have kept me on the podium, but in all judged sports you can't always predict the outcome. So from my perspective my safe run was not enough for the podium as I had already put that down perfect in run one. So on my 2nd run I went for it as I did not want to look back and wonder if I had what it took to win. And with the fall it kept me off the podium.
In 2011, you became the first woman to land a 1080 in competition, one of the hardest rotations to pull off. Did you ever doubt that you'd be able to do it?
I had the goal that season of being intentional. I had a long time goal of landing that 10 and for me to be able to do it, I needed to do it on my own time. So I worked to get my own standard up. I wanted my stock run to be as good or better than most people's best. I was able to put down a run that night that secured me the win, then I got to try the 10 in a victory lap. I got to be intentional. I did not need the 10 for the win, I got to do it because I wanted to, not because I had to. And I think when you take that approach, you're able to rise to the occasion.
When you're practicing difficult tricks, how you prepare? Do you ever get scared?
No, I have never really struggled with being fearful. Perhaps it is good that I am pro snowboarder :) We look like risk takers, but I think we are calculated risk takers and take the necessary steps to get to the difficult tricks you see us do in competition. I have spent the better part of my life working my way up to where I am at now with my riding.
What's a typical training day like for you?
In the winter it is just maintenance. So 2-3 hours on the hill, then 45 min on the spin bike followed by core and mobility. Then in the summer it is focused on strength building. So 2-6 hours a day 6 days a week of strengh, core, agility, cardio and mobility. The intensity and duration change daily and weekly.
What's your philosophy on food?
I make an effort to eat healthy, but I mostly focus on eating enough. I demand so much from my body, so it is very important to keep my body fueled and help it recover. I eat 3 full meals a day then have 1-2 smoothies to hold me over till my next meal. I also keep snack bars on hand when I am on the hill to keep me going.
Have you tried yoga?
Yeah, I have tried it. But I have never really gotten into it.
We love that you founded the Kelly Clark Foundation to provide scholarships to talented snowboarders. Do you meet any of the kids you support? If so, what's that been like?
It has been so rewarding to build something that will outlast my competitive career. This year we expanded one of our programs to Mammoth Lakes. I see the kids we support out on the mountain daily. It's one thing to raise money, or write checks. But things became more tangible for me now that I see the kids in the park and high five them in the lift line. Meeting them and their families really impacted me more than any other thing I have done with the foundation.
What's your favorite motivational saying or inspirational quote?
"Opportunities are often disguised as hard work, that's why so few recognize them." -John Paul Jackson
Any plans to see Russia after the games?
I've always wanted to go on the Trans-Siberian railroad, but I don't think that is in the cards for this trip! Ill have to go back and sightsee!
We're a wellness website, so I gotta ask: green juice or green smoothie?
I juice and make smoothies every day. I prefer green juice to green smoothies.