Why I'm Petitioning McDonald's To Create A Meatless Option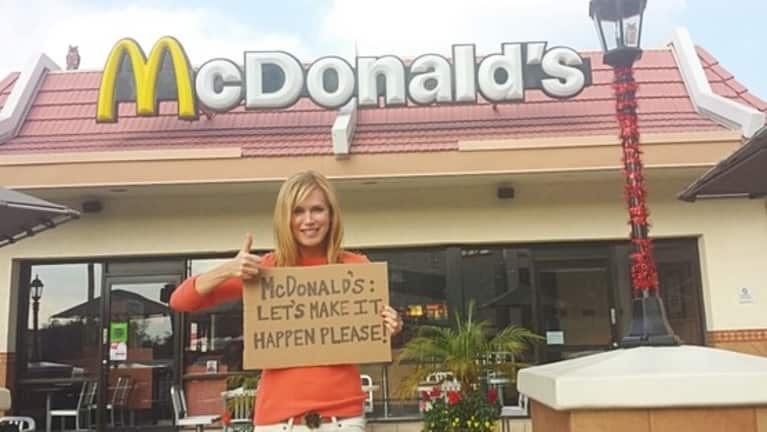 Kathy Freston is a best-selling author, an inspirational speaker, and a champion of all things vegan.
Her latest mission? To get McDonald's to put a meatless option on their American menus. The company caters to vegetarians at some restaurants abroad, but has yet to offer a plant-based item here at home.
To this end, Kathy has created a petition at Change.org which so far has been signed by 85,000 people, including Peter Singer, Alicia Silverstone, and Russell Simmons. We reached out to Kathy via email to learn more about her latest effort and the criticism it's sparked.
You're one of the most famous vegans in America and you're legendary for your healthy habits. I'd guess you haven't set food inside a McDonald's in decades. Is that true?
There's really nothing for me—or anyone who's looking to avoid cholesterol and saturated fat or something a little more conscientious—at McDonald's. YET. But if they added a veggie burger or something with plant-based chicken strips (ideally with no eggs or dairy, not just for those of us with ethical concerns, but also with lactose intolerance or egg allergies), I would totally stop in.
How did you get the idea to create this petition?
I've been deeply troubled by the obesity crisis that's taken root in this country, and even more so by seeing so many kids struggling with their weight (and therefore ensuing health issues). So many families and workers look to McDonald's to provide inexpensive, easy food, but there's not much there for someone who wants to try and eat a little healthier.
McDonald's has recently come out admitting that they are having trouble remaining "relevant" with their customers, and I thought, Well then, certainly they'll want to hear what the people are saying and wanting! A Change.org petition is exactly that: a way to communicate what people want. So far they haven't responded in a meaningful way to the over 85,000 people who've signed and commented.
By the way, it's normally not worth reading comments online, but go to Change.org/McVeggie and scroll through some of the reasons people feel this is worth signing.
Some of your critics have raised the issue: If you don't like what an establishment serves, just don't go there. Why try to change someone else's business? What's your response to that?
It's easy to cut ourselves off and isolate ourselves, but that's the opposite of building an inclusive movement for a healthier nation. Petitions on Change.org have already helped get companies like Pepsi and Kraft to make changes.
Millions of Americans will continue to go to McDonald's whether there is a plant-based option or not. Those people — and everyone, really — deserve a healthier, more humane option. We Americans love the tradition of a burger; we grew up on them, and they're part of our culture. But it's not really the beef or chicken that people are so tied to; rather it's the experience of eating with friends and family, or the whole brand McDonald's tries to craft by sponsoring events like the World Cup and the Olympics.
So why NOT give a non-animal version, something that has no cholesterol, no saturated fat, and no cruelty but still tastes delicious? And if McDonald's sees that the market is shifting and wants more plant-based offerings, more will be added. Just look at competitors like Chipotle, Burger King, Subway, Tropical Smoothie, and others.
This is how the world works, and we have to work within the system. We have a voice, and our voice can politely encourage people and corporations to choose their food more consciously. It's a step in a very good direction; it's progress! To turn our backs on McDonald's rather than trying to work with them is a waste of a big opportunity for a lean toward the better.
Another critique I've seen is: Why bother? Even if you succeed in getting a vegan option on the menu, McDonald's will just make it unhealthy anyway.
Well, it won't be a bowl of rice and beans with broccoli — that's for sure. But it will be BETTER than the regular burgers that are offered. And that's a lean forward in the continuum of health and conscious eating. Rome was not built in a day; we have to start somewhere! Also, why start from a critical point of view of the worst case scenario instead of assuming the best, trying to open the door to dialogue in a positive way, and working together to see what we can come up with?
The food industry and consumer awareness has changed a lot in the decade since McDonald's previously tested a veggie burger. Now they are falling behind their competitors and huge public figures like Bill Gates are backing plant-based options as part of a solution to healthier, more sustainable eating habits. I'm proud that more than 85,000 consumers have already supported the petition on Change.org.
I saw that Ellen DeGeneres is among the many people who've shared the link to your petition. (Cool!) Can you tell us how it's going far?
It's going astoundingly well; I'm kind of blown away. I think the time is ripe for this, and change is in the air. When they tested a veggie burger a decade ago, the world was a different place. We know more now, so we want more (and better) now.
Have any of the reactions surprised you?
Nothing surprises me anymore. There are hard-core vegans and super healthy people who question the wisdom of this, as do some committed carnivores (very colorfully, I might add ;)). But I think the great majority of us are about bridge building; we want to make things work for everyone. I don't like polarization, and the all-or-nothing approach doesn't sit well with me. I think incremental change is how things shift, and this is a substantial tweak in the food machine.
Why not try to arrange a meeting with the CEO of McDonald's, Don Thompson? Why go through a petition?
As soon as I launched the petition, I emailed and tweeted at them. I think they needed to see that it's not just a bunch of vegans who want this change, and when you read what people are saying when they leave comments after signing the Change.org petition, you start to understand that these are real people who agree this is a common sense idea.
I want Don Thompson, and all the executives at McDonald's, to know that this is the collective voice of a changing culture. To date, there are over 85,000 of us (and growing), and we're asking for something very simple — a hearty, fulfilling meatless burger. Not just lettuce on a bun (as they alluded to in their response), but a protein-centric delicious burger or "chicken" option, albeit from plant-based sources. And we'll show our support by spending our dollars there.
If McDonald's makes an effort, we will come to them. It's a much more powerful ask than just my making a call, although I am also working on trying to set up a meeting if they'll have me!
Have you heard from McDonald's now that this has taken off?
Not personally, no. They did release an almost comical statement to the media here.
How many people have to sign this petition to get McDonald's to change?
There's no magic number of signatures before McDonald's agrees to make this change, so I'm asking everyone to keep signing and sharing this petition to keep up the momentum!
Anything else you'd like MindBodyGreen readers to know?
Every signature and comment counts. McDonald's is watching. http://www.change.org/McVeggie
This interview was edited and condensed.