You'll Never Believe What This Woman Went Through To Make The Olympics
Four years ago, after missing the Olympic team by one spot, speedskater Kelly Gunther suffered an injury so horrific that her ankle was hanging off her leg.
She had crashed during her final race of the year, and was sprawled in the middle of the rink, facing the direction she'd just come from.
"I knew it was a little worse than a break," Kelly said, when reached by phone in Utah. She allowed herself to look down at her ankle just once, so she wouldn't fixate on how bad it was.
Still, she was scared. She asked the paramedics if she'd ever skate again.
"They laughed at me and said, 'I don't think you see your foot.'"
Fast forward to today: this 26 year-old superstar is fully healed and a member of the US Olympic team.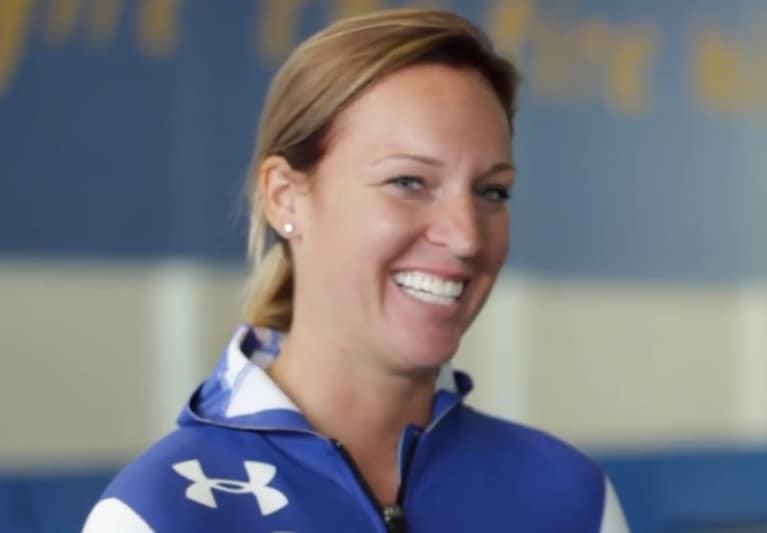 Her latest challenge? To help her mom afford the trip to Russia. Kelly's mother is on disability after some botched surgeries and has difficulty standing or sitting in a chair.
I caught up with Kelly to discuss speedskating, the road to Sochi and more.
MBG: Congratulations on making the Olympic team! Are you tired of talking about your 2010 injury?
KG: No, I'm not tired at all, because I want to help as many people I can. I love to tell everyone that if I can do it, I know that you can do it.
What went through your mind at the time?
I kept telling myself, I'm going to be OK. I'm alive. Someone always has it worse than you do. I kept repeating that in my head and tried to be calm.
What helped you heal?
If it wasn't for everyone at the Olympic Training Center in Colorado [where Kelly underwent intensive rehab], I don't think I'd be able to skate again. When I couldn't walk or when I couldn't pick up a towel, I had a very good support system in Colorado. I met a lot of athletes there, including a good friend on the bobsled team.
I'm such a big believer that everything happens for a reason. I saw those rings day in and day out. That was something to remind me not to lose sight of my dreams.
Once I started my rehab, I found fun in it. And I think that's what got me back on my feet.
What advice would you give anyone struggling to get through a tough time, physically or emotionally?
Please keep going, no matter how hard it might be. Just keep going after your dreams. Everything happens for a reason; you may not find that reason right then and there, but you have to know that there is a reason for what happened.
You overcame some pretty serious challenges in childhood. Can you tell us a little bit about that?
It's always been my mom and I. She's my best friend. I lost sight of my father when I moved to Michigan [at age 11]. He had an alcohol problem and just kind of went his separate way. In high school, I always wondered why he wasn't there. My mom didn't have all the answers, either. I spoke to a counselor, but it was always kind of hard for me to deal with.
I just came out recently with the fact that I had a learning disability in school. That was probably just as hard as dealing with my personal life. Not so much in middle school, but especially in high school. No one could ever figure out why I wouldn't be in classes or why I'd need extra time on tests.
Now that I'm 26 years old, I wouldn't change it for anything. It's another example of how everything happens for a reason. Maybe if I'd been a book smart person, I wouldn't have spent so much time skating.
I've read that your mom, who was a social worker in Detroit, had a second job running a cleaning company, and that you used to clean buildings with her. What was that like?
Yes, that is so true! I did clean with her! It was long hours and a lot of work on her hands and knees. We'd go into empty apartments to clean all day. That was extra support to get me through the next race, or to make it to the next practice. She basically spent her whole entire life supporting me.
I was touched to read about the spaghetti dinner fundraiser in your hometown to help send your mom and a coach to Sochi. How'd it go?
Thank you! It was good to see so many people behind me who really believe in me! We are just about halfway to being able to send them to Sochi.
What's a typical training day like?
I wake up around 7:15, have some oatmeal, and I'm out the door and on the way to the rink for some ice time. I come home after that for lunch (I like Subway because it's quick and easy), a nap, and a little relaxation before I'm heading back to the rink again for another session, whether it's for a weight session, a running workout, or dry land before I get on the ice again.
Dinner is usually pasta, chicken, or salmon. I've gotten pretty good at making salmon.
What's something that many of us TV viewers probably don't understand about speed skating?
The skater on the outer lane always has the right of way when you're going to switch lanes.
We're a wellness website, so I gotta ask: do you practice yoga?
Yes, I actually love, love doing Bikram yoga! It makes me feel so good afterward!
How did you get into yoga?
My friend Jessica, who made the [Olympic] short team, got me into it. We've been friends since I was 11. This past summer, she explained it to me, and I was like, I don't know about all this… I came to find out that I loved it.
Green juice or green smoothies?
Both! I like wheat grass shots. Jessica, the same friend who brought me to Bikram, got me into them. I had some every day that I skated at Olympic Trials. I'd go to Jamba Juice every morning and have two shots of wheat grass.
What's next after Sochi?
Time to breathe! Relax a bit with family and friends and see where my life may lead, but I think you'll see me around for a bit longer! I think this is just the start of my story.
And you're studying to be a teacher?
I'm not sure what I want to do. The latest and greatest idea is to be a flight attendant. I might go for another four years and really build on my skating and see what it can become.
If you're interested in learning more about Kelly Gunther, or helping her mother afford the trip to Sochi, you can donate at her fundraising page or connect with her on Facebook and Twitter @KellyAGunther
This interview was edited and condensed.