Take Healthy Cooking To The Next Level With Coconut Ghee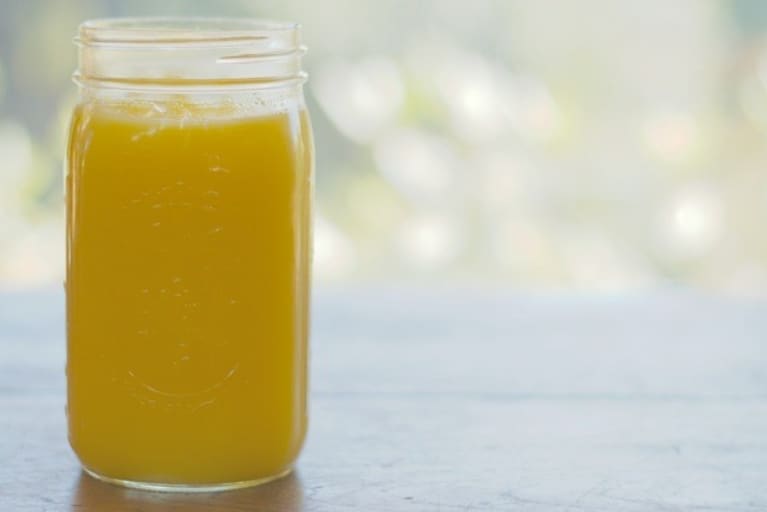 Have you heard of ghee? Commonly called "clarified butter," ghee has been used in Indian cooking for centuries and plays an important role in a natural foods kitchen.
It's made by gently simmering butter until the milk solids separate from the fat (and either rise up to the top, or fall to the bottom of the pan), leaving behind a clear yellow liquid that will harden and become opaque when cooled.
Because the milk solids have been removed from the butter, ghee has a much higher smoke point than plain butter (375°F vs. 250°F), which makes it a much better fat for cooking (pushing fats beyond their smoke point makes them toxic).
When it's properly strained, ghee is also casein-free, so even people who are sensitive to dairy can often tolerate it (but always check with your health care professional before changing your diet).
Ghee is a healthy, mostly saturated and monounsaturated fat, and when it comes from grass-fed butter, ghee is very rich in fat-soluble vitamins (A, D, E, K) and omega-3 fatty acids.
Another saturated fat that's very good for us is coconut oil. Want a way to add the nutritious goodness of both these special fats to every single dish that you cook? Two words: coconut ghee.
Mixing equal parts of ghee with coconut oil allows all the goodness of both to shine through without the taste of either becoming too overpowering. Let's face it, some foods, like scrambled eggs, don't taste very good when cooked in coconut oil only. Others, like stir fry dishes, taste too heavy when cooked with ghee alone.
When we combine both fats, we get an end result that works beautifully in every cooking situation. Coconut ghee makes for a mild-tasting, yet super-nutritious fat that belongs in every kitchen.
Feel free to add more or less of each fat based on personal preference until you reach a ratio of ghee to coconut oil that feels balanced to you.
You can purchase coconut ghee online, but it is very simple to make, so why not make your own?
Servings: about 4 cups
Ingredients:
1 pound pasture-raised (grass-fed) unsalted butter
2 cups organic virgin coconut oil
unbleached cheesecloth
large funnel
quart-size Mason jar
Directions:
Gently melt butter on medium heat in a medium saucepan, until bubbles form. Simmer until white milk solids start separating from the clear, golden ghee and either rise to the surface of the pan, or fall to the bottom.
Using a large spoon, skim solids out and discard. This will greatly help the straining process. Keep adjusting the heat to make sure the butter doesn't burn (the process can take about 30 minutes and should not be rushed, or it could lead to a grainy result).
When milk solids stop rising to the surface, take off the heat and allow to cool for about 10 minutes.
Line a funnel with three layers of unbleached cheesecloth, and set it over a quart-size Mason jar. Pour the ghee into the cheesecloth.
If there is concern that there are still some milk solids left in the finished product, strain the ghee a second time using three new layers of cheesecloth.
Set aside.
Gently melt coconut oil and whisk into the strained ghee.
Place in the refrigerator, and keep whisking every 15 minutes or so until solid, to ensure that both fats stay properly combined.
Once solid, the coconut ghee can be kept at room temperature for several months.
Use for all your cooking and baking needs.