10 Tips To Take Great Yoga Pics On Instagram
Yoga photos have taken over your Instagram feed. Between the encouraging Instagram yoga community and all of the fun yoga challenges popping up, posting yoga "selfies" has become quite a phenomenon. Photographing your practice can sometimes be distracting, but as long as you focus on your breath and stay present, you can stay true to your yogi roots and gain insight into your practice while creating great photos to post and share.
You don't need an expensive camera; your cell phone camera is more than fine. Just grab a friend, a tripod, or download a self-timer camera app on your phone, and get snap happy.
Here are 10 tips to help you take and share great yoga photos and have a positive and rewarding experience for your body, mind, and maybe even your soul!
Safety First, Cool Factor Second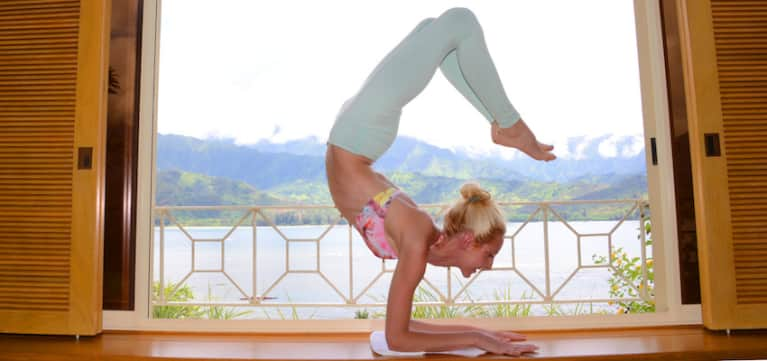 Know your body, know your practice, and be honest with yourself. Respect your limitations. Taking photos of advanced poses is definitely exciting, but take your time learning to practice these poses safely first. No photo, no matter how "cool" it could be, is worth risking an injury that will take you out of your practice for who knows how long.
You are Already Perfect Even When You Have Room to Improve
Be content with wherever you are in your practice. Let go of aiming for "perfect" poses every time, and don't be afraid to share your progress with poses that still have room for improvement. Perseverance, and being honest about where you can improve are far more endearing and inspiring than "perfection." Even the most revered pieces of art were works in progress at some point.
Basic Poses Are Beautiful Too
Being able to put both feet behind your head or hold a handstand is not a prerequisite to creating awesome yoga photos. Sure, photos of crazy flexibility poses and arm balances are exciting to see, but photos of basic poses are beautiful too. Try striking a powerful pose like Warrior A or Warrior B; or maybe a peaceful pose like Tree pose. If you would like to make your photo of a basic pose more interesting, put more of an emphasis on the setting around the pose by choosing an interesting location.
It's essential to warm up before taking photos, or take them after a full practice. To prepare, I like to at least practice a couple Sun Salutation A and B, and depending on the pose, maybe a few back bending or hip-opening poses. Taking a few minutes to properly prepare your body will help prevent injury and will also make for deeper, more complete expressions of the poses in your photos.
Don't Forget You Have A Right and A Left Side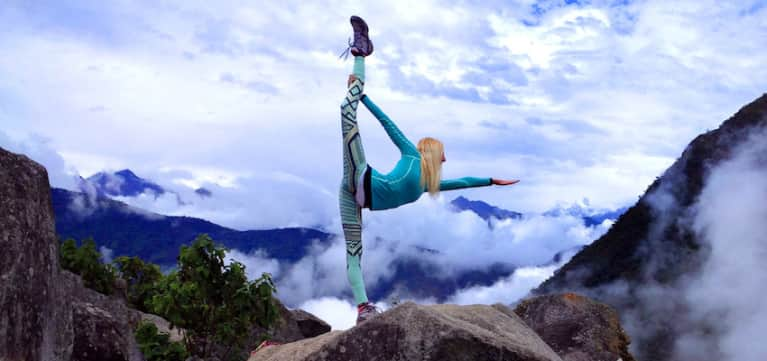 We all have one side that's stronger or more flexible than the other, one leg that's easier to kick up into a handstand or stretch into a standing bow. It's OK to photograph the same side every time if you prefer it visually to the other side. However, it's important that you make it a habit to always practice both sides, even if you only photograph one side. Do your best to keep your strength and flexibility even throughout both sides of your body.
Consider Your Perspective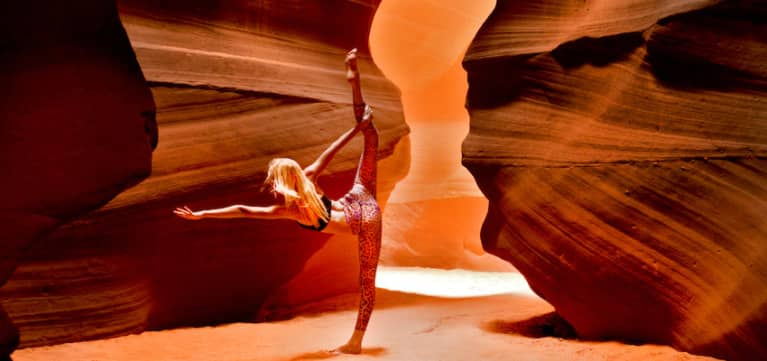 The angle from which your yoga pose is viewed can often make or break a photo. Before shooting, consider what you're trying to achieve with the photo and choose the best angle. If your focus is alignment, photos shot directly facing the camera or turned to display a profile view are usually most effective. That being said, it's also fun to let your creativity flow. Who knows, you might find a new and different angle that's just what you were looking for.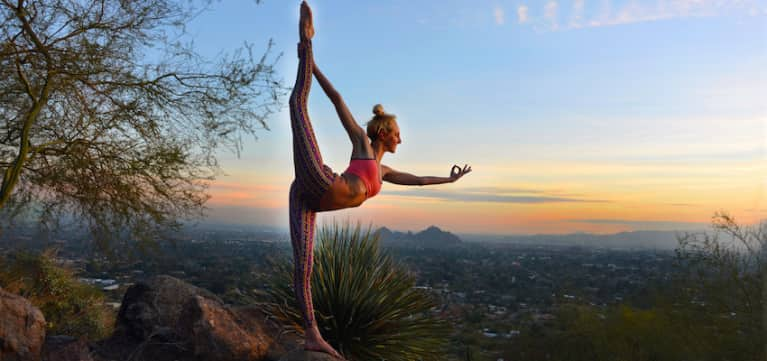 A pretty room isn't always a prerequisite to creating great photos. Sometimes it's as simple as walking out your front door. One of the easiest ways to take your yoga photos from good to great is to simply take your practice outside. Practicing yoga outside feels great, and keeps the background of your photos interesting. You don't need to go far. Just open your eyes; there's beauty all around you. White snow, sunsets, green trees or colorful flowers are all great ways to inject nature and color into your photos and really make them pop.
Have Fun With Funny Looks In Public Places
It's likely that people around you will be curious about your mini public yoga shoot. How can you blame them? They just watched you stop, drop, and pop a handstand next to the fountain at the mall. Embrace funny looks from strangers. Always be respectful first, but beyond that, when eyebrows raise, just smile and say hello in return. Besides earning you some cool photos, this is a great way to practice finding freedom from fear of others' judgment. Besides, I've found that people are usually more curious than critical. Sometimes I give myself an extra social challenge by asking strangers to snap my photos for me instead of using a friend or tripod. I've met some fun people this way!
Minimize Distractions, Both Mental and Visual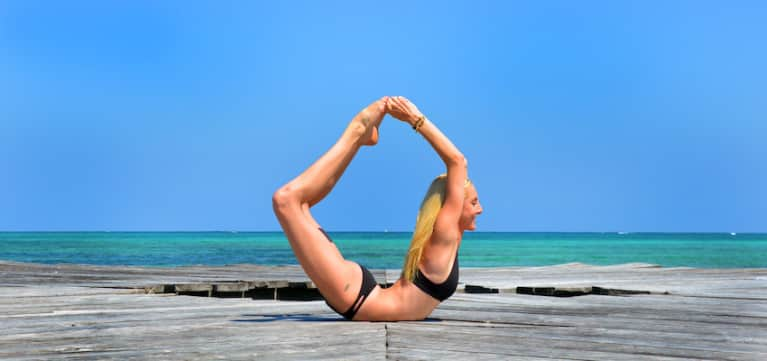 There's nothing that quickly and effectively distracts from a great yoga practice or photo like a messy or cluttered environment. It's hard to focus on the 90-degree angle of your chaturunga arms when we're distracted by dirty socks and underwear on your bedroom floor. More minimal settings will place more emphasis on your pose, and make it easier for you to practice with a clear and focused mind. Five minutes of cleanup can make all the difference in your photos, your mind, and in your home life.
Put Away Your Magnifying Glass
It's easy to be critical of your own poses and photos, so take it easy and focus on the positive aspects instead. People won't notice that little bend in your knee or the exact angle of your back foot. Some of my favorite photos have less than perfect alignment in the poses, but I posted them anyway because I loved other aspects of the photos. Don't stress over the little perceived imperfections in your photos; the reality is that they're almost never as noticeable as you think they are.