13 Ways To Keep Your Cortisol In Check
Physician and New York Times bestselling author
By Lissa Rankin, M.D.
Physician and New York Times bestselling author
Lissa Rankin, M.D., is the New York Times bestselling author of "Mind Over Medicine," "The Fear Cure," and "The Anatomy of a Calling." She is a physician, speaker, founder of the Whole Health Medicine Institute, and mystic. Lissa has starred in two National Public Television specials and also leads workshops, both online and at retreat centers like Esalen and Kripalu.
Deck the halls with boughs of holly. Brave the crowds on Black Friday. Make sure the Christmas cookies get freshly baked and decorated. Do what you can to squelch the grief you feel because you lost your loved one around Christmas. Try to avoid noticing that you feel a little lonely and disconnected this season — again. Cover it up with piles of Christmas cards you must write and presents you must wrap and perfectly decorated and cooked holiday meals. Don't forget to resist actually eating the cookies or drinking the eggnog so you'll look perfect in that holiday dress you're wearing to the company holiday party. And be sure you don't get yourself into debt after buying all those presents you feel pressured to buy.
Yikes! It's no wonder some people get seriously stressed out — and even sick — around the holidays. When you're racing around, dealing with unresolved emotions, and ignoring your self care, your cortisol levels are going to skyrocket, thereby deactivating the body's natural self-healing mechanisms and putting you at risk of illness. But please, dear ones, don't let the holiday season be a source of disease-inducing stress responses. Give yourself the gift of internal stillness instead.
Meditation boosts your immune system, lowers your heart rate and blood pressure, improves your body's natural anti-aging abilities, and decreases activity in the brain's stress centers, while increasing activity in the empathy and memory centers. It can even affect how your genes express themselves.
Don't forget to have fun and lighten up this holiday season! Play board games. Watch a good comedy. Tell jokes. Go to a comedy club. Buy some silly string. Get your goof on!
Bundle up and go hiking or snowshoeing or skiing. Wander in a forest. Sit by a frozen lake and ponder its beauty. Appreciate the bare trees. Relish in the miracle of Mother Earth's bounty.
Make those you love a priority.
Focus more on sharing joyful experiences with loved ones, rather than pressuring yourself to do things perfectly. Be gleefully imperfect together. Take the pressure off. Make sure to cuddle often. Express your love verbally or in a letter. Doing so releases oxytocin, dopamine, serotonin, and endorphins that drop cortisol levels and boost the body's natural self-repair mechanisms.
Sing, dance, and listen to music.
Are you dancing? Are you singing? If not, why not? Put on some holiday music and shake your booty. Or go caroling, even if you can't sing! Remember, it's the holiday spirit that counts more than talent.
Snuggling your pets is just as good for the nervous system as snuggling with people! When you foof Fifi, you drop cortisol levels and boost oxytocin, dopamine, serotonin and endorphins, just like you do when you spend time with people you love.
Remember, you're supposed to be hibernating! Depriving yourself of sleep so you can live up to the standards of a Martha Stewart holiday will only backfire if you're battling a cold on Christmas day. If you feel tired, rest. Your nervous system will relax and balance out your hormones stress naturally.
Sex is a potent relaxation response activator, so if you're feeling stressed around the holidays, grab your partner and get it on — doctor's orders! If you don't have a partner, don't worry. Self-pleasuring orgasms drop cortisol levels and activate relaxation responses just as effectively.
Helping others induces relaxation responses in the body. So don't give until you're depleted, but do consider shifting your attention to serving others. Help out at a homeless shelter. Collect toys for needy kids. Go caroling in a nursing home. Bring joy to the children's cancer ward of your local hospital. Not only will you help others drop their cortisol levels, you'll return the favor to yourself.
Give yourself permission to feel and release your emotions.
Suppressing negative emotions, such as grief, loneliness, resentment, anger, and fear, bump cortisol levels even higher. So don't try to fake it during the holidays. If you need to have a good cry, do so. If you need to punch a pillow while screaming, go for it. If you need to vent, write down your beefs and then burn them, or talk to a therapist or trusted friend.
Gather with a spiritual community.
Whether you prefer to go to a church, temple, mosque, meditation group, spiritual running group, or Sweat Your Prayers spiritual dance community, gathering with others with the intention of "tapping in" will reduce cortisol levels and leave you feeling connected.
Cultivate an attitude of gratitude.
Instead of focusing on what you don't have this holiday season, focus on what you do. Try making a list of what you're grateful for at least once a week (read here for scientific proof that being thankful is good for your health). Try watching the film It's a Wonderful Life, and remember what a wonderful life YOU have.
Write your own prescription.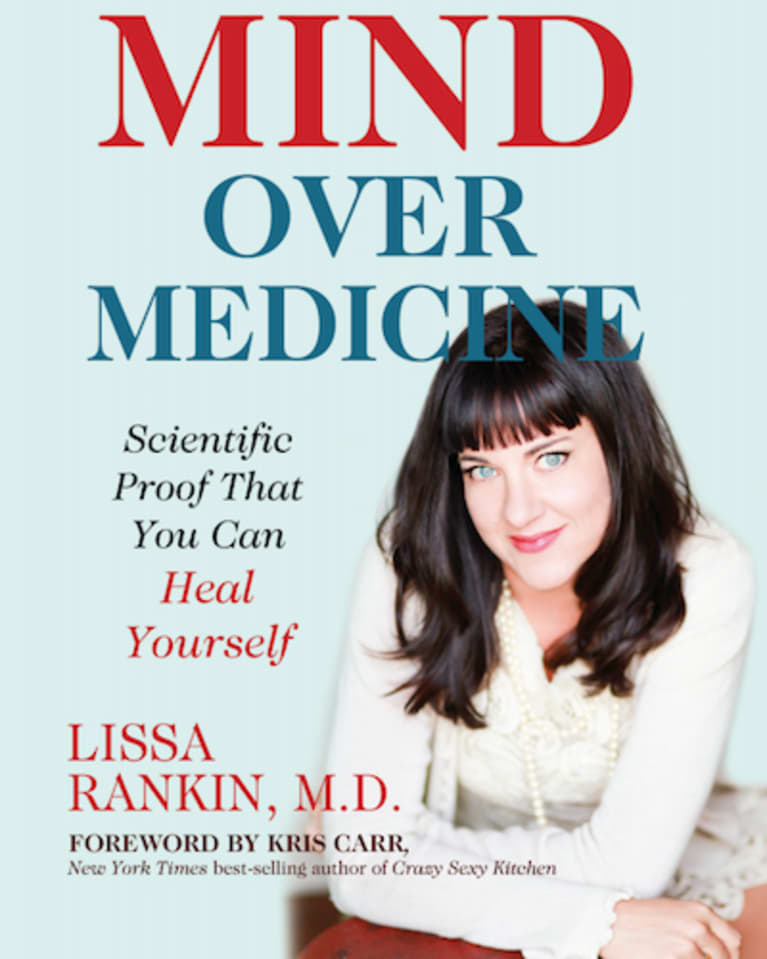 In my book, Mind Over Medicine, and in my National Public Television special, Heal Yourself: Mind Over Medicine, I teach you how to write The Prescription for yourself so that you can reduce disease-inducing stress responses and increase self-healing relaxation responses in the body. But you don't have to be sick to write The Prescription for yourself this holiday season. It's preventive medicine and a gift to yourself. Learn more about how to write The Prescription by downloading the free Self-Healing Kit.
What Prescription will you write for yourself?