How I've Kept My Yoga Practice Fun After 25 Years
My first yoga class was over 25 years ago, but it still feels like it was yesterday. The room was thick with incense and rolled rugs and there was a handful of us in that New York studio.
I was obsessed with a woman who wore one glove and had a spider drawn on her cheek. She looked cool and eccentric and unlike anyone I was used to seeing at the gym.
Back then I was sporty and not very bendy, so flattening into tortoise pose or kurmasana was impossible. The teacher told us there is no competition in yoga (not even with yourself!) and as you can imagine, I was absolutely competitive.
What I loved about yoga back then (and now) ... Oh yes, the incense, those sacred far out words: Kundalini, breath of fire, third eye, supreme consciousness. I loved becoming a crow in bakasana and roaring like a lion. Going to "sleep" in savasana at the end of class seemed odd but interesting.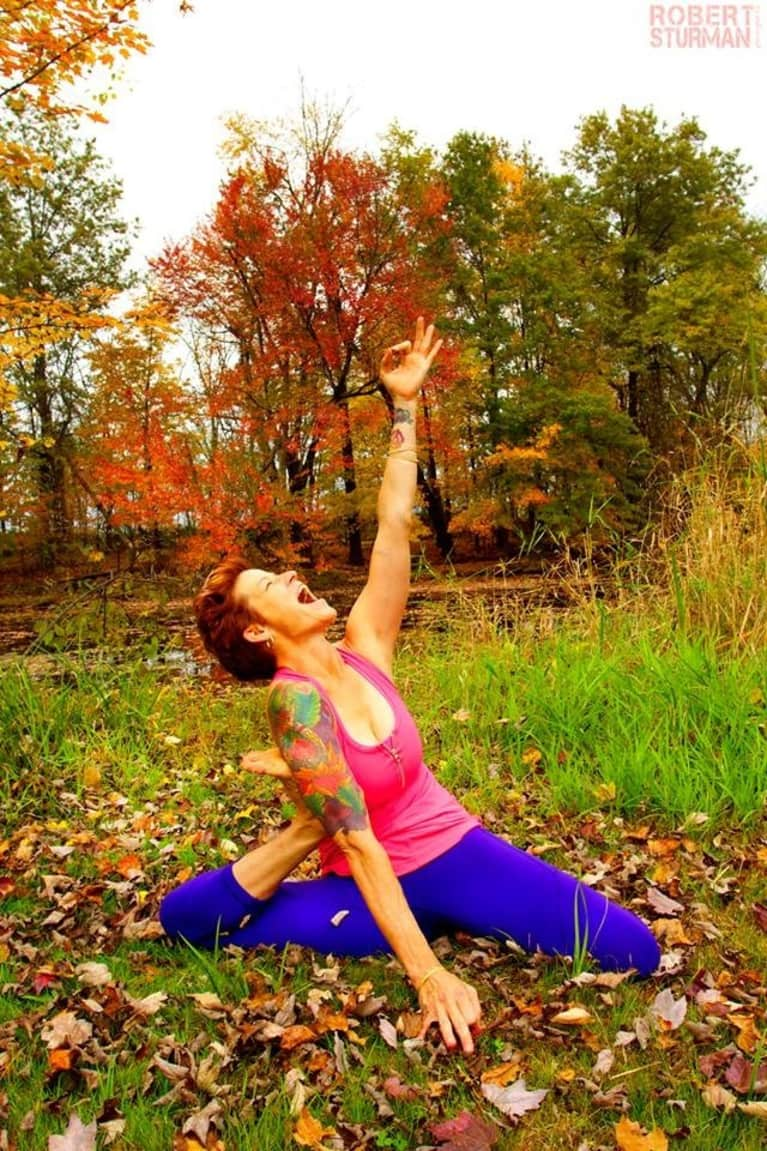 I loved how mystical and mysterious it was, how exotic and enchanting, how sensual and intimate. It was my Narnia, my Wonderland. Yoga felt like a dimension I hadn't seen or experienced before. That first day I tried yoga I felt instantly calmer, more clear, and happier, so I kept going back.
I knew it was my calling when mid-massage, the body worker whom I met at yoga, said, When are you gonna start teaching?
Tears rolled down my cheek, and then and there I knew it was my dharma, the longing was so strong and deep. Twenty-five years later, I'm still going back to yoga and it's still is new and enchanting. Yoga is like dreaming while being awake.
My mom still asks, So when are you gonna do something different? Maybe it's because I did so many other things until yoga (stockbroker, club owner, MTV roving reporter). I'm like, Mom, it's always new and gets deeper and takes time.
And it's true. Yoga is still new for me after all these years. I keep meeting myself again and again. People often ask why I keep showing up to the mat. It's because I want to be able to pay attention and be present for each day, humbled to take the next step. It doesn't get old because the practice changes with me and I with it, we're divine companions. The practice is like Life, one big spiritual roller coaster, and the breath helps you ride the ups and downs with a bit more ease.
I've always had a ton of enthusiasm but yoga focused it. I've always loved moving, but yoga is physicality with a purpose: deep peace and happiness. At first it seems like your practice is part of your life, and then you come to see that everything is part of your practice. I've stayed curious and have become interested in the BIG Yoga: healing, transformation, spiritual realization ...
And I've tried other practices, too. I studied Tai Chi, Kung Fu, African dance, and have hit the dance floor at a club to feel the Spirit. I even went to China with my Sifu (master martial arts teacher) to practice each morning in the park. Threading the shapes together in Tai Chi into a fluid dance, and bending the knees in African dance to build momentum and speed has helped me create my signature movement or lotus flow.
Thanks to a knee surgery 16 years ago, I found yoga in my hands with mudras and they are a potent part of my practice, a way to move toward joy and connect with higher states of consciousness. I'm reinventing my yoga all the time: Seeing dance, dancing, listening to music, running to MOMA to soak in the latest Magritte show, scootering to Brooklyn for a graffiti show —the closer I am to creativity, the closer I feel to God, to all the GODS!
Yoga is a creative process, infinitely new. Each day to experience yoga you have to practice. You can't talk about yoga you must go direct, where body breath and soul collide, daily. Your spiritual practice (which is absolutely physical) is your laboratory for being a yogi or soul scientist — to reap the rewards, you must apply consistent effort, without break and with devotion.
Personally I find this the raw material for teaching but even more importantly: it's your holy time with holiness, with the creative processs, to uncover how you move, breathe, feel and ignite your passion. It's a way to talk to God and listen...It's the Rx for a Super Soulful life. Never give up and always let go. More will be revealed. Developing a daily personal practice is the most personal and rewarding part of my yoga practice. It's a way to pulse with passion, feeling more alive and connected to Love and LIFE.
It's for the love of love, connecting with one another, our big mystical FAMILY, celebrating each others' light, loving each other up. It's all service. Yoga makes my world bigger and it's how I give back.