Why You'll Find Freedom In Forgiveness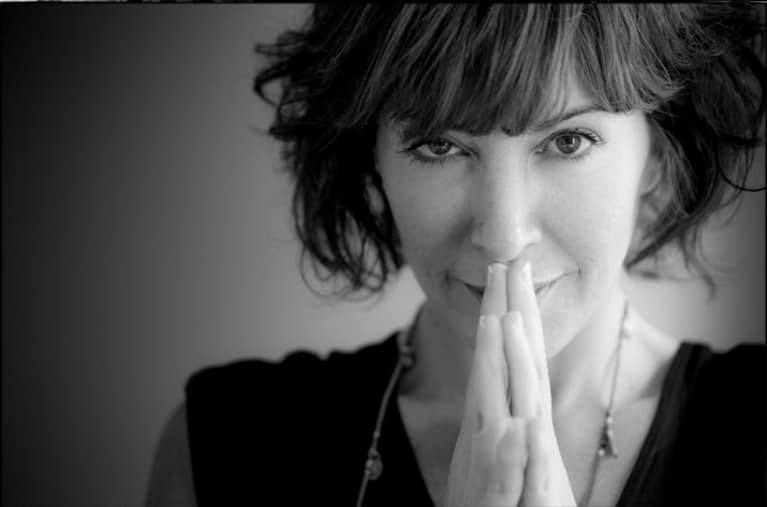 Years ago I was teaching a weekend workshop, and during the course of the first evening, I touched upon the subject of forgiveness. At the break, a young woman came up to me, her hands shaking, voice quavering, and told me she didn't think she could stay for the second half; she was afraid she was going to have some kind of breakdown. She asked if I would be talking about forgiveness again.
I asked her what was coming up for her, and she told me in a torrent of words and tears that her father had stolen her innocence and her childhood, and there was no way she could ever forgive him for that.
She said, "If I let him off the hook, he won't pay for what he did."
I asked her if she was in contact with him,; she was not. I asked her about her own life, and she told me her father had taken away every good thing about her, that she was broken, and no one could ever love her.
Her chances for happiness died before she'd even gotten out of the gate. By this time she was sobbing, and I was hugging her. After she got it all out, I looked at her and asked, "Are you sure your dad is the one who's paying?"
This is the thing about forgiveness. Often, people equate it with condoning whatever it is that happened, but that's not it at all. Anger is a psychological defense mechanism. In order to protect ourselves from the full force of our pain, we take a fighting stance. We relive the experience, we feed it and keep it alive, ensuring it will follow us into our now and into our future, and we keep ourselves tough and angry.
If we drop the stance, we allow the flood of our feelings to wash over us. We sit and lean into all that pain, that's how the heat of it is released. That's how we free ourselves.
When we forgive people, it does not mean we have to invite them back into our lives; maybe they don't belong there. But identifying with the idea that you're a victim is disempowering. Forgiveness is a way of unhooking your journey from something that happened long ago. Your past does not have to own you or define you; you can liberate yourself. When you relinquish your rage and move toward forgiveness, you rob the past situation or person of the control it, or they, had over you.
Because it takes quite a lot of energy to stay angry. And you have to devote a significant amount of time thinking about this past transgression in order to keep yourself hard. But if you want to love in this life, you're going to have to be soft, but brave. So really, at a certain point you have to decide if you're going to let your past, or any person or event, prevent you from loving in your present and your future.
When you drop the fighting stance and open to your pain, you also open to the possibility for compassion. Life can make your heart ache with all its beauty, and it can make your heart break with all its uncertainty. This business of being human is an incredibly vulnerable undertaking. We have these bodies with their unknown expiration dates, and so does everyone else. We never know how much time we'll have with the people we love.
We won't know for sure what happens after this until our final exhale. None of this is easy to swallow. And some people really struggle with it all, some people do not handle the vulnerability of this thing with ease or grace or strength. When we forgive, we acknowledge that. We don't excuse it, we just recognize it.
Sometimes acceptance is the only closure you're going to get. You may never hear an apology, or see any evidence of remorse. But that's not about you. What is about you is the quality of your own life, and your ability to feel hopeful and optimistic. The American Psychological Association commissioned a study about the benefits of forgiveness a number of years ago. People who were able to speak clearly about what had happened, and to understand their own process, had an upswing in their optimism quotient, their feelings of personal power, and their health and wellness in general.
Forgiveness is a private matter, you don't have to share it with anyone. The past cannot be changed; whatever has happened, has happened. People make huge mistakes and small ones as well. People can be scared, or tormented or numb. The forces that drive us can be buried deep inside, and sometimes people truly have no idea what they're doing. Hurt people, hurt people as the saying goes. If you get caught in the crossfire, it's personal in that you'll have healing to do and a process to move through, but it isn't personal in the sense that it reflected anything lacking in you.
Given that our time here is finite, it's very sad when family members or partners or friends stop speaking to one another over something someone said ten years ago at a wedding, drunk and full of salmon. I'm talking about those petty things, around which no one can remember the exact details anymore.
It's as if people think they have all the time in the world, or that their righteousness will be an affectionate and nurturing bedfellow. You can't curl up with your "rightness", but sometimes people want to be right so badly, they'll pay the heavy price of losing a loved one. Lost to them, anyway. Sometimes we can't forgive ourselves.
We've done something and we have such deep regret, we don't know how to like ourselves, let alone love ourselves. The thing is, no one will come from their highest self in every moment. Every single one of us will make mistakes. And when you can find compassion for yourself around that, you'll find it for others, too.
A big part of being at peace has to do with what you decide you're going to focus on, with choosing one thought over another. This doesn't mean you deny the pain in this world. It just means you understand anything you feed will grow and strengthen. You can feed your anger, but love feels so much better. That will blossom around you and lift you up, whereas anger will darken you and weigh you down. You may not be ready to forgive yet. Maybe something happened in your recent past, or maybe it's old but it hasn't released its grip on you. If that's the case, forgive yourself for not being ready to forgive. But keep trying.
For me, trying means getting on my yoga mat every day, connecting to my breath, and feeding a loving, compassionate, patient voice. Our online yoga videos might help you do that. Maybe something else works for you, hiking or windsurfing or salsa dancing. Just keep searching until you find something that helps you quiet your mind and connect to your gorgeous heart.
Forgiveness is a gift you give to yourself, and you surely deserve to open it. It won't change your past, but you can bet it will change your future.