Volleyball: More Than Just a Game
I just got back from my first 4×4 volleyball event and I sit here with ice on my knee. I won't lie, I had so much fun, and the girls from all the teams played great. I have a very soft spot in my heart for the game of volleyball -- all volleyball. Indoor, 6 on 6, 2 x 2, and 4 x 4 beach. When it comes right down to it, I realize that, yes, I love winning (which we didn't do) and competing. But it's what the game has taught me, the life I have lived, and the relationships I have developed via sport that has had such a profound impact on me. Not that I hit a little white ball over a net, but rather what an incredible template sport has given me for my life.
For starters, I would have never been able to go to college if I had not received an athletic scholarship. That time I had at FSU really helped mold me into a responsible young woman (well, sorta). Then continuing a life in professional sports reinforced the notion that hard work and discipline really does pay off. The formula is not a mystery. If you are willing to work hard, keep learning, stay focused, and believe, you can achieve anything you are genuinely passionate about.
I played with Brooke Hanson, Keoa Burdine and Clare D'Amore. All the captains drafted their teams last evening and I thought everyone looked very fluid. Needless to say, and not to big of a surprise, Kerri Walsh, Lisa Arce-Zimmerman and their team were victorious. Kerri Walsh was working hard up at the net, and even though she just had another son it looks as if she will be ready to resume double competition any day now.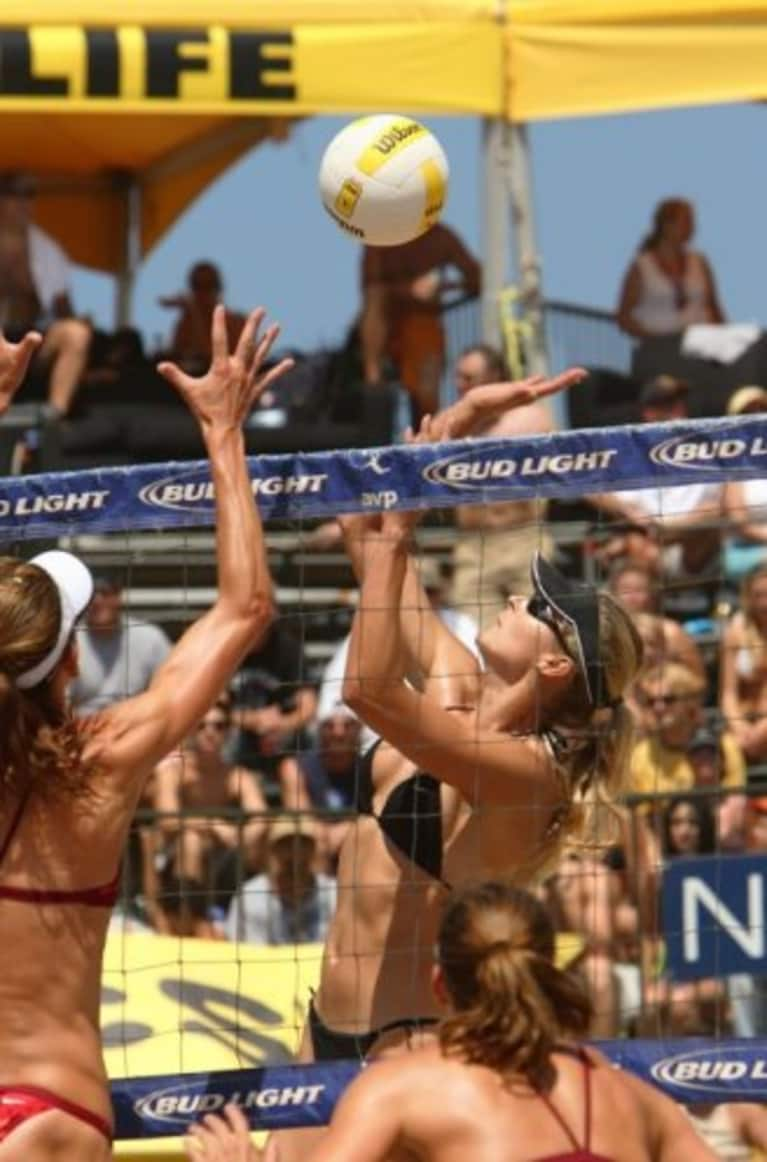 The other thing I am feeling is a huge sense of relief. I didn't realize how uptight I was feeling about wanting to make sure to go out and represent myself and the game of 4 x 4 well. When I got home Laird said he could see how relieved I looked, and that I even looked like I had some fun. "Imagine that," he said. He then proceeded to tell me, "Our imagination is always worse than the reality." Oh gosh, why do we put a build up on things?
He also shared how he and Brody Jo, my two-year-old daughter, went on a jet-ski ride where they rode with the dolphins for three miles. Only Laird. Reece, my six-year-old, came with me, ate junk, and much to my delight hung out with the old timers watching the game.
Lastly, the other thing I so value is the support my friends always give me. A large group of my friends drove down on a very crowded Sunday to show their support. OH yes, and not to forget my Aunt Joanne, Uncle Peter, and cousin Joel who rolled in right when I arrived with their melodic Trinidadian accent -- "Heelllooo darlin'" was a thing of beauty.
Life is not about the winning and the losing (even though the winning is a ton of fun) -- it really is about all that you build around it that is for keeps.