Yoga Like No One Is Watching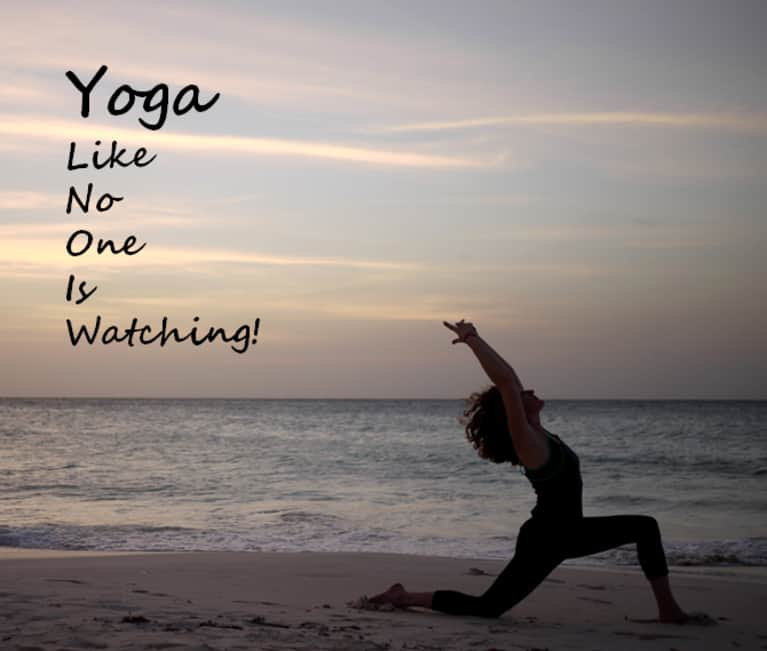 One of my favorite inspirational phrases is Dance Like No One is Watching!
When I let myself believe no one is watching, I start to think I'm one of the regulars on American Bandstand (yeah, I'm showing my age), and the next winner of So You Think You Can Dance!
When no one's watching, you can drop the ego and stop worrying about what everyone else might be thinking, and all of a sudden you transform into a badass dancing queen.
Why not take this same concept onto the yoga mat?
How many times have you been in a yoga class and worried what other students were thinking when you couldn't touch your toes? Or, were you afraid to try a more challenging pose because you pictured yourself falling with others witnessing you crash and burn?
The simple truth is that a yoga studio is the equivalent of a discotheque where no one is watching your dance moves. It's a community of yogis all there to lift up and support each other. The judgment and competition are replaced with compassion and love.
And, if you've ever worried about what the yoga teacher is thinking about your yoga practice, well, I'm a yoga teacher, and I'm here to tell you that we are not there to judge. We're there to provide support, and we love it when students practice yoga like no one is watching!
I teach many beginner students, and I always emphasize the fact that no one expects them to know all the poses, or to be super flexible. We all come to our mats from different places to do one thing – practice – not to be perfect, but to enjoy this incredible journey of the yoga practice. Some days it's pretty, some days it's a struggle, but I guarantee, if you come to your yoga mat like no one's watching, with no fear and no pride, you'll be dancing on air and finding your bliss!