Why Grownups Stink At Yoga
August 22, 2013 — 9:00 AM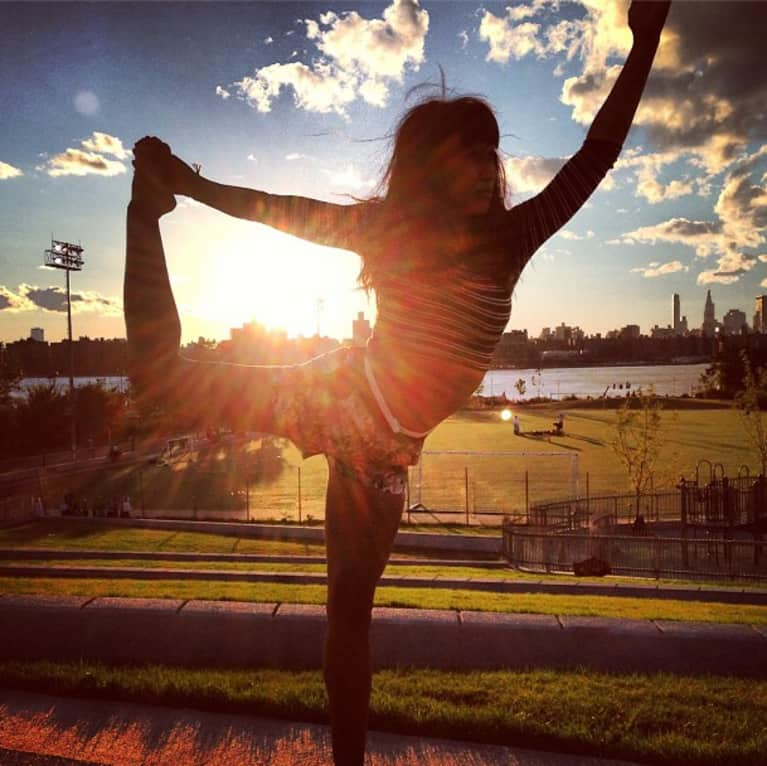 This morning, I went to post a picture of myself in dancer's pose on Instagram. At a park with my boyfriend, I was inspired by the setting sun to catch its rays in the crook of my leg, and I asked him to take a photo. I think it looked pretty cool, but I hesitated before posting it because a little voice in my head said "you know, that's not the best Dancer's Pose you've ever done. Your leg could be higher."
Can you believe that? That I was so self-conscious of my own expression, of representing such a beautiful, spontaneous moment, that I wanted to be sure it adhered to the standards that the yoga community has prescribed? In that instant, I realized how much we grownups absolutely suck at yoga. Because grownups have forgotten to be playful, to have fun, and enjoy our practice as if we were kids.
Grownups take a mat to an empty space, remove their shoes, and listen to music while doing a series of body twists with a group of other people, placing our hands and feet on our mats in different places. If you had told me, at 8 years old, that grownups do this on a regular basis, and that they can do it whenever they want, I would have been ecstatic, going to bed every night counting the days until I'm old enough to do it.
Because that sounds exactly like playing Twister.
What makes yoga so different than that well-loved classic game? In essence, they really are quite similar. Is it because we're going in with the goal of getting a six-pack and enlightenment? Or because we think other grownups are scary and will judge our Old Navy leggings? Or is it because we've forgotten how to look at things like a kid again, alongside all those other reasons? Why can't we find strength and consciousness through uninhibited expression and fun?
The reason I practice yoga is not because of my first times trying it, but how my perception of the class changed as a result of teaching kids. The creativity and exploration children aren't afraid to have during a class is astounding compared to the levels of concentration and seriousness that grownups apply to their own. Children's yoga in design is meant to be as playful as it's taught — with storytelling, games and animals, it's more like a birthday party than a workout, and I'm always disappointed that grownup yoga can't be the same!
The next time you go to yoga, pretend you're playing Twister. Treat each pose like an adventure; laugh if you fall. Connect with those next to you. Feel giddy each time you see your mat and the well-worn spots in it you've created, and giggle when you get to be barefoot. Play in each and every part of your practice, and I promise you'll get better at yoga — maybe even as good as a kid. Not because your poses will improve, or you'll reach a state of nirvana, but because you've added in some fun. And that's what life is all about.