Vegan Recipe: Creamy Cilantro Soup With Japanese Sweet Potato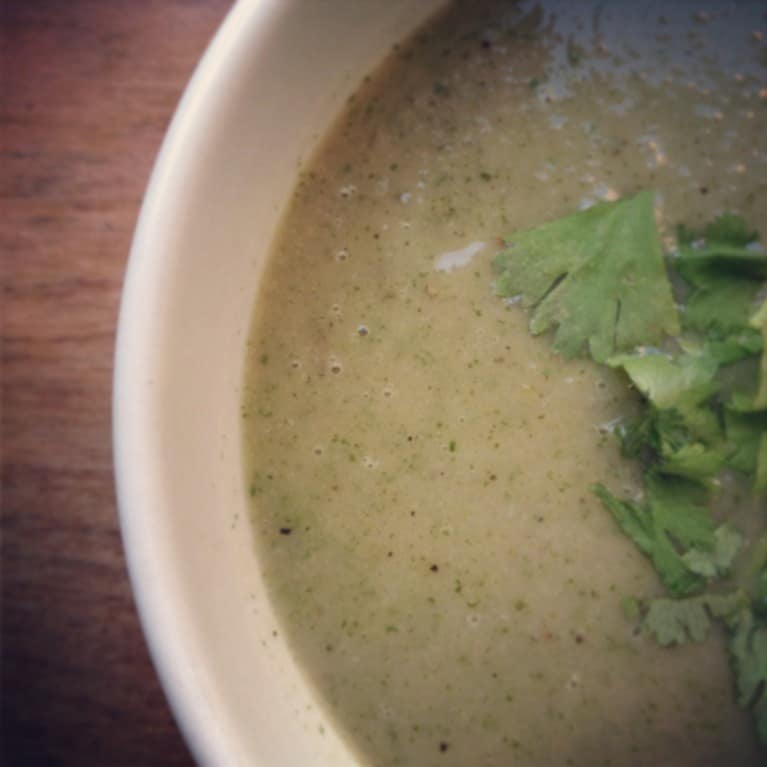 I've learned a great many tools for keeping desperation at bay in my life, especially around food, and I've built a pretty impressive arsenal of tricks and practices to make sure I have healthy and nourishing food at the ready when I get hungry.
What I have NOT done is become perfect, which I'm not expecting any time soon. So the other night after a long day of work in the home office with no break (bad planning), I arrived in the kitchen slightly panicked, stomach rumbling, and a bit woozy. My supply levels of fresh food were low. It was a foraging moment. What does a lady do with one baked sweet potato in the fridge, a bunch of cilantro, some garlic and onions and that crazy feeling creeping up her neck?
SOUP! With no recipe at my side I came to the stove and channeled a culinary Tim Gunn. I made it work, and it turned out so much better than I could have hoped for. So here's an easy recipe for my Desperation Soup. But you can make it BEFORE the crazy sets in.
Ingredients:
1 cup fresh cilantro
1 

Japanese sweet potato (baked in advance)

1 red onion

2 cloves crushed garlic

1 Tbsp black pepper

1/4c nutritional yeast 

2 Tbsp coconut oil 

4 cups veggie broth

salt to taste
Directions:
Saute your coarsely chopped onion in coconut oil. When the onion begin to soften, add the garlic.
After 3 minutes, add the baked sweet potato. Coat everything with the coconut oil and add in your pepper and nutritional yeast.
Bring everything together and add 1 cup of the veggie broth. Bring to a boil, then reduce heat and add all of the cilantro except a few leaves for garnish.
When the leaves soften, add the rest of the broth and bring to a boil again. Reduce the heat and use either an immersion blender until smooth or pour contents into a blender and make it happen.
Garnish with cilantro and serve to much delight.