Q & A with Hillary Biscay: Ironman Champion & Professional Triathlete
Our editors have independently chosen the products listed on this page. If you purchase something mentioned in this article, we may
earn a small commission
.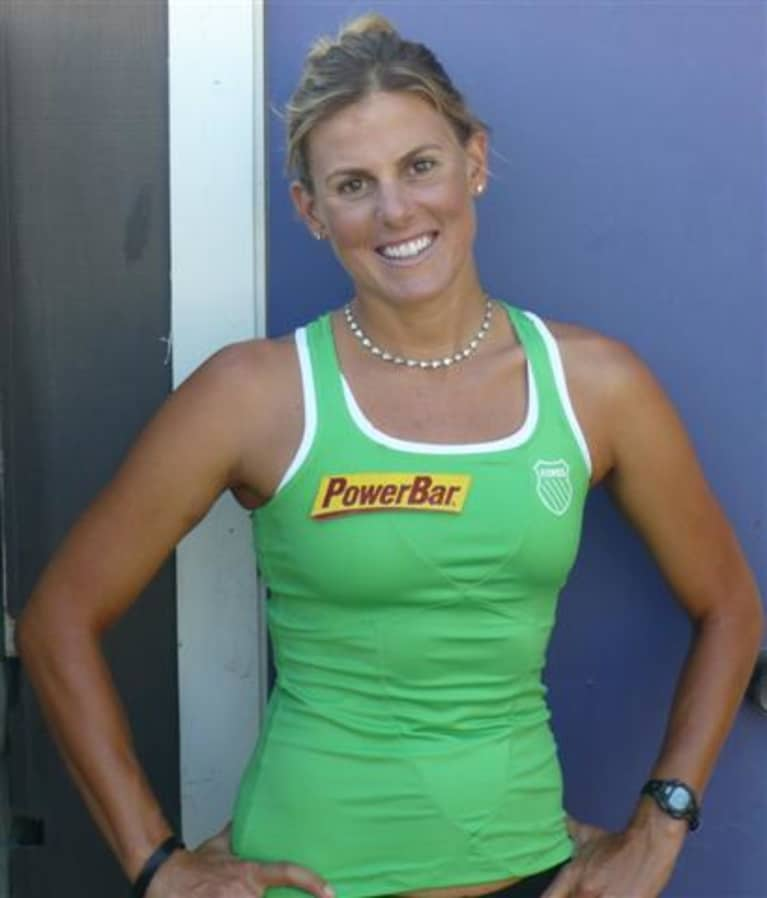 Let's just say that Hillary Biscay is not your typical triathlete.
Hillary started out as a collegiate swimmer at the University of Southern California and even competed in the 200 Breaststroke in the 2000 Olympic Trials. After the Trials, she took a "real job" at a tech startup in Silicon Valley (and snuck out at lunch for runs). After her startup days, Hillary became a substitute ESL teacher and followed that up by pursuing a PhD in American Literature at USC (where she also taught undergraduate writing).
Hillary began triathlon as a hobby to fill the void left after retiring from 15 years of competitive swimming. Her hobby took an increasingly dominant role in her life over the course of the next four years – and fast forward to 2009 and Hillary is a world-famous, professional triathlete. She'll be defending her 1st place finish at the Ironman Wisconsin this Sunday September 13.
MindBodyGreen: You started out as a swimmer – how did you make the switch to triathlete?
Hillary Biscay: After collegiate swimming and the 2000 Olympic Trials, I had to retire because I wasn't good enough to be a professional swimmer. I had to get a "real job," but I loved training and pursuing athletic goals—so triathlon was a good new outlet. I never dreamed I'd be lucky enough to have enough success there that I could actually become a professional athlete in a different sport; I just got into it because I loved to push my body.
MBG: What is a typical training day like for you?
HB: A typical training day involves three training sessions with a couple hours rest in between each. Most days I practice all three sports, in varying combinations, for a total of anywhere from 4-9 hours.
MBG: Do you have a favorite place to train?
HB: My favorite place to train is the Swiss Alps in the summertime.
MBG: What is your favorite workout gear?
HB: K-Swiss! They make hot and functional run/ workout gear, and the best running shoes. I race and do most of my training in the lightweight K-onas, and when I hit the rocky trails here at home in Tucson, I wear the more cushioned Keahous.
MBG: Favorite race to compete in?
HB: Ironman Wisconsin. The town of Madison really embraces the event and it's awesome. People are lined up and down the streets routing us on--the energy is incredible!
MBG: If you were not a professional triathlete, what would you be?
HB: A university English professor. My love of English began when I was a senior in High School. The book that turned me on to English was Beloved by Toni Morrison. I absolutely fell in love with it.
MBG: What is the most recent good book you've read?
HB: The Food Revolution by John Robbins. It was very enlightening to learn about how food is produced—it's impact on our bodies, and it's impact on the environment. As athletes it's especially important to know what type of fuel we're putting into our bodies.
MBG: Your proudest moment as a triathlete?
HB: Winning my first ironman title at Ironman Wisconsin 2008, after finishing second the two previous years.
MBG: How do you like to relax?
HB: By taking a long cruisey run through trails in a forest.
MBG: Do you have any diet or fitness advice for us mere mortals?
HB: Eating well and exercising are habits. Make them part of your daily routine and you will be addicted! Remember that there are always at least 30 minutes in the day that you can find to squeeze in a run, walk, or little gym workout; if you don't think you have time, ask yourself how much time you spend on the internet or in front of the TV, and whether all of that time was essential.
MBG: Favorite music to listen to before a race or to train to?
HB: A variety—everything from Coldplay to Snoop to Rage Against the Machine.
MBG: Guilty indulgence?
HB: Coffee and Kombucha.
MBG: Favorite flavor of Kombucha?
HB: Multi-Green.
MBG: OK, you just won another Ironman Wisconsin...what would you eat to celebrate?
HB: I eat whatever I want for 24-48 hours.
Let's hope Hillary will be eating whatever she wants on Sunday, September 13th!
For more on Hillary Biscay you can check out her website and blog: