Coco-Nutty Granola Recipe: A Foolproof Craving Buster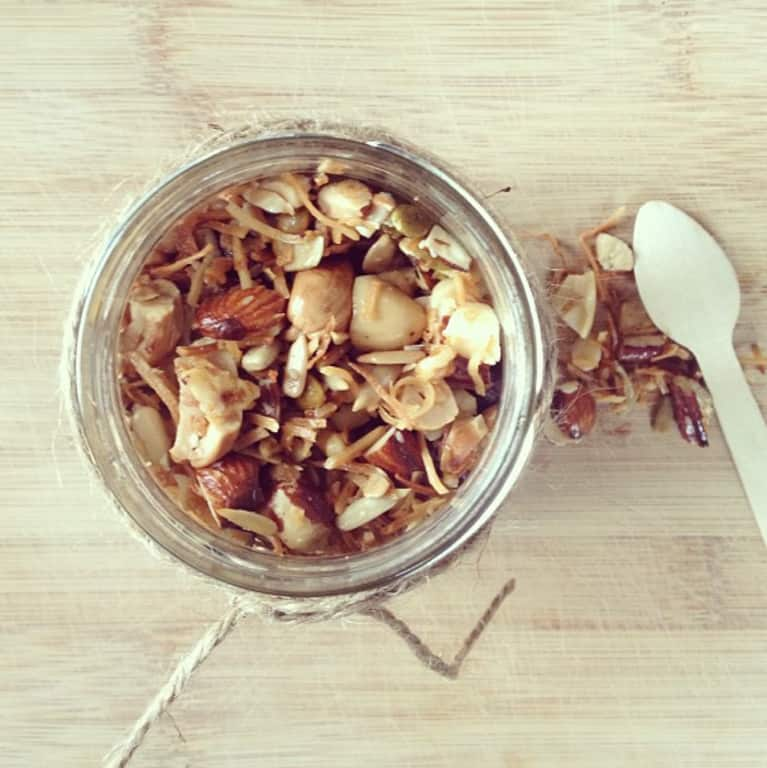 Every week, I help hundreds of people quit sugar, and so far, the most foolproof craving-buster that keeps coming up would have to be this healthy treat. 
Coco-Nutty Granola
Makes 5 cups
Ingredients
4-5 tablespoons coconut oil (or butter), melted
3 cups coconut flakes
2 tablespoons chia seeds
1 teaspoon cinnamon (optional)
2 cups almonds, cashews, pecans, walnuts, pepitas (preferably activated ones), chopped roughly
(optional) 3 tablespoons rice malt syrup (I don't sweeten my granola at all. Perhaps do half a batch with, half without and see what you like.)
Preparation
Preheat oven to 120 C (about 250 degrees Fahrenheit).
Mix all ingredients in a bowl, spread evenly on baking paper on a tray, and bake for about 15 to 20 minutes, until golden, turning halfway.
When golden, remove and cool immediately to get it crispy. (I like mine quite dark; the darker it is, the crunchier it is.)
Some clever ways to eat this treat:
In a fancy stemless wine glass
Layered with berries and yogurt as a parfait
Sprinkled on top of frozen coconut milk