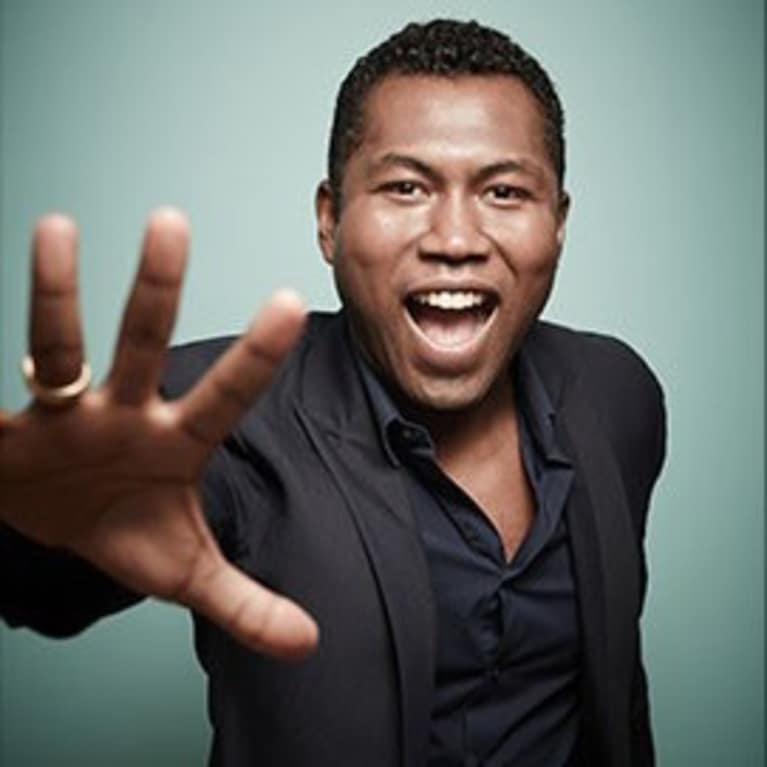 Kute Blackson
A charismatic visionary and transformational teacher, Kute Blackson offers a fresh, bold look at spiritual awareness for a whole new generation. Blackson's unique lineage lay the blueprint for his approach to breaking down barriers and setting the gifts and greatness of others free. Born in Ghana, West Africa, Blackson's multicultural upbringing as the child of a Japanese mother and a Ghanaian father has spanned four different continents. His unique lineage lay the blueprint for his approach to breaking down barriers and unlocking an individual's true gifts and greatness.
Blackson has had a gift for transforming lives—including his own—since childhood. The son of a revered spiritual leader and healer, Blackson was speaking to his father's congregations in more than 300 churches by the age of eight. At the age of 14, he was ordained into his father's ministry and groomed to carry on the family's spiritual legacy. But his heart's truth told him that his destiny would not be in the church. He would need to take a leap into the unknown and forge a path of his own.

Though Blackson was raised all over the world, he had always dreamed of life in America. As if by kismet, he won a green card just after finishing school in London. He came to America alone just months later, with no connections or prospects. When Blackson arrived in Los Angeles, all he had to his name were two suitcases and the dream of seeking out the spiritual and self-help icons who had inspired him when he was a boy.
Blackson quickly learned that the "outside-in" approach favored by so many in the personal development space had to become an inside-out approach. So he decided to create his own method—a process that liberates the individual and the true self at the core and then pushes those gifts outward into the universe. This helps the individual get in touch with who they really are. It is a process of breaking free—so that the individual can live, give, and share the truest expression of their self. This is what Blackson calls "Liberated Living."
Today, the venue for Blackson's message may be a vast stadium, a corporate seminar, the depths of the jungle, the streets of the slums, one-on-one coaching or anything in-between. His electrifying presentations are especially sought after by major companies, such as American Financial Group, REMAX and TCG, that are seeking to redefine their paradigm of success and inspire greatness.

Blackson's trademark transformation experiences set him apart: He is known worldwide for creating the radical "Liberation Experience," where he travels with an individual client, one-on-one, deep into the bowels of India, for 14 days. He is also the creator of the group process "Boundless Bliss—The Bali Breakthrough Experience." During these intense journeys into the slums of India and the remote jungles of Bali, Blackson strips his clients emotionally bare and dares them to face their deepest fears so they can emerge reborn.

Blackson uses a variety of modalities to help people break out of old patterns, including the high frequency messages in his high traffic YouTube videos that are watched by millions around the world. Blackson has a large- and growing- social media platform with 303,000 Facebook followers; 126,000 Twitter followers, 145,000 Instagram followers, and 40,000 readers of his weekly blog.

Blackson's debut book, YOU.ARE.THE.ONE. will be released through Simon and Schuster on June 7, 2016. Colored with experiences from Blackson's own incredible journey, YOU.ARE.THE.ONE. shows readers how to unlock their true potential and live a life they love, through love.